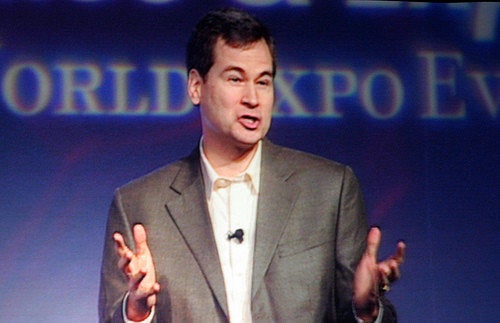 Pogue also told Brisbane in an email that he will not "do any more speaking for Ragan or any PR-related event or organization."
On June 27, Ragan's PR Daily sent an email advertising "Pitch me, Baby!" -- a "live virtual event" featuring pre-recorded video of Pogue sharing "what you should NEVER do when pitching a reporter" and "Pogue's five 'Pitch pet peeves,'" among other tips. Tickets to the event were offered for $159 and Pogue was compensated for the event.
The news created controversy in journalism circles, with commentators wondering how the Times, known for its strict ethical guidelines, would handle the situation.
Brisbane, who saw the video, wrote that Pogue's "speech flagrantly violates the prohibition against giving advice at paid P.R. conferences."
Brisbane also noted, however, that Pogue is a freelancer, so he's only held to those standards when working for the Times. Nevertheless, he wrote, "Times readers deserve to be assured that journalists don't get too cozy with the P.R. professionals who strive to influence coverage. A virtual army of publicists, media specialists and others stands ready every day to infiltrate the news with stories that help their employers."
This is not the first time the technology reporter has faced criticism over conflicts of interest. In September 2009, Clark Hoyt, the public editor who preceded Brisbane, wrote a lengthy column in the Times that addressed Pogue's activities outside of his work at the paper. In addition to his television and radio contracts, Pogue created the Missing Manual series and has authored books about the iPhone, Windows and Twitter, among many other products he's reviewed in the Times. In the column, Hoyt announced that moving forward, Pogue will disclose in his column if he is writing a book about a product he is reviewing.
In a recent profile, The New York Observer pointed out that Pogue has also been criticized for making paid speeches at events for Raytheon Company and the Consumer Electronics Association.
Not wholly unrelated, The Daily Beast reported in May that Pogue is dating Nicki Dugan, a PR executive in Silicon Valley, which raises its own conflict of interest questions. Brisbane did not address that specifically in his post.
What do you think? Do Pogue's conflicts of interest make you read his columns differently? Let us know in the comments.
Disclosure: The author of this post was a reporting intern at The New York Times in 2010. His work appeared on The Local East Village, a blog that's a collaboration between the Times and New York University's Arthur L. Carter Journalism Institute.
Related
Popular in the Community