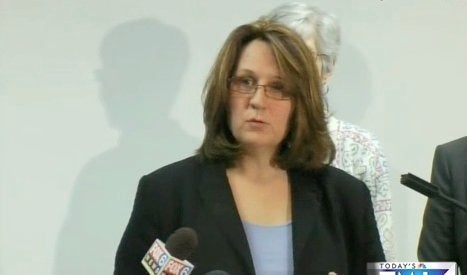 This story has been updated.
WASHINGTON -- In a dramatic turn of events on Thursday, the Waukesha County clerk announced that the vote total announced for Tuesday's Wisconsin Supreme Court race had been mistaken -- and that the corrected numbers changed the outcome of the entire election.
There were 3,456 missing votes for Democratic-backed challenger JoAnne Kloppenburg and 11,059 for incumbent GOP-backed Justice David Prosser. Kloppenburg has previously been beating Prosser by just 200 votes of the roughly 1.5 million cast statewide. The new total puts Prosser on a significant path to victory, about 7,500 votes ahead of Kloppenburg.
Waukesha County Clerk Kathy Nickolaus announced the news in a press conference at 5:30 p.m. local time, sounding nervous and, at times, on the verge of tears. She insisted that there was no foul play in the results and blamed the mess on her own "human error."
Nickolaus cited several reasons for the discrepancies between Tuesday night's unofficial vote totals and the new numbers. In the city of New Berlin, the total for one ward was recorded as 37 votes for Prosser, but it was actually 237, she said. In the town of Lisbon, a "typing error" resulted in both candidates losing votes. The most significant error, however, occurred in the city of Brookfield.
"The spreadsheet from Brookfield was imported into a database that was provided by the Government Accountability Board, but it inadvertently was not saved," Nickolaus said. "As a result, when I ran the report to show the aggregate numbers that were collected from all the municipalities, I assumed that the city of Brookfield was included. It was not. The city of Brookfield cast 14,315 votes on April 5 -- 10,859 votes went for Justice David Prosser, 3,456 went for JoAnne Kloppenburg."
"It is important to stress that this is not a case of extra votes or extra ballots being found," she added. "This is human error, which I apologize for -- which is common in this process."
The existence of the missing votes was first reported at National Review Online by Christian Schneider, a senior fellow at the Wisconsin Policy Research Institute.
Questions were immediately raised about the new announcement. As Schneider wrote, prior to the election, Nickolaus "was heavily criticized for her decision to keep the county results on an antiquated personal computer, rather than upgrade to a new data system being utilized statewide."
Added Schneider: "Nickolaus cited security concerns for keeping the data herself -- yet when she reported the data, it did not include the City of Brookfield, whose residents cast nearly 14,000 votes."
The Waukesha County Board also heavily criticized the clerk after she brushed aside their recommendations for improving election security. At one point during a hearing in January, board chairman Jim Dwyer grew exasperated with Nickolaus and said, "There really is nothing funny about this, Kathy. Don't sit there and grin when I'm explaining what this is about."
"Wisconsin deserves elections that are fair, clean and transparent," said Scot Ross, the executive director of the progressive advocacy group One Wisconsin Now. "There is a history of secrecy and partisanship surrounding the Waukesha County Clerk and there remain unanswered questions."
Prosser announced Thursday that he was assembling an all-star legal team for the recount, including Washington, D.C.-based attorney Ben Ginsberg, who was part of then-Gov. George W. Bush's 2000 recount team and former Sen. Norm Coleman's counsel in Minnesota in 2008. Ginsberg declined to comment to The Huffington Post.
With the corrected errors, the turnout in Waukesha County increased from 42 percent to 47 percent. The new county totals are 92,263 votes for Prosser and 32,758 votes for Kloppenburg.
WATCH THE PRESS CONFERENCE:
UPDATE: 9:05 p.m. -- Statement from the Kloppenburg campaign manager Melissa Mulliken:
Wisconsin voters as well as the Kloppenburg for Justice Campaign deserve a full explanation of how and why these 14,000 votes from an entire City were missed. To that end, we will be filing open records requests for all relevant documentation related to the reporting of election results in Waukesha County, as well as to the discovery and reporting of the errors announced by the County. We are confident that election officials in Waukesha County will fulfill these requests as quickly as possible so that both our campaign and the people of Wisconsin can fully understand what happened and why. Just as Assistant Attorney General Kloppenburg has run to restore confidence in the court, Wisconsin residents also deserve to have full confidence in election results.
I'm encouraged by the various reports from the county canvases. Our confidence is high, and we will continue to monitor with optimism, and believe that the positive results will hold. We've always maintained faith in the voters and trust the election officials involved in the canvasing will reaffirm the lead we've taken.
UPDATE: 9:17 p.m. -- For 13 years, Nickolaus worked for the Wisconsin State Assembly Republican Caucus as a data analyst and computer specialist. She resigned in May 2002. [AP, 6/3/02]
From 1989-1994, Prosser served as Minority Leader. From 1995-1996, he was Speaker. Nickolaus was a staff member during this time. As Wisconsin State Journal reporter Mary Spicuzza noted on Twitter, "Kathy Nickolaus worked for Assembly Republican Caucus when Prosser was Speaker. Caucus is controlled by speaker, so he is her former boss."
UPDATE: 9:45 p.m. -- The Wisconsin State Journal reports:
In 2001, Nickolaus was granted immunity to testify about her role as a computer analyst for the Assembly Republican Caucus, then under investigation -- along with the Senate Republican Caucus and the Democratic caucuses for both houses -- for using state resources to secretly run campaigns.

Nickolaus, a seven-year employee of the ARC, headed up an effort to develop a computer program that averaged the performance of Republicans in statewide races by ward.
UPDATE: 9:49 p.m.-- Statement from state Assembly Minority Leader Peter Barca (D):
The way Waukesha County Clerk Kathy Nickolaus revealed her discovery of 14,300 previously uncounted votes raises disturbing questions, particularly in light of her past partisan history. She has been the subject of multiple complaints from other Waukesha officials on how she handles elections and keeps public information to herself outside the official county system where others can verify it.

The new Supreme Court race vote totals she "discovered" during canvassing not only swung the election but also put the race just barely past the amount needed to trigger a state-financed recount.

It is especially troubling that she waited more than 24 hours to report the startling discovery and then did so at a press conference and only after she verified the results. This makes it all the harder to challenge and audit the integrity of the vote.

The partisan, political history of Ms. Nickolaus and the serious concerns about the quality of her performance found in an audit raises the question of whether an investigation is warranted. The public deserves to know that the votes were counted properly.
Statement from state Senate Minority Leader Mark Miller (D):
It stretches the bounds of credibility to think that over 14,300 votes were somehow "overlooked" until two days after the election.

Based on the partisan, political history of Ms. Nickolaus and the serious concerns that have been raised, by other Waukesha County officials, about the quality of her election administration and the possibility for fraud, an independent investigation of her conduct and the county's election results is not just warranted but urgently demanded to protect the integrity of our electoral system in Wisconsin.
UPDATE: 10:22 p.m. -- The group Citizen Action of Wisconsin is calling for an immediate federal investigation and impoundment of all computer equipment, ballots, and other relevant evidence needed to verify a fair vote count in Waukesha County.
"Given the shocking character of this afternoon's revelations, and its tremendous importance for the perceived integrity of Wisconsin's governmental institutions, it is absolutely essential that there be a full investigation which is so beyond reproach that all Wisconsin citizens can have faith in the validity of the outcome," said Robert Kraig, executive director of Citizen Action. "In the current political climate in Wisconsin, only an investigation by a U.S. Attorney can be seen by all citizens of the state as independent and above politics."
UPDATE: 10:28 p.m. -- The Huffington Post spoke to Kloppenburg campaign manager Melissa Mulliken, who said that they will be using the national law firm Perkins Coie -- which has an office in Madison, Wis. -- during the recount process. The Kloppenburg campaign had already hired the firm to help them with an amicus brief to defend the state's public financing law.
In terms of specific attorneys, Mulliken cited David Anstaett, who has done some work with the campaign already. She also noted that Marc Elias is at Perkins Coie, and he worked with Al Franken during the 2008 Senate recount battle in Minnesota.
UPDATE: 10:49 p.m. -- In an interview with Greta Van Susteren on Fox News on Thursday, Prosser insisted that the election was not a referendum on Gov. Scott Walker (R). He said he had personally endured a "nuclear firestorm of criticism and attack and smear" and hoped his margin would hold out.
Before the adjustment, Waukesha would have registered by far the biggest decrease in turnout of any county in the state between last fall's governor's race and this spring's court race --almost 26 points, from 63% to 37%. The statewide drop in turnout between those two elections was about 16 points.
After the adjustment, Waukesha's drop-off in turnout is still among the biggest -- around 21 points -- but it is not nearly as much of an outlier. Ozaukee County had a slightly higher drop-off in turnout of almost 22 points. Washington County had a drop-off in turnout of a little more than 18 points. These turnout estimates are based on the voting-age population in each county in the 2010 Census, and the total votes cast for governor in 2010 and for state Supreme Court on Tuesday.
Without the adjustment, Waukesha would have ranked 12th among 72 counties in turnout rate Tuesday.
With the addition of the 14,000 votes, it ranks fifth, after Dane, Bayfield, Ozaukee and Door, and just ahead of Washington.
In last fall's gubernatorial election, Waukesha had the second highest turnout rate of any county, and typically has among the highest turnout rates in the state.
UPDATE: 10:54 p.m. -- Also at the press conference, Ramona Kitzinger, a Democratic member of the county board of canvass, agreed with Nickolaus and said they "went over everything and made sure that all the numbers jived up, and they did."
UPDATE: 4/8/11, 9:57 a.m. -- From a statement by the SEIU:
A recent revelation by Waukesha County Clerk Kathy Nickolaus of thousands of votes supposedly cast for her former boss -- Justice David Prosser -- does not pass the smell test. Just one year ago, county officials ordered an audit of Waukesha County's outdated election system after Nickolaus removed election data from county computers and installed them on personal computers in her office. Even before this issue, Nickolaus was resistant to an independent and thorough review of her election system. Now she wants the public to believe that some 7500 ballots for Prosser were somehow lost on her personal computer. Waukesha county's ballots should be immediately impounded and recounted. [...]

Following what can only be described as a midnight or sneak attack where Governor Walker summoned his friends to help him eliminate collective bargaining rights for nurses and teachers, this is yet another reminder of the lengths this administration will travel to side with partisan politicians and corporate donors rather than Wisconsinites.
UPDATE: 4/8/11, 10:49 a.m. -- In a tweet on Friday morning, Walker weighed in:
Popular in the Community