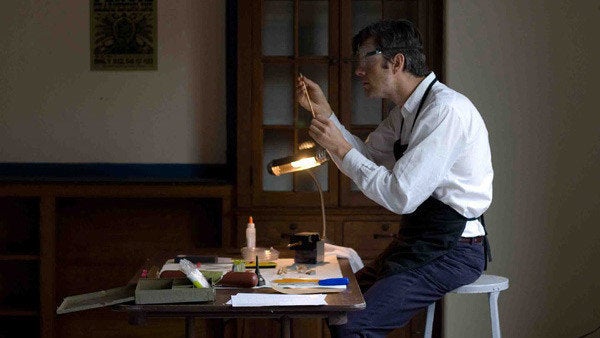 The thundering roar of a thousand knife-wielding hurricanes you just detected is the sound of David Rees' revolutionary How To Sharpen Pencils: A Practical and Theoretical Treatise on the Artisanal Craft of Pencil Sharpening for Writers, Artists, Contractors, Flange Turners, Anglesmiths, and Civil Servants, with Illustrations Showing Current Practice arriving on the shelves of your local bookshop.
Until recently, Rees was best known as the writer of the popular clip art comics "Get Your War On" and "My New Fighting Technique Is Unstoppable." But over the last year he has dedicated his careful eye and relentless intellect to pursuing the lost art of pencil sharpening. He's given the practice so much study, in fact, that he has released the definitive book on the subject.
Funny you should ask. That very question is addressed in the book's foreward by none other than John Hodgman:
Now, a quick word to those of you who think this is a joke. There are those who say that Rees...was just joking around when he became an artisanal pencil sharpener. But everyone who knows Rees and his sense of humor also knows that he is a person who takes EVERYTHING VERY SERIOUSLY.... So yes. YOU WILL LEARN THE PROPER WAY TO SHARPEN A PENCIL in this book. No joke. But more, it will be your introduction to a unique mind, a true craftsperson, and in my mind, a natural treasure.
In fact, one could recommend the book simply by listing the customers who have been on the extremely satisfied receiving end of Rees' handiwork. They include, among many others, Neil Gaiman, Amy Sedaris, Elizabeth Gilbert, the aforementioned Hodgman, and comedian Paul F. Tompkins, who was generous enough to share this photo of his sharpened pencil: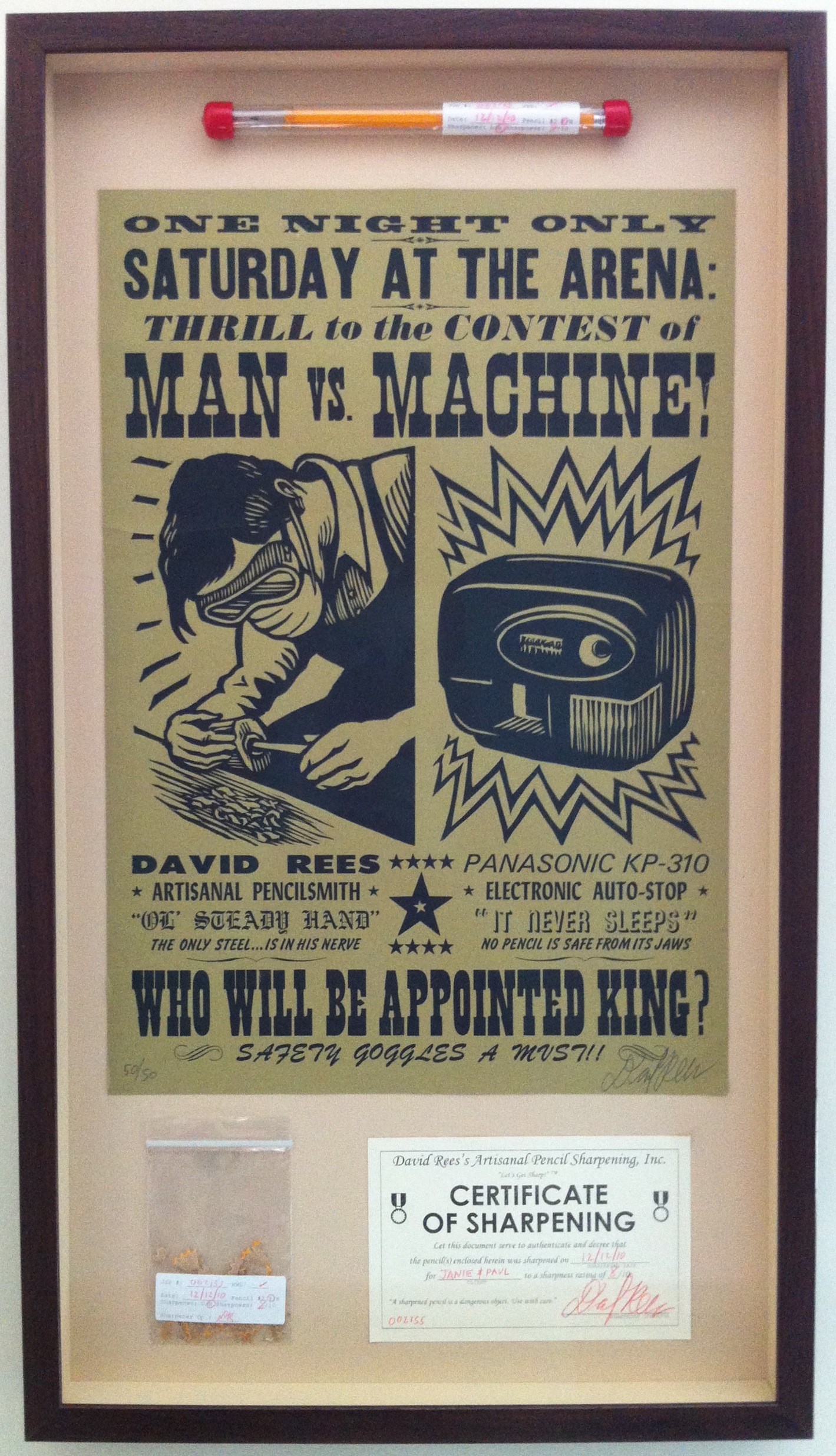 But to get to the merits of the book specifically, it can best be summed up as a singularly mind-blowing experience. David Rees has done the unthinkable; he has written a book about pencil sharpening that the casual reader will not want to throw through the window in a fit of righteous indignation. He has taken the insurmountable world of pencil pointing and made it something relatable, cuddly, even hopeful. You will literally find yourself reading a book about pencil sharpening and it will not feel like a mistake. Instead, you will walk away from this book feeling the satisfaction of having both discovered and mastered a lost language.
Such is Rees' greatest skill; taking his unstoppable focus and making it yours. Upon spending any amount of time with this book, you might find yourself imagining David Rees himself, triumphant over his typewriter bellowing, "I AM WRITING ABOUT PENCILS!" to which you will respond with equal glee, "I AM READING ABOUT PENCILS!"
So if you've ever listened to us about anything, dear readers, take heed now. This book will change your life.* Pick up a copy, and catch Rees on tour doing one of his sharpening demonstrations this Spring.
*If this book doesn't change your life, you weren't ready. Try harder.
Popular in the Community