Playwright David Rhodes hopes "Consent," his new off-Broadway drama, sheds light on intimate aspects of gay relationships that have yet to be explored in mainstream theater.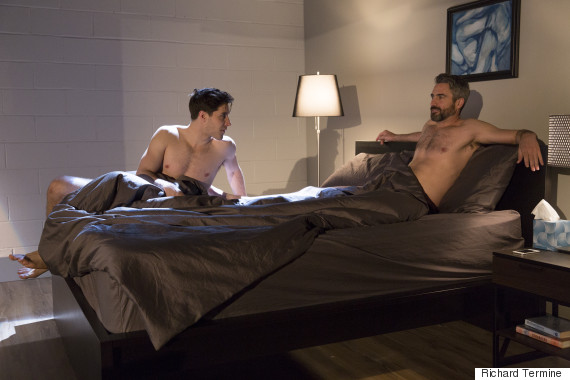 Michael Goldstein and Mark McCullough Thomas in "Consent," opening June 11.
The newly single Ron relocates to SoHo, where he is quickly seduced by Kurt (Michael Goldstein), a handsome law student. What happens next rattles Ron's relationship with his estranged wife and even his sister ("Orange is the New Black" alum Catherine Curtin), and leaves the protagonist questioning the ethics of sex games and power play, particularly in same-sex relationships.
Describing "Consent" as an exploration of "desire, vulnerability, passion and shame," Rhodes ("Rites of Privacy") based much of the plot on his own coming out experience. When it came to his own sexuality, the playwright, father and native New Yorker remained closeted until age 37, but interestingly, he says it was his wife, Pamela, who "actually held the door open for me until I had the balls to walk through."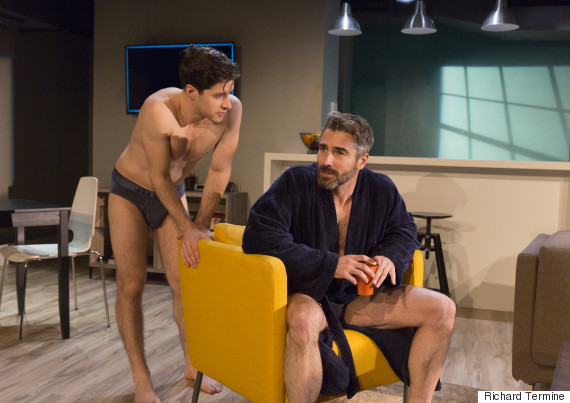 Goldstein plays Kurt, a young law student who seduces Ron (Thomas), an NFL veteran.
"To this day, she is my rock and the person who I have the most faith in to take care of me," Rhodes told The Huffington Post. Despite the unconventional arrangement, the former couple remains close to this day. "We haven't had a sexual relationship for almost 15 years, but we do remain a family and we do take care of each other. Frankly, I don't think I would ever have had the courage to come out if she hadn't given me permission."
Although he shares personal traits with each of the four characters in the show, Rhodes says his earliest experiences with men are reflected primarily in Ron's journey. Like himself, he says Ron encounters "a lot of the shame and the pain that comes with self-actualization" along the way.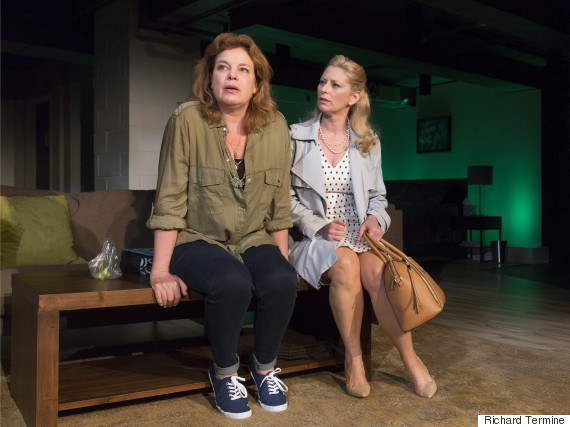 Catherine Curtin and Angela Pierce also star as Ron's sister and estranged wife.
Rhodes hopes the premiere production of "Consent" will be the stepping stone to an open-ended off-Broadway run or a bow on Broadway. Recent years have seen a wealth of queer content on the Great White Way, from the smash musicals "Fun Home" and "Hedwig and the Angry Inch" to more straightforward dramas like Terrence McNally's "Mothers And Sons." Still, the playwright, who credits producer Robin Reinach with helping to propel "Consent" onto the stage, sees the show's look at a "messy, out-of-control sexual situation" as something not only unique, but also topical.
"This is the story of a man who, like myself, came out later in life and came into a world that he could never have anticipated -- of sexually voracious men and of young people who have a completely different social mindset ... the best thing we can do is to be honest with ourselves about what our needs are, and find someone with comparable needs who can help us be who we are."
Now in previews, "Consent" opens June 11 at the Black Box Theatre at The Harold and Miriam Steinberg Center for Theatre in New York. Head here for more information.
PHOTO GALLERY
"Consent" Debuts In New York
REAL LIFE. REAL NEWS. REAL VOICES.
Help us tell more of the stories that matter from voices that too often remain unheard.