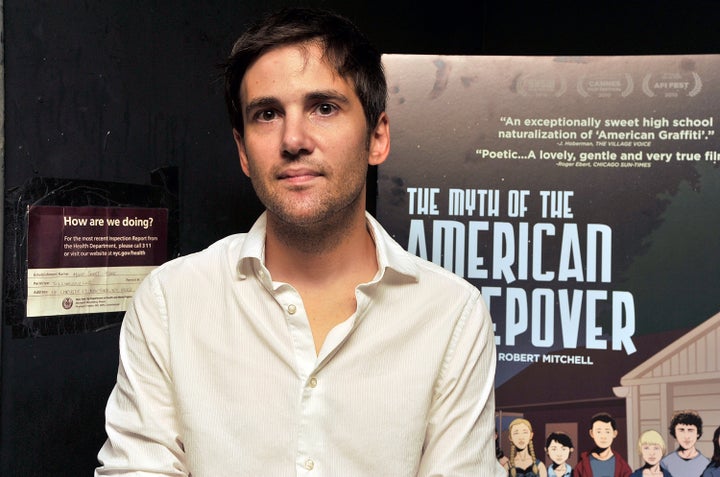 Yes, "American Graffiti" was an influence on his movie, "The Myth of the American Sleepover," David Robert Mitchell says, sitting in a dorm-room-sized hotel room in the Ace Hotel near New York's Garment District.
But that wasn't the movie he wanted to make.
And he hasn't. Mitchell's film, shot in 2008 and shown at the 2010 South by Southwest festival in Austin, Tex., is a quietly amusing, charming and involving night-in-the-life tale of a group of Michigan teens, mixing and matching themselves in terms of friendship and potential romance on the last weekend of the summer. The film opens in limited release on Friday, July 22.
In the course of that night, there aren't the kind of momentously wild or raucously life-changing moments that are inherent in (and occasionally anathema to) the genre. Rather, the characters' transitions are mostly interior -- and that's how the boyish Mitchell, 36, wanted it.
"I love 'American Graffiti' -- it's a funny, beautiful film," says Mitchell, a native of suburban Detroit. "And I'm structurally inspired by it. But tonally, I was looking more toward some of the European films I love. I wanted something a little more calm, gentle and soft about the tone and style of the performances. I didn't make this to copy that film. I'd like to think there's something unique and different or special about my film.
"Maybe it's simple and symbolic: You enter the night, and things are slightly different when the sun comes up. It's about being with these people, not in real time but an approximation of their travels with these small experiences. There's something striking about that."
After graduating from Florida State University's graduate film school, Mitchell went to Los Angeles and found work as an editor on movie trailers, even as he wrote his own scripts and tried to get his film off the ground. He had made a number of short films in grad school: "Semi-autobiographical short films," he says, "and people responded to the tone.
"So I basically wanted to create a structure that put several of those stories together in a feature film. There's something slightly iconic about a sleepover that connects to my youth. I thought it would be a nice structure and framework."
He wrote "Myth" right after finishing grad school in 2002 -- then spent the next several years working, while trying to round up the cash to shoot his own film.
"It was super-hard, very difficult -- it felt half impossible," he says. "I tried raising money, but, ultimately, just saved my own money and got a little -- a little -- from family and friends. Eventually I had just enough to pull it off."
He had $30,000 in the bank when he shot it in the summer of 2008 -- and put together another $20,000 to finish it for SXSW. Editing took a while because he and pal Julio Perez, who edited the film, were both working full-time jobs while devoting evenings and weekends to assembling "Myth": "It was mostly about not having enough time," he says. "The trickiest part of the editing was the pacing, because it's kind of leisurely. But mostly it was about not having time or money to really dedicate ourselves to the work."
Sitting in his cramped hotel room, Mitchell seems slightly wowed just to be in New York with his movie.
"I mean, it played last night at the Museum of Modern Art," he says enthusiastically. "I'm excited that people will finally be able to watch the film. I'm excited for people I know to see it -- and for people I don't know. I just hope it means something to people."
For more reviews, interviews and commentary, visit my website.
REAL LIFE. REAL NEWS. REAL VOICES.
Help us tell more of the stories that matter from voices that too often remain unheard.