WASHINGTON -- New Jersey Gov. Chris Christie (R) announced Friday that David Samson, the chairman of the Port Authority and a close ally, was resigning in the wake of the Bridgegate scandal.
"David tendered his resignation to me this afternoon, effective immediately," said Christie during an afternoon press conference in Trenton, N.J. "I want to thank him for his service and his friendship."
Christie's press conference -- his first in more than two months -- comes a day after the publication of a report that concluded the governor was not involved in the Bridgegate scandal, which shut down two of Fort Lee, N.J.'s access lanes to the George Washington Bridge from Sept. 9 to the morning of Sept. 12.
The investigation that produced the report, however, was conducted by Gibson Dunn, a law firm hired by Christie. The report also provided an incomplete picture of the events that took place, since the three individuals at the center of the controversy -- former Port Authority employee David Wildstein, former Christie deputy chief of staff Bridget Kelly and former top adviser Bill Stepien -- all refused to cooperate and give their versions of what happened.
Questions about the extent of Samson's involvement continue to swirl, with emails showing that he was more concerned about leaks to the media than the effects the lane closures were having on commuters. Federal prosecutors have also sought records on how Samson's law firm has profited from construction projects paid for by New Jersey taxpayers.
Christie, however, did not seem concerned about impropriety on Samson's part. He said he hadn't seen any "facts" showing a conflict of interest between Samson's Port Authority work and his private lobbying. Christie noted that he asked Samson last year to stay on at the Port Authority through his reelection campaign.
"His discussion with me about leaving the Port Authority goes back a year ... He's 74 years old, and 'I'm tired,' that's what he told me," said Christie.
"Over the past months, I have shared with the Governor my desire to conclude my service to the [Port Authority]," Samson said in a statement Friday. The timing is now right, and I am confident that the Governor will put new leadership in place to address the many challenges ahead."
The taxpayer-funded report concluded that Wildstein told Christie about the lane closures while they were happening, at a memorial event on Sept. 11. Christie said he had no recollection of that conversation, and it's not clear whether Wildstein told Christie why the lanes were closed.
On Friday, he maintained that he first heard about the lane closures in early October, from a Wall Street Journal article.
Kelly is treated especially harshly in the Gibson Dunn report. But the sexist undertones of the authors' characterization of her have attracted scrutiny as well, even from Kelly's critics. The report said she became an "emotional" trainwreck after Stepien, with whom she was reportedly involved, allegedly broke up with her. It also said she cries frequently and relies on men for approval.
The scandal has continued to dog Christie, a possible 2016 presidential contender who is already vying with other Republicans to attract the attention of top donors. Federal and state investigators continue to look into the scandal.
The Washington Post recently reported that billionaire casino mogul Sheldon Adelson, who threw $92.8 million into conservative super PACs in the 2012 election, is considering backing Christie but is concerned about how much Bridgegate will hurt his image.
Christie said he didn't think the controversy would have much of an effect on his prospects should he decide to run for president, and that it won't impact his decision.
"In the long sweep of things, any voters, if they consider this issue at all -- in considering my candidacy, if there ever is one -- I got a feeling it will be a very small element to it all," he stated.
Still unanswered is the question of why the Christie administration closed Fort Lee's access lanes in the first place. The report -- and other documentation -- points to possible political political retribution against Fort Lee's Democratic mayor, Mark Sokolich, who did not endorse Christie's reelection bid. But no one has provided a full explanation of what happened.
"I don't know if we'll ever know what the motive is," Christie said Friday. "As I said when I was here [at a press conference] on Jan. 9, it mystifies me, on every level, why this was done."
Sam Stein contributed reporting.
Before You Go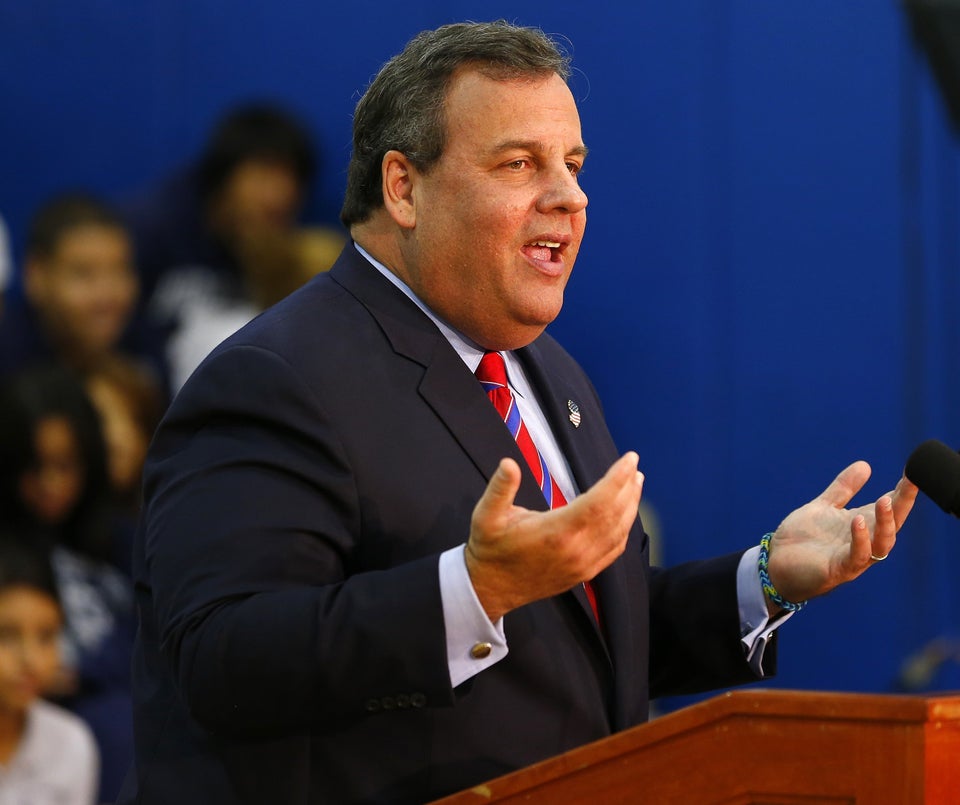 Chris Christie Is Absolutely Shocked
Popular in the Community