The new FX series The People v. O.J. Simpson: American Crime Story, examines the O.J. Simpson trial from the perspective of the lawyers. Based on Jeffrey Toobin's book The Run of His Life: The People v. O.J. Simpson, the series uncovers how each side worked behind the scenes to create their strategies. Along the way, we learn how they stumbled and prevailed.
David Schwimmer plays the late Robert Kardashian (aka the father of Kim, Khloé, Kourtney and Rob). The businessman, lawyer and close Simpson friend was part of Simpson's high-profile defense team. Schwimmer appears with a dream cast which includes Cuba Gooding Jr., John Travolta, Sarah Paulson, Courtney B. Vance, Nathan Lane, Connie Britton, Selma Blair, Rob Morrow, Steven Pasquale, Evan Handler, Cheryl Ladd, Robert Morse and many more. To celebrate the 10-episode anthology, several of its stars gathered at a luncheon at the Four Seasons Restaurant in New York City.
David Schwimmer talked to Parade.com and other reporters about playing Robert Kardashian, his thoughts on the trial and how he handled his own fame after Friends.
What inspired you to play Robert Kardashian?
What appealed to me was the idea of mystery. How does a man choose to stand by a good friend when many people believe him to be guilty of terrible, terrible crimes? Also, given the fact that he was dear friends with Nicole, it was very complicated and messy. Robert Kardashian was very conflicted.
How much did you know about him?
I knew nothing about Robert Kardashian. I spoke to Kris Jenner about him for a couple of hours. When I learned that he was a very religious man of great faith, that held one of the keys to understanding how he could decide to stand by his friend and stick it out. Even when there might have been great uncertainty or doubt in his heart. Part of it was the idea that it was not for him to judge. It was just for him to love and stand by his friend. The more I learned about Robert, I discovered that he represents the conscience or the moral compass of the whole series.
Did you ever think there'd be a day where you're playing Kim Kardashian's father?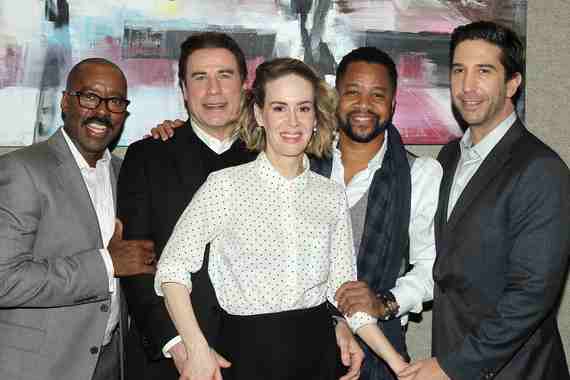 (From left) Courtney B. Vance, John Travolta, Sarah Paulson, Cuba Gooding Jr., David Schwimmer at a special luncheon at the The Four Seasons Restaurant (Marion Curtis/Startraksphoto.com )
Photo used with permission
Calling all HuffPost superfans!
Sign up for membership to become a founding member and help shape HuffPost's next chapter