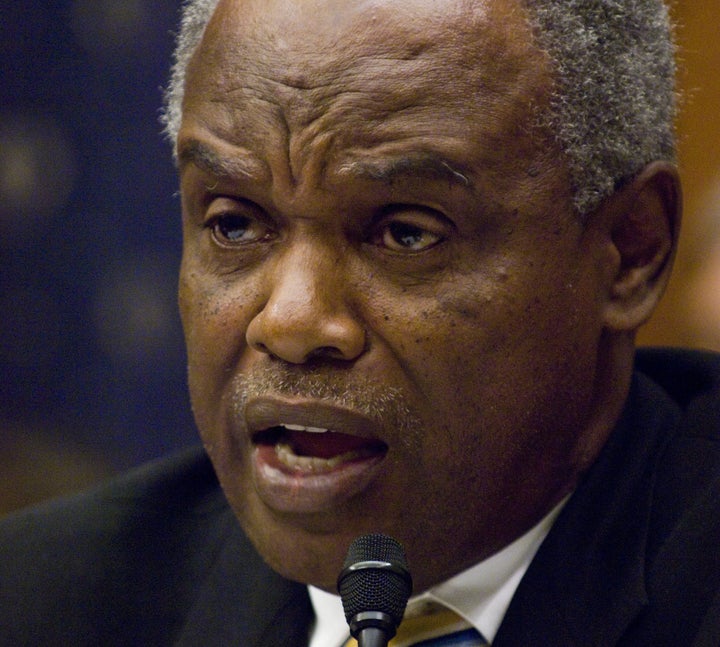 WASHINGTON -- Good lawmakers borrow, great lawmakers steal. Rep. David Scott (D-Ga.) is a great lawmaker.
At a House Financial Services Committee hearing last week on new rules intended to rein in abusive forms of payday lending, Scott couldn't seem to stop praising the industry, using language that sounded, well, bizarre. He bemoaned over-regulation by two agencies that don't actually oversee payday lenders. He said such "small-dollar" loans were "highly transparent" with "built-in controls to limit the use" -- products so good, they're designed to prevent people from using them.
And then Scott gave away the game.
"They've all received positive feedback from our borrowers," Scott said.
As a member of Congress, David Scott doesn't have any borrowers. But Richard Hunt, the top lobbyist for the Consumer Bankers Association, represents plenty of companies that do. Scott, it turns out, was basically reading from 2013 testimony that Hunt gave to the Senate without disclosing his source. He was literally plagiarizing a lobbyist. That odd statement about "positive feedback from our borrowers," was one of several lines Scott seems to have pulled from Hunt's testimony with minor alterations.
"Highly transparent" and "built-in controls to limit use?" Hunt wrote both before Scott said it. Back in 2013, Hunt argued against tough rules on payday loans by noting that "an estimated 76 percent of all Americans live paycheck to paycheck." Last week, Scott observed that "we have 75 percent -- 75 percent of the American people live paycheck to paycheck."
Another gem. Scott: "They even have a cooling off period so that customers and consumers do not become overly reliant."
Hunt's version: "These products incorporate features such as ... cooling off periods to protect consumers from reliance on the product."
Scott's warning about potential problems with payday loan regulation from the Federal Deposit Insurance Corporation and the Office of the Comptroller of the Currency also appears to have been pulled from Hunt's 2013 testimony. Now two and a half years out of date, Scott's use of the complaint was a weird clue that he was taking his words from somebody else, since the FDIC and OCC have nothing to do with the payday lending rules being examined at the hearing. The only federal regulator on the panel was from the Consumer Financial Protection Bureau -- because it's the only federal agency now moving forward with payday loan regulation. Ironically, Hunt had urged the FDIC and the OCC to abandon their own much narrower regulatory proposals and wait for the CFPB to take comprehensive action (they did not).
When pressed by The Huffington Post, Scott spokesman Michael Andel didn't deny that he relied on Hunt's testimony at the hearing.
"He drafted his own question based on the statistics shared by a number of groups both in and out of the industry," Andel said. "He was simply stressing that traditional banks have stringent regulations in place to help the underbanked. The CFPB should remember that when they release their proposed rule next month."
There are a few moments where it appears Scott took some effort to make Hunt's points without repeating his lines verbatim.
Scott: "They're monitored by the bank first to determine if they have sufficient regular cash flow to repay the loan."
Hunt: "This allows banks to monitor the customer to determine they have the cash flow to qualify."
The CFPB wants to curb the practice of "rolling over" payday loans, a $46 billion industry of short-term, high interest loans. When borrowers can't pay the loans off after a typical two-week term, they often take out newer, bigger loans to pay off the old ones, trapping themselves in a vicious cycle of debt. This is why Hunt and others who defend payday loans want to tout "built-in controls" designed to "limit use" of their products.
Publicly, the payday lending industry says that fears about debt traps are overblown. Privately, they often tell a different story. In July 2014, the CFPB fined ACE Cash Express after discovering a training manual that instructed employees to push their customers into a cycle of debt. In November of last year, HuffPost reported that a key figure in the industry's fight against tighter regulation had acknowledged in an email that, "in practice, consumers mostly either roll over or default; very few actually repay their loans in cash on the due date." Rollovers account for 76 percent of total payday loan volume, according to a 2009 study from the Center for Responsible Lending.
Scott regularly votes with anti-regulation Republicans from his post on the powerful Financial Services Committee. In recent years, he's voted for everything from subsidizing risky Wall Street derivatives trades to helping car dealerships charge borrowers of color higher prices.
Hunt's 2013 testimony was actually an attempt to distance bank products that mimic payday loans from the predatory reputation that payday lenders have acquired. The consumer protection features Scott touted at the hearing only applied to these "deposit advance products." The CFPB and other regulators have found that such loans nevertheless function as payday loans, and end up pushing borrowers into debt traps.
Maggie Seidel, a spokesman for Hunt's Consumer Bankers Association, told HuffPost that Hunt was unaware his testimony had been given new life, "but we're certainly glad Congress is paying attention to such an important issue for consumers."
Popular in the Community