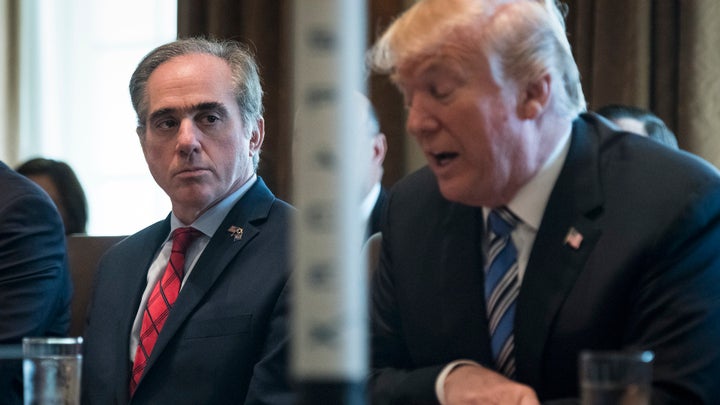 Secretary of Veterans Affairs David Shulkin is the latest to depart President Donald Trump's turbulent White House.
The president announced Shulkin's termination in a post on Twitter on Wednesday and said he intends to replace him with Adm. Ronny L. Jackson, the presidential physician. Undersecretary of Defense Robert Wilkie will serve as acting director of the department until a new secretary is confirmed.
In a statement following the decision, Shulkin said Trump "should have a cabinet member that he is comfortable with."
"I have worked to keep our nation's Veterans first in everything I did," he said. "I want you to know that I will always fight for you no matter where I go."
Trump appointed Shulkin in January 2017 despite previously signaling plans to completely shake up and overhaul the Department of Veterans Affairs.
Shulkin, a physician and former hospital executive, previously served in the Obama administration as the undersecretary of veterans affairs, and he experienced initial success running the agency with the support of veterans groups and bipartisan committees.
Shulkin was the subject of an investigation by his department's inspector general in February and was found to have committed ethics violations on a trip to Europe last summer. His extravagant 10-day trip to London and Copenhagen was planned under the guise of business travel but included only 3½ working days while costing the VA at least $122,334, the report found.
Trump's displeasure with Shulkin may have had more to do with the fact that the secretary had found himself increasingly at odds with conservative administration officials, who have long pushed for increased privatization of veterans' health care options.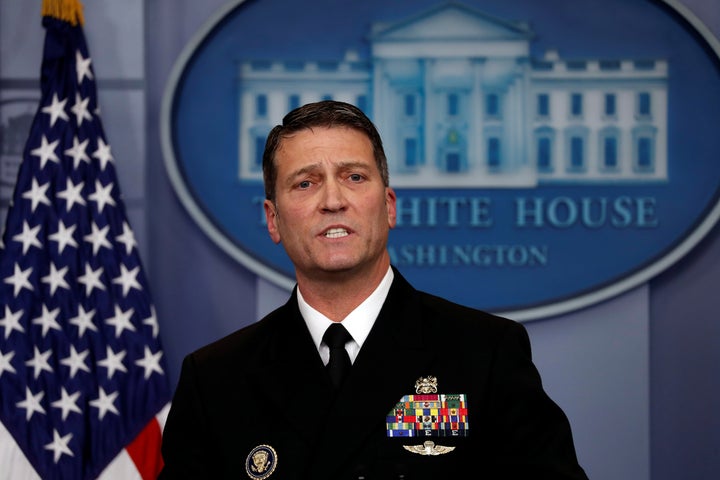 Jackson, a rear admiral in the Navy, has been the White House physician since 2013 and served under three different presidents.
"Admiral Jackson is highly trained and qualified and as a service member himself, he has seen firsthand the tremendous sacrifice our veterans make and has a deep appreciation for the debt our great country owes them," Trump said in a statement announcing his nomination on Wednesday.
However, Jackson appears to have no significant management record. The White House provided reporters with background information about Jackson that touts his expertise in medicine, but there's little to suggest that would be a likely nominee to run the sprawling Veterans Affairs Department ― a place known for bureaucratic mismanagement.
VoteVets, a progressive organization representing veterans affairs, said it was troubled with the lack of information surrounding Jackson's ability to lead.
"Other than a total lack of awareness of where he stands on any issue, we are also concerned that he has never managed an agency like the VA," Will Fischer, VoteVet's director of government relations, said in a statement. "Now is not the time for people who need training wheels."
A political moderate, Shulkin favored a more measured approach that involved introducing private care options only to offset long waiting times at veterans hospitals and only with the department's approval.
Shulkin appeared to think that the investigation into his trip spending was an effort by opponents in the administration "to undermine the department from within."
Shulkin is the latest in a string of departures from the Trump administration. On March 22, Trump announced by tweet that national security adviser H.R. McMaster would be replaced by former U.S. ambassador to the United Nations John Bolton. According to a March 22 Politico report citing two top administration officials, the decision surprised White House chief of staff John Kelly, who had been preparing to ax McMaster at the same time as Carson and Shulkin.
One week before, the president said he had decided to fire Secretary of State Rex Tillerson and replace him with CIA Director Mike Pompeo.
National security adviser Michael Flynn stepped down in February 2017 after less than a month on the job, following revelations that he discussed U.S. sanctions against Russia with that country's ambassador before Trump's inauguration.
In May, the president fired FBI Director James Comey, who had been leading an investigation into whether Trump's campaign colluded with Russia to influence the 2016 election. Mike Dubke, White House communications director, resigned later in May amid chaos in the press shop.
In a series of departures, press secretary Sean Spicer quit in July after the president appointed Anthony Scaramucci as the new communications director. Scaramucci then resigned after just 10 days on the job, shortly after White House Chief of Staff Reince Priebus' own resignation. Less than a month later, chief strategist Steve Bannon was out, as well.
Health and Human Services Secretary Tom Price resigned in September after reports surfaced that he used taxpayer-funded private jets on numerous occasions.