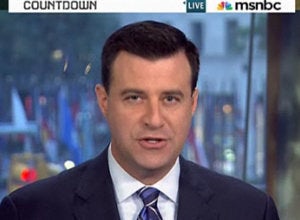 David Shuster may be about to find out what "punished appropriately" feels like.
When news broke that the MSNBC anchor had filmed a CNN pilot, the network did not immediately comment; spokesman Jeremy Gaines would later say that, if the report turned out to be true, Shuster would be "punished appropriately."
Shister reports that MSNBC President Phil Griffin "ripped Shuster a new one over the phone" and that "a repeat performance is expected [Monday] in the office." She adds that Shuster will not appear on-air Monday and may not appear on the network again. His contract reportedly expires this year.
It's the third time Shuster has found himself in hot water with the network: earlier this year, he was muzzled on Twitter after what the network deemed an inappropriate Tweet at conservative activist James O'Keefe. In 2008, he was suspended from the network over his comment that the Clinton campaign had "pimped out" Chelsea Clinton on the campaign trail.
Shuster has declined to comment to the Huffington Post about the situation; Shister reached him by phone Sunday night, but he would merely say, "I can't talk about it."
Popular in the Community