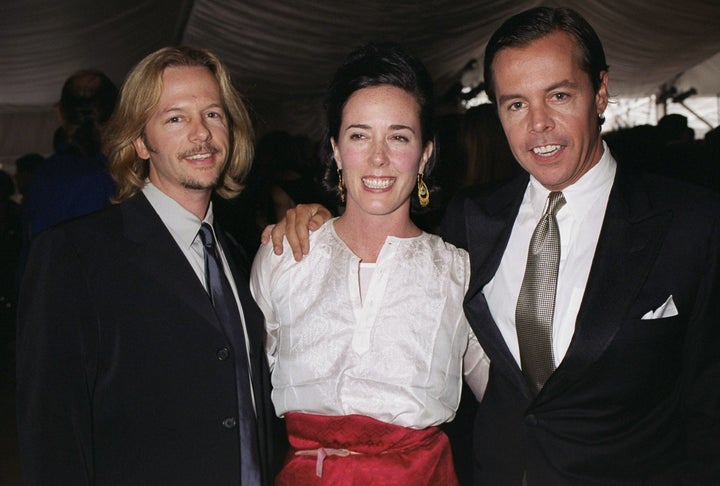 David Spade remembered his sister-in-law, Kate Spade, in an emotional interview on "Good Morning America" on Wednesday that included an anecdote about her "very sweet" response to his girlfriends.
He said his family is doing "as good as we can" in the weeks since her June 5 death.
"It's been very tough, obviously," the 53-year-old actor said. "She really made an impact."
He spoke about the effect the late designer had on his girlfriends ― and their clothes ― when they found out they were meeting the iconic designer.
"I remember when we used to hang out. It's funny 'cause every girl I was with or anyone that knew they would see Katie would dress differently," Spade said, laughing. "They would bring their A-game. It was very sweet."
"They would be like, 'Is Katie coming? Is Katie gonna be there?' And if [she was there], it was a whole new wardrobe. Katie was very sweet. She knew that they were doing that and she would say some compliment. And when I'd say, 'You don't dress up for me,' they'd go, 'Yeah, that's her and you're you.'"
"She was such a beautiful, lovely, great spirit that ― obviously ― will be missed," he added. The "Father of the Year" actor had to stop after the story, as he got visibly emotional and said he would "start bawling" on camera if he continued.
The designer died by suicide at the age of 55, leaving behind a daughter, Frances Beatrix Spade, 13, and her husband, Andy Spade, 55.
"We are all devastated by today's tragedy," the Spade family said in a statement provided to The New York Times at that time. "We loved Kate dearly and will miss her terribly. We would ask that our privacy be respected as we grieve during this very difficult time."
In the immediate aftermath of her death, David Spade posted moving photo tributes and spoke about her incredible sense of humor.
"Fuzzy picture but i love it. Kate and I during Christmas family photos. We had so much fun that day," he wrote. "She was so sharp and quick on her feet. She could make me laugh so hard. I still cant believe it. Its a rough world out there people, try to hang on."
In another photo from a book signing, Spade talked about "how fucking funny" the designer was:
Popular in the Community