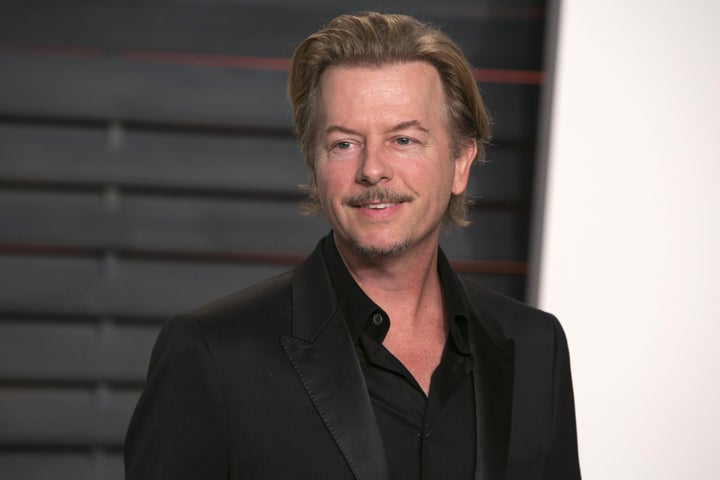 David Spade had a meeting with Adele and it went just about as awkwardly as you'd expect. During a Tuesday appearance on "The Ellen DeGeneres Show," Spade hilariously recounted his "buzzed" experience meeting the star.
The actor admitted he was starstruck by Adele, a feeling that doesn't come often for him, and swore he wouldn't introduce himself. But after a few drinks (some "loud mouth soup"), Spade was ready to say hello it's me.  But first, he had to get past the singer's bodyguard. 
"I don't want to just bust in so I do the procedure where I walk up, and he's like, 'And you are?' And then I go, 'Hey, can I go talk to Adele? I'm sort of a medium star,' you know, whatever," Spade said, before he made his grand entrance.
The actor said he didn't use the "Hello" line (from Adele's hit song, like we all would've) but led with a crazed "Wazzuppppp," with his tongue out. It only got more awkward from there.
"I talked to her and she was very sweet," Spade said. "Oh she goes, 'I'm playing the Staples Center in August.' And I go, 'Oooh, that whole month is tough for me.' She invites me and I don't even know what I'm saying, because I'm a little loopy, you know, buzzed."
As the audience (and Ellen) roared with laughter, Spade said he kept talking to the star and definitely overstayed his welcome. 
"[As I was leaving] I said, 'Hey let's do this at my house next time. I have a huge backyard,'" the actor admitted before shouting to the audience, "'What am I talking about? Why am I saying this? I was probably there four minutes too long." 
Let's just hope the next time Spade sees the singer -- whether it's at the Staples Center or in his backyard -- things go a little smoother. 
REAL LIFE. REAL NEWS. REAL VOICES.
Help us tell more of the stories that matter from voices that too often remain unheard.
BEFORE YOU GO
PHOTO GALLERY
Adele's Style Evolution