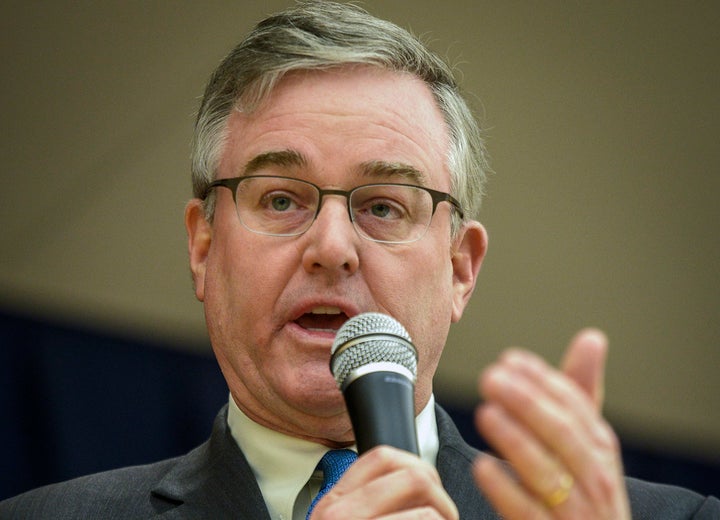 WASHINGTON -- Thanks to the record spending of one candidate, the Democratic primary in Maryland's 8th congressional district will go down in history. David Trone, the multi-millionaire owner of the retailer Total Wine & More, spent $12.7 million of his own money on the campaign, making him the biggest self-funder in the history of U.S. House elections. On Tuesday night, he lost the race to Jamie Raskin, a Maryland state senator. 
Trone was a late entrant into the primary race for this safe Democratic seat in Washington's more affluent Maryland suburbs. He used his wealth to wildly outspend his two main opponents in the race: Raskin and former television anchor and Marriott International executive Kathleen Matthews.
As of April 6, Raskin had spent a total of $1.2 million, while Matthews had spent a total of $2.1 million, most of which they raised from donors (Matthews also loaned her campaign $500,000 of her own money). The congressional seat opened up when Rep. Chris Van Hollen (D-Md.) decided to seek an open U.S. Senate seat.
Both Raskin and Matthews are closely tied to Washington's political and media elite. Raskin, who also works as a constitutional law professor, is married to Sarah Bloom Raskin, the deputy secretary of the Treasury, while Matthews is married to MSNBC host Chris Matthews.
Like Republican front-runner and billionaire Donald Trump, who has self-funded his presidential campaign with $35 million in personal loans, Trone argues that self-funding will prevent him from being corrupted by lobbyists and donors.
"I certainly could have raised enough money to fund a competitive campaign," Trone told the The Washington Post. "But the PACs, lobbyists and big dollar donors who give money would expect special attention. No matter how well-intentioned, those contributions and the candidates who take them are part of the reason Washington is broken."
Other candidates who were big spenders on their own campaigns have not had much success in elections, however. 
The previous record-setting self-funder for a House seat, West Virginia Democratic candidate James F. Humphreys, spent $7.8 million of his own money in 2002 ($10.4 million in 2015 dollars). Humphreys only received 40 percent of the vote, performing worse than he did in 2000, when he spent $6.1 million ($8.5 million in 2015 dollars).
Phil Maloof, a Democratic House candidate in New Mexico, spent $10 million in 1998 ($14.7 million in 2015 dollars) across a special election and a separate primary and general election for a congressional seat. He lost both campaigns.
The most prolific self-funder for any federal office was independent presidential candidate Ross Perot, who contributed $63.5 million ($108 million in inflation-adjusted dollars) to his 1992 campaign.
This post has been updated to reflect that Trone lost in Tuesday night's primary.
Calling all HuffPost superfans!
Sign up for membership to become a founding member and help shape HuffPost's next chapter
BEFORE YOU GO
PHOTO GALLERY
Moments From The 2016 Campaign