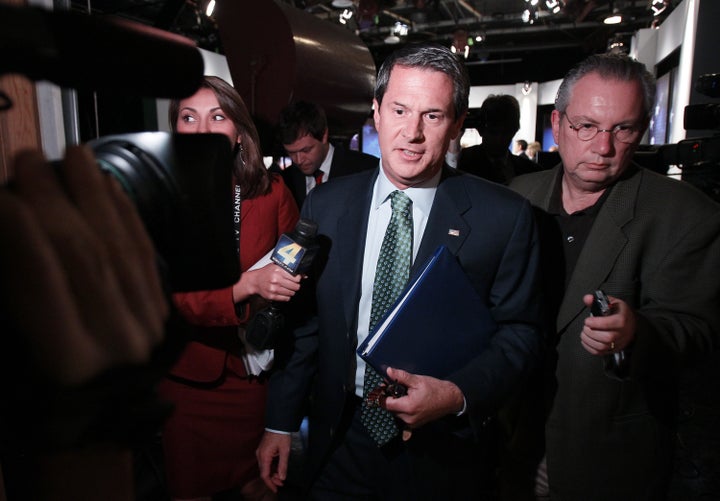 NEW ORLEANS — U.S. Sen. David Vitter on Thursday repeatedly refused to say whether he broke the law in connection with a Washington prostitution ring to which he was linked by phone records in 2007.
The Louisiana Republican dug in during a Thursday night debate marking the first time that the senator has faced repeated, pointed questioning from reporters about the scandal.
The first-term senator and former House member has repeatedly turned away interview requests and has referred only to a "serious sin" in statements about his alleged involvement as a House member with the prostitution ring run by the so-called "D.C. Madam," the late Deborah Jeanne Palfrey.
WAFB television reporter Greg Meriwether asked Vitter to explain what the "serious sin" was. Vitter launched into a lengthy response, saying again that he has been forgiven by his wife, family and God, and that he believes voters have forgiven him and support him.
"Did you violate the law?" asked moderator Dennis Woltering of WWL.
Vitter: "Dennis you can look back, you can continue to write stories in the media about it. That's your decision. It's a free country. I looked the voters of Louisiana in the eye. I spoke to them sincerely. I think they heard me and I think they understood me. And now I'm looking forward, I'm not looking back."
Vitter ducked several other questions about whether he had broken the law, and then attacked his Democratic opponent, Rep. Charlie Melancon, for airing a two-minute tabloid TV-style commercial about the senator's alleged past involvement with prostitutes.
"Is that part of your Melancon family values, Charlie?" Vitter asked.
"David, you never had family values. You've demonstrated that to America quite keenly," the congressman said.
Vitter, with a significant lead in most polls, has kept publicized appearances to a minimum during the campaign. He has relied to a large extent on ads, some touting his own conservative philosophy, many attacking Melancon for supporting President Barack Obama, whose has low approval ratings in the state.
After the debate, Vitter hurriedly left the studio as reporters kept up the questioning.