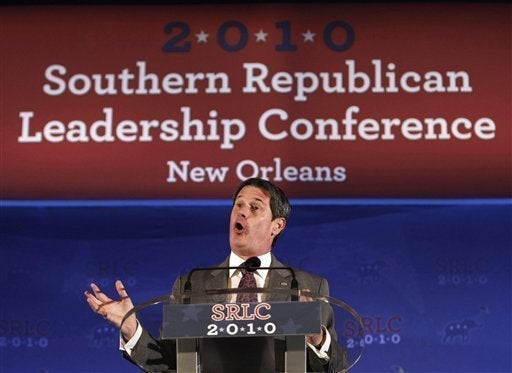 Women's groups and anti-domestic violence activists want to know why a "women's issues" aide to Sen. David Vitter (R-La.) who resigned last month after reports surfaced that he pled guilty to stabbing an ex-girlfriend in 2008, was allowed to stay with the Vitter campaign for two years following the incident.
One group, the National Organization for Women, has even called on the U.S. Senate Ethics Committee to censure Vitter for his apparent acceptance of the behavior of the former aide, Brent Furer.
"This is not just Sen. Vitter making another lapse in judgment," Terry O'Neill, president of NOW, told ABC News. "This is about his utter disdain for the women of this country. It's important for the ethics committee to address this if the U.S. Senate wants to have standards that actually respect women."
NOW is planning to seek sanctions in order to force Sen. Vitter to publicly address his reasons for not terminating Furer at the campaign during, or even after, the legal proceedings.
ABC has more on the Furer incident and the arrest:
Arrest reports and court records describe the woman's account of the attack, which allegedly took place in Furer's apartment. She told police she was held against her will, stabbed in the hand, and cut so deeply on the chin that she required eight stitches. Furer pleaded guilty to three lesser charges and did not serve any jail time.
Other national groups echoed NOW's sentiment and harshly criticized Vitter for his lack of action against Furer.
"He should have denounced the actions and released the staffer," Brian Namey, a spokesperson for the National Network to End Domestic Violence told ABC News. "This is a person whose job it was to assist the senator on violence against women issue. That he of all people would be involved in an attack on a woman, it's particularly disturbing."
Rep. Charlie Melancon, the Democrat vying for Vitter's Senate seat, has also been talking about Furer's conduct. Louisiana State Rep. Karen St. Germain, vice-chair of the Louisiana Legislative Women's Caucus, recently signed on to the Melancon campaign calling Vitter judgment into question.
"After years of dodging questions about scandals, it's time for David Vitter to come clean," St. Germain said in a statement. "Why did he protect Brent Furer, and what does Furer know about Vitter?"
Sen. Vitter was grilled by reporters on the issue Wednesday at a press conference following the formal filing of his election papers. In his responses, Vitter denied the claim that Furer was put in charge of "women's issues" and charged that Melancon's insistence on the issue would end up showing that he was "weak."
QUESTION: Senator, the Congressman mentioned what he termed as your indiscretion and also the problems with your former aide and his criminal charges. How do you expect to respond to that as it undoubtedly will come up on the campaign trail?

DV: Well I have responded to that, number 1. Number 2, the fact that Charlie is so focused on, in the latter case, an ex-employee, something that happened two years ago, I think, just shows how weak a position he's in, and I think it's going to absolutely come across that way to the voters.

QUESTION: You say this happened two years ago, I mean, he just resigned and you let him stay on the staff since the events happened in 2008, so it wasn't two years ago.

DV: Well, the event was two years ago, the discipline he got in the office was two years ago..

QUESTION: Why'd you let him...what kind of discipline did he get in the office?

QUESTION: Senator, why was he assigned to women's issues even after you knew about the arrest?

DV: Uh, he was not.

QUESTION: He was not assigned to women's issues?

DV: Correct.
Watch video of Vitter's remarks:
Popular in the Community