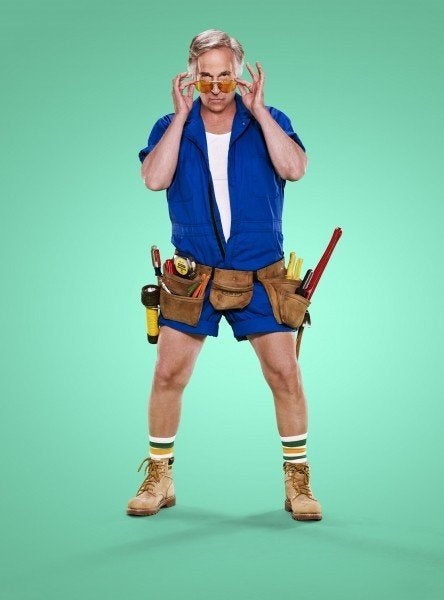 "I don't normally have this," 29-year-old playwright David West Read assured a reporter, referring to the dark blazer he wore over his t-shirt. "Though I give you permission to make 'Trail Blazer' the title of your piece."
The remark -- entirely self-deprecating and topped off with a play on words -- tells you much of what you need to know about Read, who, as it happens, is actually something of a trailblazer. Surely he's the first Canadian playwright to make the leap from Off-Broadway to Broadway on the strength of a show about porn starring television's The Fonz.
Read caught the attention of the theater world with a play called "Dream of the Burning Boy", which ran Off-Broadway at the Roundabout Underground in spring 2011. With his upcoming Broadway debut, "The Performers," he'll be taking a major leap "from 60 seats to 1,000 seats" -- and those seats are likely to be filled, owing as much to the play's salacious subject matter as to its well-known actors.

"We're trying not to scare people off," said Read, who moved to New York from his native Toronto only 4 years ago. "The truth is, the porn thing is really more the setting as opposed to the content. It's really a play about relationships."
The relationships play out against the backdrop of the Adult Film Awards in Las Vegas, and Read's story follows two old high school friends (an adult film actor played by Cheyenne Jackson and a reporter played by Daniel Breaker) and the women in their lives (played by Ari Graynor and Alicia Silverstone) over the course of one tumultuous evening. Also prominently featured is Henry Winkler, playing a famous porn star.

Read said he'd written the part with Winkler in mind, and never dared to imagine that he'd actually land the "Happy Days" actor for the production.

"I take full credit for that," he said. "There's some sort of sadistic pleasure in getting [Winkler] to say these filthy things, because he's so sweet. He's like everyone's uncle. He's not precious about his iconic status and he's willing to laugh at himself."
Producers are banking on Winkler's "iconic status," and the broad appeal of Silverstone and Broadway favorite Jackson, to guide audiences to the Longacre Theatre when performances begin on October 23. Nobody expects Read's name to sell many tickets, but "Performers" producer Robyn Goodman, who has watched the Read's ascension since producing "Burning Boy" last year while he was still studying at Juilliard, thinks that could change someday.
"What I realized when I read ["The Performers"] was what an exciting new voice he was. This play was a laugh-out-loud modern romantic comedy," she said. "He has a contemporary sensibility without sacrificing the vulnerabilities of his characters who populate the world of adult entertainment."
Read expects audiences to be drawn in by the risqué subject matter, but he hopes that his characters and the "stupidity" of the comedy will ultimately hook them. Plus, since the Canadian playwright's student visa just ran out, he really needs to stay working this year. His American life depends on it.
"When you graduate, they give you a year to work in your field and then I have to apply for an Essential Persons visa," he said. "Hopefully it'll be OK because I'll have so much press. They like to see things like, 'Henry Winkler wrote you a letter.' 'The Fonz wrote you a letter, so you can stay.' I mean, if America's hero believes in me..."
For a show Read started out writing purely for fun, something he never thought would be produced, "The Performers" has already come a long way. Even now, he doesn't think it's actually real. Only when the marquee for the show went up at the theater, Read said, did it finally feel "official."
"I wasn't ever writing with Broadway in mind. I was writing with like a bed and a door that you would move around, and a bunch of black wooden boxes," he said. "But now it's got automated set changes that'll probably cost more than I'll ever get paid."
"The Performers" opens on October 23, directed by Evan Cabnet, who also helmed Read's "Dream of the Burning Boy." Check out the cast of the show below:
PHOTO GALLERY
The Performers of 'The Performers'
REAL LIFE. REAL NEWS. REAL VOICES.
Help us tell more of the stories that matter from voices that too often remain unheard.