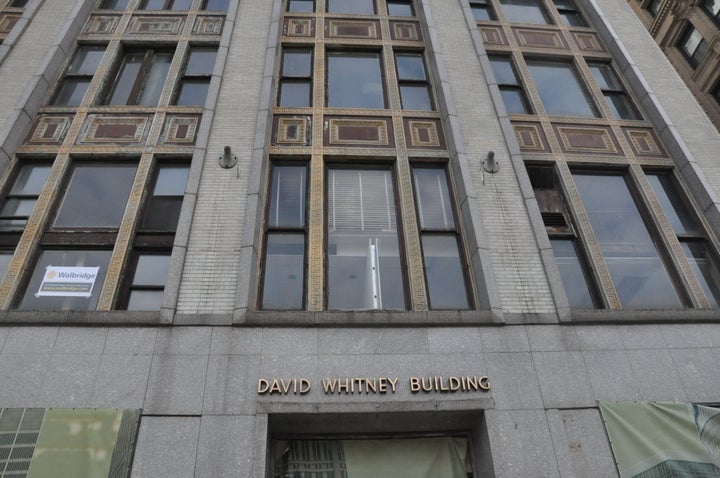 A soaring historic building in Detroit, long empty, is on its way to a new life.
When the $82 million renovation of the David Whitney at Woodward Avenue and Grand Circus Park is completed in July 2014, the 19-story building will house the city's first boutique hotel, restaurants and bar, apartments and a connection to downtown public transportation.
"This project has so much more context than just ... the redevelopment of a historic gem," Dave Blaszkiewicz of the Downtown Detroit Partnership said Thursday. "The Davids, the Broderick Tower and the David Whitney building, are the gateways to our central business community."
The project, years in the making, is headed up by Whitney Partners LLC. It's a partnership of Detroit real estate developers the Roxbury Group and hotel management company Trans Inns Management. The company was joined by the Detroit Economic Growth Corporation, Bank of America Michigan, the Downtown Detroit Partnership and Gov. Rick Snyder for an unorthodox start to construction Thursday morning. In lieu of a traditional groundbreaking, Snyder flipped a massive metal lever to switch on interior lights.
"For how many years, people might have stood here and said, 'this is a problem,'" the governor said. "This was a problem for a lot of years. Now we're standing here today to say this is an opportunity ... for the future."
The ceremony took place on the building's ground floor, a central space also filled with light filtering in from far above. When renovations are complete, the space will be the lobby for Aloft, a boutique hotel chain under the parent company Starwood Hotels and Resorts Worldwide.
"Aloft [and Starwood] got it. They understood the potential of this space," said David Di Rita, Roxbury Group principal.
Aloft's first mixed-use project will have 136 rooms on the third through ninth floors, with suites on the third and fourth. The second floor will have banquet and meeting space looking into the building's large atrium. The 10th floor and above will contain 105 one- and two-bedroom residential apartments.
"We really said, let the hotel's needs drive this," explained Di Rita. "It just happened to work out that the right size for them took about half the building. And we said, 'great, we'll take the rest for residential,' because we know that will go."
On the ground floor, Aloft's WXYZ bar and re: mix lounge will fill the space along Woodward Avenue. On the building's Washington Avenue side, the Whitney Partners are planning a second restaurant to complement Aloft's offerings that will evoke the building's history, one of the driving forces in the project that includes restoration of interior finishes and exterior renovations to bring back elements of the original construction.
Originally the structure featured a classical exterior that included columns, but this changed when its owners hired the firm Harley, Ellington & Day to give it a more modern look in 1959.
A closed-off portion of the Grand Circus Park People Mover station on the second floor will be reopened, with new elevator and escalator access.
"Our view of it always was that this building needed to be more than a residential project, and whatever use we brought here had to really create a public space," said Di Rita.
The historic building, named for Detroit lumber baron David Whitney Jr., opened in 1915, but has sat empty since 2000. It was designed by the firm of the famed U.S. skyscraper architect Daniel Burnham, who was responsible for creating the Flatiron Building in New York City.
"A hundred years ago, when David C. Whitney placed a call to Daniel Burnham to design a building in his father's name, it was ... in some respects, I think, a city that has much in common with the city we live in today," Di Rita said. "Like today, it was a city of just over 700,000 people. Like today, it was a city brimming with entrepeneurs whose creativity defined its character. And like today, it was a city of visionary business and civic leaders who decided it was time for the world to know of Detroit's coming greatness."
While the construction project has a ways to go, the unrestored building still holds many interesting architectural details. Below, see pictures of the Whitney as it stands today, which gives a bit of a feel for what it can become.
PHOTO GALLERY
Construction Begins At David Whitney Building In Detroit
David Sands contributed to this report.

Calling all HuffPost superfans!
Sign up for membership to become a founding member and help shape HuffPost's next chapter
BEFORE YOU GO