Davien Payne, 20, is charged with aggravated motor vehicle theft and two counts of second-degree assault stemming from the Aug. 17 incident. Police say he stole a black Volkswagen Jetta near the college campus. Payne and a female companion encountered the owner of the vehicle and her boyfriend at a crosswalk.
"'What are you doing?' I asked him, and he said, 'Uh, I'm trying to let you cross the street.' Cause he didn't put two-and-two together that I was the owner of the car he'd just stole," Alex Walden told 7 News Denver.
According to ABC News, Walden initially thought her car had been towed, but realized it was stolen when she saw Payne drive up in a vehicle of the same color. It had the same license plate and same soccer ball lying in the back seat.
(Story continues below)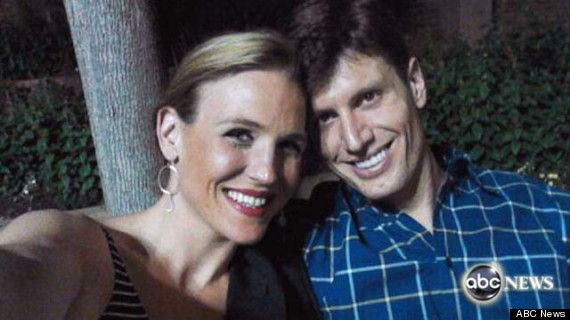 Alex Walden (left) and boyfriend Ryan Tippetts (right) in a photo take shortly before they encountered Payne allegedly driving Walden's stolen car.
When Payne tried to drive away, Walden's boyfriend, Ryan Tippetts, jumped through the passenger-side window and attempted to wrest control of the car away from Payne.
"He started driving away. My feet were hanging out the window," Tippetts told 7 News. "He started screaming at me, 'I'm going to shoot you, I'm going to shoot you. I'm going to kill you. Get out of my car.'"
ABC News reported that Tippetts suffered a broken larynx in the struggle, and now has "four titanium plates and like eight screws holding [his] throat together." Tippetts said Payne punched him about 20 times in the face and throat as the men battled for control of the steering wheel. Payne eventually gave up and fled on foot. Police arrested him in a nearby alleyway after he struck an officer.
According to police, Payne had been stopped by an officer earlier that evening after receiving reports of a man trying to open car doors. However, Payne was let go after an identification check, since the officer did not observe him attempting to open car doors, or find stolen property on him.
So how did Payne manage to start the car? The police report notes:
"There was a key in the ignition of the vehicle that was collected for evidence. Walden stated she had never seen the key before and had no idea where it came from. She did state the key could have been hidden somewhere in the vehicle without her knowledge of it."
Related
Popular in the Community