"I'll take anyone," came the heartbreaking plea of 15-year-old orphan Davion Navar Henry Only, who stood in front of a St. Petersburg, Fla., congregation last month in a last-ditch effort to find an adoptive family. The story of his search for a mom and dad is both terribly sad and indicative of the problem facing so many older orphans who may spend years in foster care without ever finding a permanent home.
Story updated below with new information.
For Only, who was born in prison, life has consisted of a constant shuffle through the foster care system, reports the Tampa Bay Times. He knew little about his mother, a drug addict and a convicted thief, and has himself grappled with academic, rage and weight issues.
"One of the things they told Davion was that he was loved," Connie Going, Only's caseworker and an adoption specialist for Florida-based agency Eckerd Community Alternatives, told Newsweek. "He got in the car and said, 'I didn't know I was loved, Miss Connie.' That began the turning point."
With Going's help, Only began to get serious about his schoolwork and worked on controlling his emotions and leading a healthier lifestyle, per Newsweek.
"He's come a long way," Floyd Watkins, program manager at Only's current group home, told the Tampa Bay Times. "He's starting to put himself out there, which is hard when you've been rejected so many times."
The church appearance, Only's idea, was one way of "putting himself out there." The Times described how the boy wore an ill-fitting black suit and gripped a Bible as he stood before the 300 or so members St. Mark Missionary Baptist Church. "Without looking up," writes the Times, "Davion wiped his palms on his pants, cleared his throat, and said: 'My name is Davion, and I've been in foster care since I was born. ... I know God hasn't given up on me. So I'm not giving up either.'"
"How do we know if someone doesn't offer Davion hope and love and opportunity that he would not become the next greatest teacher or airplane pilot or police office," Tuohy told HLN. "It's just not acceptable that we are out building animal shelters ... and we have kids that are walking on the street and they just want is a forever family. ... This kid just wants to be loved, he wants to wake up in the morning and know that there's somebody who loves him."
The Tampa Bay Times reported this week that two couples from St. Mark Missionary Baptist Church have asked about Only, but that no one has offered to adopt him.
We are so touched and humbled by the international response to his desire to have a forever family. The response has been tremendous to the Tampa Bay Times story. Due to the overwhelming response, please be patient as we sort through the enormous volume of calls, emails and letters that have poured in from around the world. We promise that we will respond to each and every request.
Anyone looking for more information about Davion Only or other children like him in Florida's Pinellas County and Pasco County can call Eckerd Community Alternatives at (866) 233-0790.
Support HuffPost
A No-B.S. Guide To Life
Related
Before You Go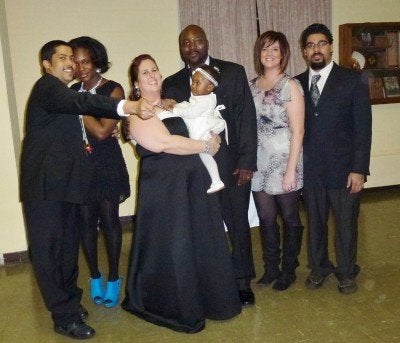 Adoption Portraits
Popular in the Community