Over the last few weeks, the story of Davion spread like wildfire across social media channels. Davion was a foster youth who had been waiting most of his life for an adoptive family. His desperation led him to visit a local church to plead for someone to adopt him.
"I'll take anyone," Davion said. "Old or young, dad or mom, black, white, purple. I don't care. And I would be really appreciative. The best I could be."
His story tugged at the nation's heartstrings, and I saw scores of people sharing his story. It even prompted an interview on The View. His social worker reports that over 10,000 families have inquired about adopting Davion. She feels confident that he will have a permanent family by his next birthday. It's an incredible ending to a tug-at-the-heartstrings story.
But I hope it doesn't end there. Davion brought his reality to the forefront through his brave plea and the power of his story, but his reality represents thousands of other kids across the country. According to the Heart Gallery of America, over 101,000 kids are waiting for families in the U.S. right now. For every person who casually commented on the story with, "I would adopt him in a heartbeat," and for the thousands of people who called on his behalf, I hope the emotional response doesn't end there. For every Davion, there is a Milanda and a Tonya and a James and a Tyron.
Christa enjoys going to teen night at church. Jazmyne is a "people person" and enjoys the outdoors. Xavier is fun, outgoing and respectful. Tonya is excelling academically and has a quick sense of humor. Keyshaun and Treyshaun are loving, sweet and playful boys who enjoy receiving hugs and praise. They all want a permanent family.
There are so many more stories... so many more kids waiting. If Davion touched your heart and made you consider adopting a teen, I hope you will follow up and find out more. Older kids need parents, too. In fact, some 18-year-olds have listed themselves on adoption websites not because they need a guardian, but because they want a family as they launch into adulthood. This breaks my heart.
Foster children, more than anyone, need a support system as they become adults. The outcomes for foster children who age out without finding a family are not good. And yet, so many of them are just needing support, love, and the promise of a family.
Our oldest child is adopted from foster care, and we plan to adopt a teenager from foster care when we are empty-nesters. I'd love to dispel some of the myths about adopting an older child:
1. I'd love to adopt but it's so expensive. I don't have that kind of money.
Adopting from foster care costs ZERO DOLLARS. All fees are paid by the state.
2. I can't afford to care for another child.
When you adopt from the foster care system, you receive their foster care stipend until they turn 18. This is to incentivize adoption so kids are not stuck in foster limbo. The stipend can range based on where you live, and is increased if there are any medical needs, educational needs (like IEPs) or psychological issues requiring therapy.
3. I wouldn't have time to save for their college.
In many states, former foster youth are eligible to attend their state university FOR FREE.
4. I am single / I am gay.
Most states allow both single people and LGBT people to adopt.
5. The homestudy thing seems too hard and intrusive.
It's less intrusive than pushing a baby out of your vagina with several people in the room, I can promise you that. The personal questions are not meant to intimidate you, it's a necessary screening process. The social workers WANT to approve you. They want families for these kids, too.
Maybe Davion's plea will create a bigger change than he ever imagined. Maybe it will prompt our nation to listen to the voices of foster youth who are asking for a family before it's too late.
Watch HLN's report on Davion's plea here:
From "30 Adoption Portraits in 30 Days," a series designed to give a voice to people with widely varying experiences, including birthparents, adoptees, adoptive parents, foster parents, waiting adoptive parents and others touched by adoption: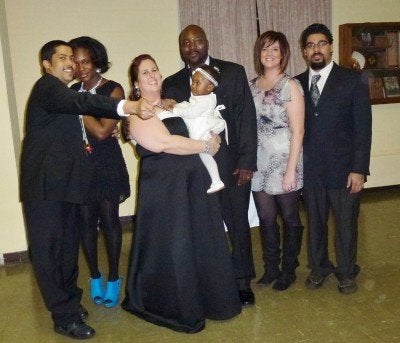 Adoption Portraits
Popular in the Community