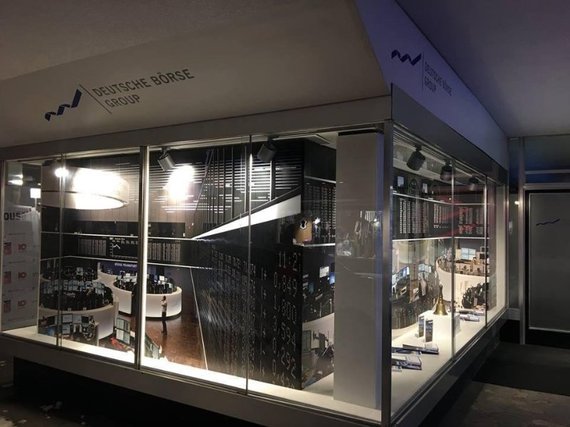 Today's Neologism "CorpUps"
Davos is a sleepy ski town with a lovely winding main street. In the three days preceding the WEF annual meeting, many of the stores are emptied and teams do a complete renovation to turn them into Corporate Popups. Call them CorpUps. Companies like Accenture, Credit Suisse, Facebook, Generale, HSBC, IBM, Planantir (who built the cockpit of a jet as a bar), Salesforce, SAP, and Thompson Reuters. Davos looks more like a corporate mall than a ski village. But it sure is great to be able to drop into to any of these Corpups and get great coffee snacks and talk to an eager customer relationship person. (see above photo)
Theme 1: China Steps into the Global Leadership Vacuum
On a more serious note, the buzz here is that the appearance of Chinese President Xi Jinping was pretty much a calculated masterpiece. It sure was an interesting coincidence, that in the first days of the Trump Era, that after 47 years China sent its leader to speak at Davos. In a thinly veiled polemic against protectionism in general and Trump's "America First" rhetoric in particular, Xi argued that countries shouldn't be blindly pursuing their national interests.
Pointing to the sluggish global economy he asked, "What strategies would bring about growth?" Mr. Xi likened protectionism to "locking oneself in a dark room" in the hopes of protecting oneself from danger, but in so doing, cutting off all "light and air." He compared global markets as a great ocean and said that it's a mistake to retreat to shore every time there is a storm - or worse, turn the world into a collection of lakes and creeks. He pointed to a lack of global governance as being inadequate and inclusive. Governments, global finance, and rules are not keeping up with changes to the global economy.
He came across as a supporter of innovation, International cooperation, of abiding by global agreements such as climate and overall presented himself as the statesman needed to fill a global leadership vacuum. (Needless to say he didn't mention political oppression and limitations of free speech and organization in China - the final prerequisite for China to assume a true leadership role.)
Some Davos Facts:

6 Number of Trudeau cabinet ministers attending Davos
26 Heads of State
62 Number of Canadians
500 Number of journalists
1971 Year the World Economic Forum was founded. 
2,500 Number of delegates
7,000 Number of young people part of the Forum's global "Shapers"
11,000 Population of Davos
16,000 Numbers of additional support staff and other hangers on
30,000 Population of Davos during the meeting.  
8 million Number of francs the Swiss government spends on security
Theme 2: The Global Implosion of Trust
Another hot topic here is the just-released Edelman Trust Barometer, which showed the largest-ever drop in trust across the institutions of government, business, media and NGOs around the world.
In this era of fake news, it's no surprise that trust in media (43 percent) is at all-time lows in 17 countries. Trust levels in government (41 percent) dropped in 14 markets and is the least trusted institution in half of the 28 countries surveyed.
The credibility of business leaders is also falling. CEO credibility dropped 12 points globally to an all-time low of 37 percent. This was true of all countries studied. The least credible is government leaders at just 29 percent.
"Business is the last retaining wall for trust" - Kathryn Beiser, Edelman
Edelman has done the survey for the past 17 years, and more than 33,000 respondents were sampled. "Business is the last retaining wall for trust," said Kathryn Beiser, global chair of Edelman's Corporate practice. "Its leaders must step up on the issues that matter for society. It has done a masterful job of illustrating the benefits of innovation but has done little to discuss the impact those advances will have on people's jobs. Business must also focus on paying employees fairly, while providing better benefits and job training."
Theme 3: The Fourth Industrial Revolution beginning to wipe out entire sectors of the Workforce
The Fourth Industrial Revolution is a big Davos theme, and this year the focus is on the downside. The first revolution used water and steam power to mechanize things like shovels. The second, caused by the advent of electric power, enabled mass production. The third, the digital revolution, saw us using electronics and information technology to automate production and it gave rise to the Internet, the World Wide Web, mobile computing, and social media.
Now, we are in a Fourth - in which technology is being fused into almost everything in the physical, digital and biological worlds. Ubiquitous digital technologies, artificial intelligence, autonomous vehicles, the so called Internet of Things, 3D printing, nanotechnology, robotics, biotechnology and big developments in materials science, energy storage and quantum computing are starting to shake the windows and rattle the walls of the global economy. One of these is a topic of special interest to me - the technology behind the digital currencies like Bitcoin called the blockchain. Together they are creating entirely new capabilities and dramatic impacts on, well, just about everything - our political, social and economic systems and the future of civilization.
This Fourth Industrial Revolution brings disruption and a human cost along with its seemingly limitless applications. Soon the rise of "smart factories" may replace factory workers, leaving millions unemployed. And it's not just blue collar workers either - technology is now targeted at the heart of professions from doctors and druggists to limo drivers and airline pilots.
In the past years at Davos, most people argued that like all of the revolutions that came before it, this one will displace old industries with new ones and overall contribute to jobs and prosperity. This year, delegates have woken up to the reality and are struggling to find ways that innovation can contribute to inclusive growth rather than exacerbate unemployment and income inequality.
In one session, US Secretary of State John Kerry stunned the audience by saying that it's not outsourcing that is causing job loss in America. 85 percent of job losses over the last decade are actually attributable to technological change -- largely automation -- rather than international trade.
How can breakthroughs in science and technology help in solving problems of the global commons from climate change to public health? How will emerging technologies transform the global security landscape? How can governments build institutions capable of making decisions when the challenges they face are more complex, fast-moving and interconnected than ever before?
All good questions. More on this as I formulate some conclusions from the week.
Calling all HuffPost superfans!
Sign up for membership to become a founding member and help shape HuffPost's next chapter