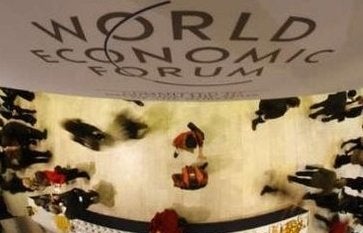 Day Three: Friday's Newsweek lunch hosted by Lally Weymouth and Fareed Zakaria was, unfortunately, off-the-record. So I cannot fully recount all the bon mots uttered by central bankers, trade ministers, presidents and former presidents -- each focusing on their own slice of the crisis pie.
But, after the lunch, I caught up with the two men who had given expression to the most diametrically opposed perspectives on the economic meltdown.
The prevailing Davos pessimism had been brilliantly summed up by Niall Ferguson, a history and business professor at Harvard. So I asked him to elaborate on-the-record. He called what we are going through not a Great Depression but a "Great Repression." He was referring to measures taken by governments to repress the symptoms of the greatest financial crisis the world has ever faced. "Our leaders," he said, "are in a state of denial, turning to a 1936 book [Keynes' The General Theory of Employment, Interest and Money] to save us. They've convinced themselves that the world can save itself from excessive leverage with more leverage."
I asked him what he thought should be done to deal with the Great Repression. "It is time to start new banks," he said. "The old banks need to be completely restructured so that they stop trying to protect equity holders and let the bondholders know that they have to 'take a shave' -- something around 20 percent. "It's what happened in Argentina," he said. When was the last time anyone compared the largest economy in the world to Argentina's?
It was time to go find Henry Kravis, who, not surprisingly, presented a completely different view, focusing on a number of recent equity offerings -- including a $2 billion offering by Goldman Sachs. So while Kravis was seeing "cracks" of light breaking through the darkness, Ferguson was seeing a state of denial.
During the lunch itself, I was in "Facebook Heaven," seated between Mark Zuckerberg, Facebook's founder and Sheryl Sandberg, its COO. For a change, we talked about everything except the economic crisis. We even talked about the Greeks, since Mark had studied the classics at Harvard. "Homer didn't actually exist," he said. So, I wondered, since Homer's stories were shaped as they were passed from person to person and generation to generation, were The Iliad and The Odyssey the first examples of User Generated Content?
My night started with a really special all-women's dinner on top of the Davos mountain, hosted by Wendi Murdoch and Pepsi CEO Indra Nooyi, to raise awareness, pledges, and support for improving maternal health and infant mortality around the world.
I walked to take the funicular up to the mountain with Baroness Shriti Vadera, the Business Minister in Gordon Brown's government. I noticed that one of her fingers was bandaged, and asked her what had happened. "I cut it," she said, "and then did nothing about it for ten days, until it got really bad."
"In what I'm doing," she replied, "I'm dealing with so much pain every day that I didn't notice mine." Maybe because we were going to an all-women's dinner, I wondered if that was a comment that would only be made by a woman business minister! In fact, the whole evening had a confessional air, mixing the personal and the political -- including the CEO of Pepsi tossing her prepared remarks and talking about how haunted she has been by the image she had seen of a hungry child rummaging for food. And that came after she had confessed that after years of always wearing the same suit in different fabrics and colors, she got out of her comfort zone for the first time as she was dressing for the dinner and wore something completely different that she had bought years ago and had left languishing in her closet. To much appreciative applause, she did a turn to show us her sleek black-and-white dress and coat. Then she went on to tell us what Pepsi is doing to alleviate hunger.
Sarah Brown, Britain's first lady, who spoke, called it the "new face of feminism," while Melinda Gates spoke passionately about the fact that "at the end of the day, what matters is not how much money I gave, or how much I cared but what kind of impact I had... how many lives did I lift up?"
The evening, which began on a personal note from Wendi Murdoch, recounting how her grandmother had died while giving birth to her mother, ended on another personal note when Sarah Brown turned to Cheri Blair and, from the podium, lauded the work and example set by the woman she succeeded at Downing Street. There was a hush in the room, as many of those present were aware of how the two women had barely been on speaking terms. So altogether a great evening, demonstrating both the need to take action to help women around the world and the value of setting aside grudges closer to home.
My night ended at the Google party at the Belvedere hotel. Those who wanted to dance and listen to the music were inside the party. Those who wanted to talk, including Al Gore and the party's hosts, Larry and Lucy Page, were in the hallway outside. Not only was I solidly in the hallway group, but I even found a windowsill where I sat to talk with Marc Forster, director of Monster's Ball, Finding Neverland, The Kite Runner, and the latest Bond movie, Quantum of Solace. Forster was actually born in Davos and, growing up, had watched the World Economic Forum from the outside. This was his first time as a participant. He had, not surprisingly, taken part in a few art and politics sessions -- and came away wishing there had been more sessions on the arts. Come to think of it, more sessions on the arts would probably have given us more insights than more sessions on economic models and theories.
And be sure to keep checking our Davos BigNews page for the latest news, commentary, and video coming out of the World Economic Forum.
Popular in the Community