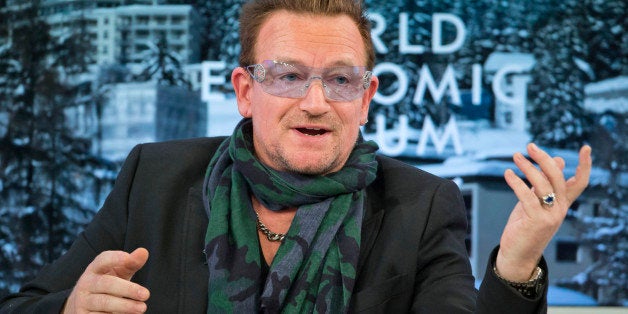 Being rich just got a little more expensive.
Switzerland's central bank on Thursday ended a three-year campaign to keep its highly coveted currency, the Swiss franc, cheap against the euro and other money. The franc immediately soared in value. This chart from Quartz's Matt Phillips puts the size of the move in context. The straight line up at the very end of the chart shows the franc's dizzying one-day move: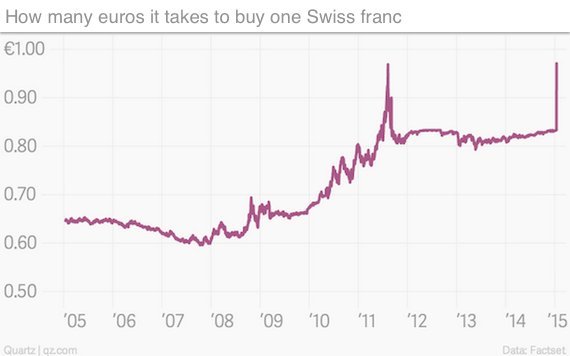 This sort of thing inevitably causes pain, particularly for bloodied currency traders.
Also bearing the immediate burden are the people holing up in the charming ski town of Davos, Switzerland, for the World Economic Forum's annual exchange of buzzwords.
The jump in the Swiss franc means everything in Davos is going to be more expensive, from champagne to grilled sausages, Bloomberg reports. A glass of Johnnie Walker Blue is up $6 to $41 at the Belvedere Hotel, where many delegates stay and everyone wants to stay.
The thing about Davos, though, is that it was already incredibly expensive before the Swiss currency cap was lifted. The World Economic Forum's 120 "strategic partners" pay 500,000 francs, or about $577,000, each year just for the privilege of sending five executives to the conference. Each executive then has to pay about $20,000 for a ticket to the conference. Then there are thousands of dollars per person in plane tickets and car bills and hotel rooms, and tens of thousands more to entertain clients in private dining rooms and big cocktail parties.
The result: A small group of wealthy people who had already agreed to be price-gouged will now face a bit more price-gouging.
And things will get even more expensive next year, when the price to be a strategic partner rises to 600,000 Swiss francs. Attendees are already complaining about that price increase, announced in October.
But they can, and will, continue to pay up.
They'll keep paying because Davos is a good way to generate positive PR; see lots of clients in a really short time; and, above all, gossip and gather information in informal situations.
It doesn't come cheap. But if you could afford it before the Swiss franc exploded, then you can probably still afford it.
Calling all HuffPost superfans!
Sign up for membership to become a founding member and help shape HuffPost's next chapter
BEFORE YOU GO
PHOTO GALLERY
Famous People At Davos 2015