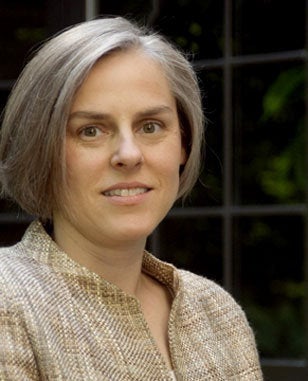 A White House official confirms what the Huffington Post reported on Wednesday -- that the administration is set to re-nominate Dawn Johnsen, the controversial nominee to head the Office of Legal Counsel.
An administration aide sends over the following list of nominees whom the president plans to re-appoint after the Senate reconvenes on January 20th.
* Dawn Johnsen, Nominee for Assistant Attorney General (Legal Counsel), Department of Justice
* Chris Schroeder, Nominee for Assistant Attorney General (Legal Policy), Department of Justice
* Mary Smith, Nominee for Assistant Attorney General (Tax Division), Department of Justice
* Craig Becker, Nominee for Member of the National Labor Relations Board
* Louis Butler, Jr., Nominee for United States District Judge for the Western District of Wisconsin
* Edward Chen, Nominee for United States District Judge for the Northern District of California
This is huge news for progressive activists who have longed to see the White House come to Johnsen's defense after her nomination was held up by a united Republican opposition and several skeptical Democratic senators. Johnsen was first nominated a year ago to take over the same position that Bush administration lawyers occupied when they effectively constructed legal arguments to authorize the use of torture. Her criticism of those past OLC officials has caused her appointment to be stalled. Rather than drop the effort altogether, the White House is now going to go back to the Senate and push for the necessary 60 votes to get her confirmed.
UPDATE: The progressive leaning judicial advocacy group, People For the American Way, released the following statement over the news of Johnsen's re-nomination:
"President Obama made an excellent choice in Professor Johnsen to lead OLC, and today he's shown his willingness to stand on principle and call the Republicans on their attack and delay tactics," said Marge Baker, Executive Vice President of People For the American Way. "President Obama's statement today is a refutation of the GOP's efforts to spin this eminently qualified nominee as a controversial choice, and he should be applauded. Professor Johnsen's legal scholarship, her integrity, her substantive knowledge, and her commitment to this nation's security and to the rule of law will serve this country well once she's confirmed."
FURTHER UPDATE: Senate Majority Leader Harry Reid's office tells the Huffington Post that Johnsen's nomination will have to go through the Judiciary Committee once again before she can get a vote from the full Senate.
Calling all HuffPost superfans!
Sign up for membership to become a founding member and help shape HuffPost's next chapter