Dawn Laguens, executive vice president of Planned Parenthood and the interim face of the organization since former President Cecile Richards stepped down in the spring, is leaving the family planning provider after nearly eight years.
Laguens, a longtime Democratic political consultant who led the campaign against former KKK leader David Duke when he ran for U.S. Senate in Louisiana, has helped grow Planned Parenthood from 2 million members to 12 million. She modernized the organization and attracted a new generation to the reproductive rights movement with a period tracker app, a new brand, look and logo, and the award-winning virtual reality film "Across the Line" about the personal experience of getting access to abortion. She developed the group's powerful political advocacy arm, the Planned Parenthood Action Fund, and built partnerships with other progressive organizations. Since 2010, she has helped fend off 21 attempts by Congress to defund the health care provider.
"Dawn must feel good and should feel good about the last week's elections," Richards told HuffPost, referring to the Democrats' takeover of the House of Representatives, "because she had a huge role to play."
Laguens remembers well the day that Richards recruited her: It was Christmas Day in 2010. President Barack Obama had just passed his signature health care bill, Republicans had swept the House of Representatives in the midterms, and then-Rep. Mike Pence (R-Ind.) had decided to use his party's new majority to take aim at Planned Parenthood.
Pence introduced an amendment that would strip federal funds from Planned Parenthood, kicking off a Republican war against the family planning provider that has lasted eight years. Richards, the iconic face of Planned Parenthood, needed help with her first big battle against Congress. She called her friend Dawn Laguens from an airport on Dec. 25.
"I'll never forget the day," Laguens said. "When the phone rang, I thought, 'Oh, how nice that is of Cecile, to be giving me Christmas greetings on Christmas Day!'"
Richards sounded urgent. "I'm on my way to Egypt," she said, "but when I get back, I need you to come in and help put together the fight against the Pence Amendment."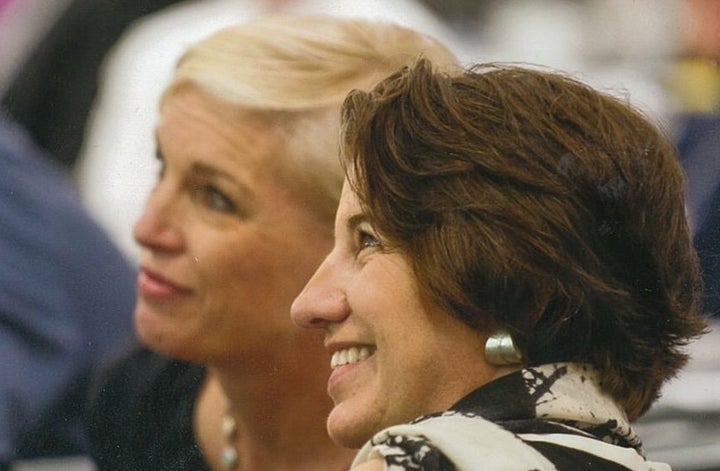 Laguens, who owned her own political consulting firm at the time, stepped in to help Planned Parenthood as Republicans threatened a government shutdown over its funding. She won that first battle and then couldn't bring herself to leave. "I fell in love with the people, more than anything, and the mission, more deeply," she said. "I stayed about seven and a half years longer than I ever planned."
As executive vice president, chief brand officer and chief experience officer, Laguens has helped lead the nation's largest family planning provider through a tumultuous time in its 100-year history. In addition to fending off dozens of defunding efforts from Congress and the states, Planned Parenthood has had to brawl with outside groups ― sometimes unexpected ones.
In 2015, an anti-abortion activist group called the Center for Medical Progress hit Planned Parenthood with a series of heavily doctored undercover "sting" videos that purported to show the provider trafficking fetal body parts. Those videos were debunked ― but they gave Republicans in Congress a pretext to open a federal investigation into Planned Parenthood and attack its funding again. (The investigation turned up nothing.)
Laguens has partnered with other progressive organizations, including the National Women's Law Center, to help implement the birth control benefit in the Affordable Care Act. She also grew Planned Parenthood's c4 electoral program to be one of the largest and most effective in the country, and built an innovative strategy to attack the stigma around abortion.
Richards said she stepped down from the helm of the organization after a decade in part because she felt confident in Laguens.
"I think one of the reasons why I felt like I was able to step aside was that such a strong foundation has been laid, a real movement has been built," she said. "And I hope she's proud of that and the difference it made in the lives of millions of people."
Planned Parenthood is entering a new era now. Dr. Leana Wen, its new president, has a plan to depoliticize abortion and incorporate it in the public imagination with all other kinds of basic women's health care. Laguens plans to take some time off to spend with her family ― her partner and their triplet daughters. She hasn't figured out her next career move yet, but she wants to continue to innovate within the reproductive rights movement.
"We've won these elections, and it's a great moment to make a switch and think about how I can tackle some of these challenges that new technologies can be applied to," she said. "But I'll stay close to the fight ― I can't imagine that I will go far away from it. It's close to my heart."
"Dawn pushes the boundaries of what nonprofits can achieve when they don't wait for secondhand technology," said documentary filmmater Nonny de la Peña, who worked with Laguens on "Across the Line." "Her idea to use the immersive but very new technology of virtual reality to challenge the stigma surrounding abortion was fairly radical. It worked, and it inspired many creators to use technology to solve big problems in social justice movements."
Laguens is leaving Planned Parenthood in a fairly safe place, with a Democratic House of Representatives expected to protect it. She said her proudest memory of her experience at the family planning provider is the group's undefeated 21-win streak against Republicans in Congress, who promise and try every year to defund them.
"The fact that they never succeeded in doing that, and that we were able to protect care for millions of people over many years, stands out as a highlight," Laguens said. "Because for everybody who works there, it's about the patients and making sure people can make these big decisions around their own care and their own health, so they can live their best lives."
Support HuffPost
The Stakes Have Never Been Higher
Popular in the Community