Throughout the eighth season of "RuPaul's Drag Race," Huffington Post Queer Voices will interview each departing queen on the Tuesday following the air date of their elimination episode. Check HuffPost Queer Voices weekly to hear these queens reflect on their time on the show and their legacy as queer artists and performers. Head here to check out last week's exit interview with Naysha Lopez.
The March 14 episode of "RuPaul's Drag Race" brought viewers several surprises, one of which was the double elimination of both Dax Exclamationpoint and Laila McQueen.
Having to lip-sync in a full length gown is anything but easy and it certainly got the best of the two queens in last night's episode, who were both sent packing in a rare move by RuPaul. We would love to have seen more from Dax, the drag mother of season seven winner Violet Chachki, but since we won't, we had to settle for a chat with the Georgia-based artist about her brief time on the show.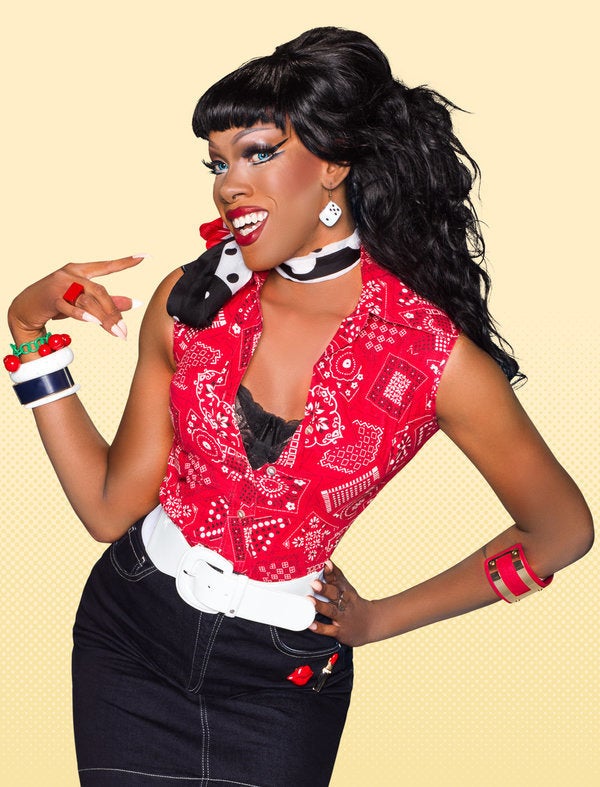 The Huffington Post: What's going through your head today? How are you feeling? 
Dax Exclamationpoint: In a way I'm kind of relived because this show was filmed months ago so I knew how things were going to happen. I'm shocked my phone hasn't gone radioactive yet [laughs]. During the reveal my shit went nuts! I'm surprised.
If you could do it all over again would you do anything differently? 
#NoRegrets but I do feel like I would've worn a different dress. I actually had a different one but the zipper broke backstage. I mean, whatever, I worked with what I had in the time allotted. Had I had more time things might've gone differently. But I did what I did in the time I had allotted and with what I had to work with.
Has your drag changed or evolved at all since filming the show? What impact did the show have on your art form? 
Varying impacts. After all of that happened I was very, very beat up about it. I also felt very defeated because you get these critiques from the people you respect so much who are artists and have seen everything and done everything and been places. To have them say your drag is the worst drag of all the drag [was difficult]. It took me a second to bounce back from that after the show -- it took me awhile. I didn't really want to leave my house or do any gigs for a month. It really affects you a lot.
Do you have any advice for girls who may want to audition for "Drag Race"?
Just go for it. See how it happens, there's no sense in not [trying]. The worst case scenario is they won't call you back. And make sure you're true to yourself, [and that you] portray your art form in the best way you possibly can.
What do you want people to know about Dax Exclamationpoint?
I'm not your typical drag queen. I'm conventional and different and I have more interest than just Top 40 Beyoncé, Madonna drag. There's way more to it than that. 
Want to catch up with the previous winners of "Drag Race"? Head here and check out the slideshow below for interviews with the previously eliminated season eight queens.
PHOTO GALLERY
"RuPaul's Drag Race" Season Eight Eliminated Queens
"RuPaul's Drag Race" airs on Monday nights at 9 p.m. ET/PT on Logo. Tune in next week to find out who Ru called at the end of this week's cliffhanger! Plus the queens compete in an over-acting challenge with guest judges Faith Evans and Tasha Smith from "Empire."
Calling all HuffPost superfans!
Sign up for membership to become a founding member and help shape HuffPost's next chapter