Dax Shepard has two birthdays: the day he was born and the day he got sober. 
The "Parenthood" actor commemorated that second milestone on Thursday over social media with a loving message to wife Kristen Bell and his two young daughters about how his life has changed since he stopped using drugs and alcohol 12 years ago. 
Shepard and Bell started dating only four years after he got sober, but in his own words, the road to recovery has been marked by many ups and downs. 
"I just loved to get fucked up ― drinking, cocaine, opiates, marijuana, diet pills, pain pills, everything," he told Playboy back in 2012. "Mostly my love was Jack Daniel's and cocaine. I lived for going down the rabbit hole of meeting weird people. Of course, come Monday I would be tallying up all the different situations, and each one was progressively more dangerous. I got lucky in that I didn't go to jail." 
Earlier this year, Shepard bravely came forward about being molested at age 7, and how that experience sent him down a destructive path of abusing drugs and alcohol. He only discovered how the two were connected once his mother attended a seminar about addiction.
"She called me not too long ago and she said, 'You know, I was just at a seminar this weekend and I learned that if you've been molested, you only have a 20 percent chance of not being an addict," Shepard revealed in a radio interview in April. "And I was like, 'Hmm, interesting,' because in my mind I just like to fucking have a great time. But when you hear a statistic like that, I'm like, 'Oh no, I was going to be an addict, period.'"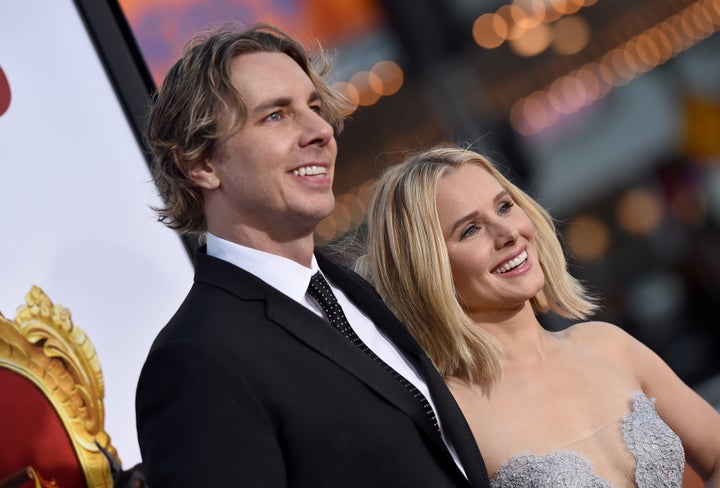 But after years of recovery and Bell's unwavering support, he's come to terms with his demons and looks toward a future with his family. Sometimes, however, it still strikes Shepard how fortunate he is to have a happily ever after with Bell.
"We come from such a different starting point," Shepard said in 2015, comparing his upbringing with his wife's. "We live in the same house, we have the same two kids, we make the same amount of money, we have the same job … Look how different a path you can take and end up in the exact same spot in life. It's insane."
Calling all HuffPost superfans!
Sign up for membership to become a founding member and help shape HuffPost's next chapter
BEFORE YOU GO
PHOTO GALLERY
Kristen Bell Red Carpet Photos