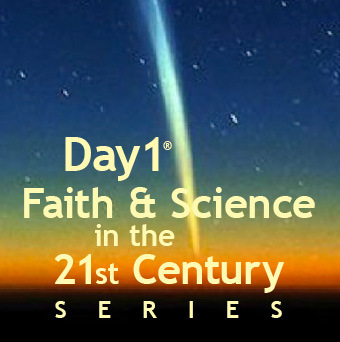 "How can people of faith best approach scientific endeavors for the good of all?" That was my question to Episcopal Presiding Bishop Katharine Jefferts Schori. She answered:

God created us with brains for a reason. We are meant to test what we meet in the world around us, to look carefully. We are meant to use our brains to sort out the way in which God is calling us to act in the world around us.

We're finding that approach to be evident with all the speakers in our weekly Day1 radio program's "Faith & Science Series." In her message this week, Bishop Katharine uses the gospel lesson, Mark 10:17-31, as a springboard. It's about Jesus' encounter with the so-called rich young ruler who can't seem to let go of his wealth to follow Jesus. And she guides us into a reflection on living a life that focuses on serving and caring for others as well as for the whole of creation.
The "Faith & Science" series features eight accomplished clergy and scientists who explore major issues of science with a goal of facilitating meaningful conversation around these issues particularly among people of faith. The programs are airing weekly through November 15 on more than 200 radio stations and via podcasts at Day1.org. I'm honored to produce and host the weekly program, which celebrates 70 years of weekly broadcasts this year (formerly known as The Protestant Hour).

Bishop Katharine's nine-year term as Presiding Bishop and Primate of The Episcopal Church concludes at the end of this month. During this time she has served as chief pastor to the church's members in 17 countries, 109 dioceses, and three regional areas.
She holds a bachelor's degree in biology from Stanford University, a master's and Ph.D. in oceanography from Oregon State University, and an M.Div. from Church Divinity School of the Pacific. Before her studies for the priesthood she had a successful career as an oceanographer.
In the program interview I asked her, "Is there some way that your experience and background in oceanography transferred to your ministry as a priest, a bishop, and presiding bishop?"
Yes, and I think that was one of the gifts that came a long time after I had said yes. I wondered for years about whether I had wasted that part of my life. I think that the careful way in which scientists are trained to look at the world and not jump to conclusions has been an immense gift in the work I've done. Coming with a hypothesis about what the problem or the challenge is and experimenting--if you will--with a different variety of possible solutions or resolutions, listening and looking carefully, and then trying and re-forming if that one doesn't work.

In her sermon, she speaks of the relationship between the theory of evolution and the theological concept of creation:
I believe three creation stories: the two in Genesis and the great creation story of cosmology and evolution. None of the three can tell us anything about what was before. All three tell us that there is a force in the universe that seems to keep creating more life or complexity. The Genesis accounts tell us that there is something, particularly about human self-centeredness, that wants to limit the abundance of other forms of life. The scientific account of creation sees chaos and stochastic processes as essential to the ongoing unfolding of what is; theologians talk about that as contingency or free will in creation.

When we're willing to read these stories together, we just might do something about what we heard on the news this morning. Bringing heart and mind and soul and will together can help limit our own behavior for the sake of the whole world. That is what Jesus was telling the questioner [in Mark 10:17-31]--stop hoarding, and share. If you want to enjoy a fruitful and abundant life, make sure that others can as well.

Subsequent speakers in the series are listed below:
Oct. 18: The Rt. Rev. Nicholas Knisely will explore "Quantum Physics and Eternity." Knisely is the bishop of the Episcopal Diocese of Rhode Island. He studied physics and astronomy at Franklin and Marshall College and did graduate studies at the University of Delaware in cosmology and solid state physics before earning theological degrees at Yale and Berkeley Divinity schools.
Oct. 25: The Rev. David Wood will preach on "Imago Dei and Science." Wood, ordained in the American Baptist Churches USA, is the senior minister of Glencoe Union Church in Glencoe, IL. He also serves as a consultant to the John Templeton Foundation assisting in the development of programs that stimulate a more intelligent and interesting engagement between science and faith in the life of congregations in North American and around the world.
Nov. 1: The Rev. Dr. Nancy Duff will focus on "Genetics and Morality." She is the Stephen Colwell Associate Professor of Christian Ethics at Princeton Theological Seminary. An ordained Presbyterian minister, Duff focuses her research on the theological foundations of Christian ethics.
Nov. 8: The Rev. Dr. Tom Long will preach on "Health and Healing/Death and Dying." Named in 1996 as one of the 12 most effective preachers in the English-speaking world, Long retired in the spring of 2015 as Bandy Professor of Preaching from Candler School of Theology at Emory University. He is the author of 21 books.
Nov. 15: The Rev. Dr. Luke Powery will preach on "Keeping the Conversation Going in Churches." He is dean of Duke University Chapel and associate professor of homiletics at Duke Divinity School in Durham, NC. Ordained by the Progressive National Baptist Convention, "The African-American Pulpit" named him one of two outstanding black ministers under the age of 40 who are helping to shape the future direction of the church.

In addition to the radio program sermons, brief videos featuring the speakers on topics related to their messages will soon be available on YouTube and at Day1.org.

Day1 has been broadcast every week for 70 years, formerly as "The Protestant Hour." Featuring outstanding preachers from the mainline denominations, Day1 is currently distributed to more than 200 radio stations across America and overseas. For more information about the program or the "Faith & Values" series, visit Day1.org.
The Day1 Faith & Science Series project is made possible through the support of a grant from the John Templeton Foundation. The opinions expressed in these programs and resources are those of the authors and do not necessarily reflect the views of the John Templeton Foundation.
Related
Popular in the Community