Hurricane season starts today. When it comes to moving back to New Orleans we've dipped a toe in the water by sharing a house with friends. A giant pod on the lawn with all our books, record albums and thrift store furniture finds would move us back for good, but it's the first day of hurricane season and our prairie town loft in an old department store sleeps 10. Walls are lined with twin beds, couches fold out, what my husband and I realized after going through a thrift store couch buying spree is that we've accidentally created an evacuation shelter. Every piece of art in our bedroom involves a boat. That also took about three years to self-diagnose.
Counseling authorized after Hurricane Katrina came in brochure form, and I'd love to get my hands on one of those brochures in case it includes helpful tips on why all the boat art. Interviews can be a form of therapy, and the last time I was interviewed as a Huffington Post blogger I realized that whatever I start out talking about, it all comes back to Katrina. Asked whether the level of emotional hurricane preparedness is any higher this year, I could only answer, "No, because we're still in shock."
Imagine experiencing a terrible house fire. Your town rallies around you, the local newspaper asks for donations, people bring food and clothing and you learn there are systems in place to help you start over. Now imagine everyone in your town experienced the same thing on the same day. All of your friends, your extended family members, everyone has lost everything. That's some indication of how it felt when half a million of us were homeless overnight while Donald Rumsfeld stalled military assistance for five days, as described in the new GQ Robert Draper article, "And He Shall Be Judged."
Despite ensuing spin, there was a higher level of hurricane preparation in New Orleans than was portrayed after the storm. Residents not living too far below the poverty line were ready with sheets of plywood to board up windows, canned food, bottled water, generators, but personal preparation can seem like a placebo after the levees blew in a Category 2. Each year, higher levees will be required as Louisiana's protective wetlands are eaten away to the tune of 24 square miles a year sinking into the Gulf. Big Oil spent decades digging canals and the ensuing salt water intrusion eats through the Gulf Coast's natural hurricane barriers. New Orleans could be oceanfront property without a major influx of funding to restore our coast. One third of the country's seafood comes from the wetlands, so a coastal restoration campaign slogan could be, "Kiss Your Shrimp Goodbye."
In the current financial meltdown, New Orleans and its recovery are topics that have worn thin. A blogger once complained that I was still whining about Katrina. He also said my kids were ugly (joke's on him, I don't have kids), so welcome to the jungle. This is what you write about when you witness friends and family waiting years to move home. A quarter of New Orleans' residents are still displaced or in trailers thanks to factors like contractor fraud, red tape and the high cost of starting over in a recession. Driving past hand-written street signs, the BBC's Top Gear team noted that it's shocking, what the richest country in the world has decided it can live with. Dr. John expounds on the ongoing cultural diaspora in "The City that Care Forgot," and honors the thousands who didn't make it out alive.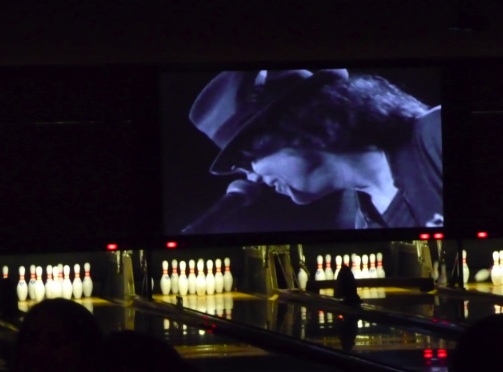 Days after Katrina, we were living in my brother's guest room watching CNN as the anchor speculated about whether a man briefly filmed in the Convention Center was former child star Barry Cowsill. "I know that's Barry," Jeff said, catching a glimpse of his former bandmate. Barry was found in the Mississippi River three months later.
In a night that brought us some level of closure, Barry Cowsill's estate posthumously released his CD US1 at MidCity Lanes Rock n Bowl earlier this month. There was Barry's video, smiling down on the lanes. His nephew Jason Cowsill, Jackie Jae, brother-in-law Russ Broussard, and Jeff played anthems Barry had been writing since his teenage years when the Partridge Family bought the Cowsill's life story. "Walk Tall," recorded in 2005, was the beginning of a whole new sound. I can't help thinking of the songs he would have written if he had survived.
"Kid" is also part of ReDefine 8/29 compilation through the charity that helped us stay sane out on the road for months. Hundreds of grants and instruments later, the New Orleans Musicians Relief Fund is still rolling. Over Jazzfest we brought a school that still had no percussion a mountain of congas, and Sony's Little Big Planet is about to introduce a benefit level designed by musicians and artists including Family Guy's Joe Vaux. Grass roots efforts are growing across the board. Saints Quarterback Drew Brees just raised over a million dollars to rebuild playgrounds with "The Domino Effect" in honor of Fats Domino - the image of Fats being airlifted from his home brought home the depth of tragedy to millions around the world.
Yesterday I streamed local radio station WWOZ as Cousin Dimitri started his Hurricane Season kickoff show with, "Two hours of songs about weather, death, government ineptitude; I've made an effort to keep it more lighthearted this year." After playing Marlene Dietrich's "Such Trying Times," he reminded listeners to:
"Go out and buy yourself some batteries, bottled water, a generator, make sure the car is full of gas after 4 o'clock. But for now, just stay tuned for music about exactly how much we trust the federal, local and state governments to keep us safe for the next three months."
New Orleans residents, both home and in the process of getting home, are surviving with a level of gallows humor I haven't witnessed since working in a newsroom. Meanwhile, twin beds line my walls, boats are pictured all around the house - there's a joke in there somewhere.
I just haven't been able to find it.