Day 1, complete. Polished off with a lovely dinner at Heimat in Frankfurt, which prides itself on a simple menu with an exquisite wine list. Of particular satisfaction was the pairing of foie gras with a lovely Trocken (dry) Spatlese from Schloss Lieser in the Mosel.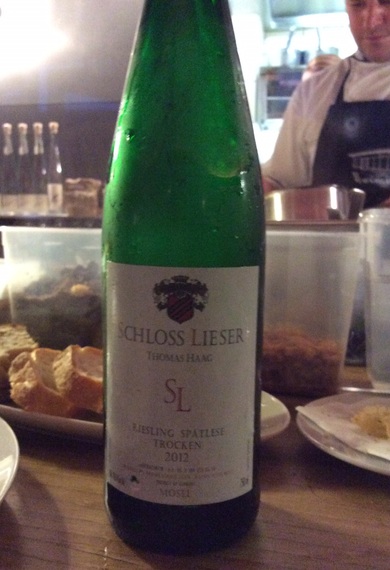 After a full meal and a few glasses of wine, I'm off to bed and excited for Day 2. I've broken this up into 3 parts, as it's impossible to cover all three without overwhelming you, so our first will take you with me to Weingut Wwe. Dr. H. Thanisch -- Erben Thanisch, a member of the VDP and producer of high quality Riesling.
I make my way through the Mosel wine region of Germany which runs gracefully alongside the serpentine-like river. The Mosel paints a story book landscape with rolling hills and the feeling of serenity.
Glistening in the sun, the river reflects much needed light the berries need in order to thrive in such a temperamental climate. Despite the clouds, as I've grown fond of having lived the last 4 years in San Francisco, it is a beautiful day in May, right about the time when many vineyards begin to bottle and sell last year's vintage and release all of the 2012s. The berries are still covered in their shells which once formed will fall off, uncovering the sweet fruit of the Riesling grape.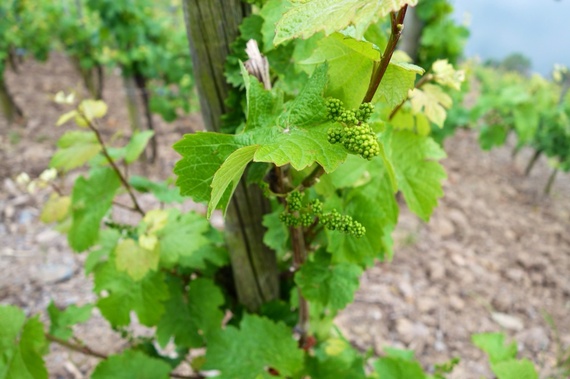 The Thanisch Villa (pictured below), which really is a mini castle, with slate construction that will stand up to fire and an iron fence, has stood for generations and continues to carry the Thanisch prestige, having been gifted and enjoyed by President Eisenhower in 1953 and priced even higher than a 1959 Château Lefite or Mouton Rotheschild in California.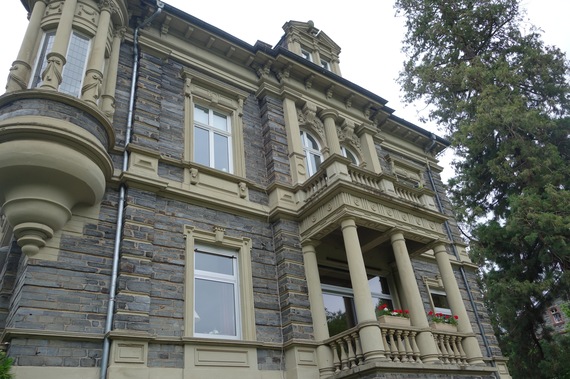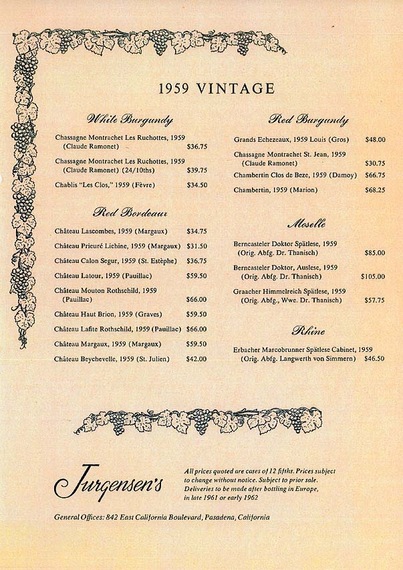 California Wine List in 1959
I arrive over a half an hour late to my tasting appointment and as you might understand my embarrassment, I profusely apologize to world renowned Mosel Riesling producer, Sofia Thanisch, who forgivingly welcomes me into the tasting room after pointing out the various vineyards and the elusive "Berncasteler Doctor" vineyard, which, as legend has it, produced the Riesling which cured Archbishop and Elector of Trier, Boemund II of a serious illness in 1367. The wine was delivered to the castle where he lived as pictured below.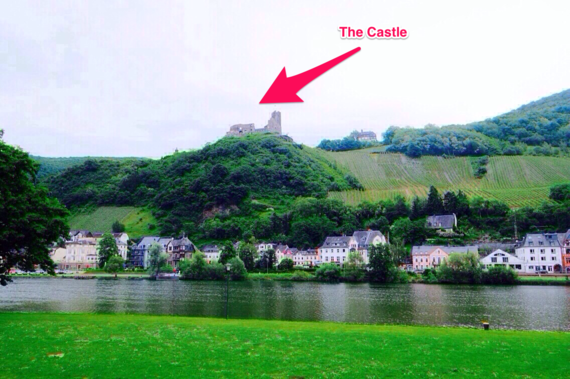 The world famous vineyard is located right where the steeple of the church pictures below points, and creates a triangle shape plot of land, south-southwest facing, which provides perfect sunlight reflected by the river and the slate soil gives the wine a clean minerality.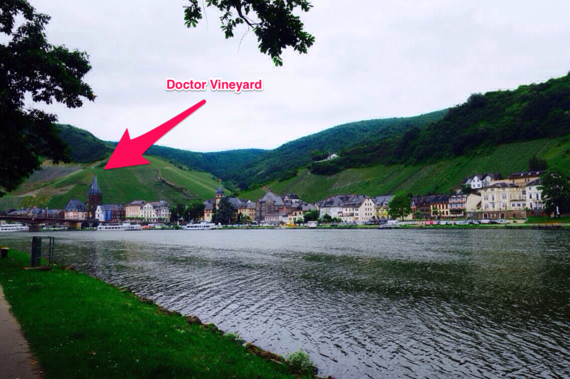 Mid-Mosel Wine Region and Berncasteler Doctor Vineyard
The 2012 vintages are developing quiet nicely, but I'm particularly interested in the 2011 Berncasteler Doctor Riesling Auslese.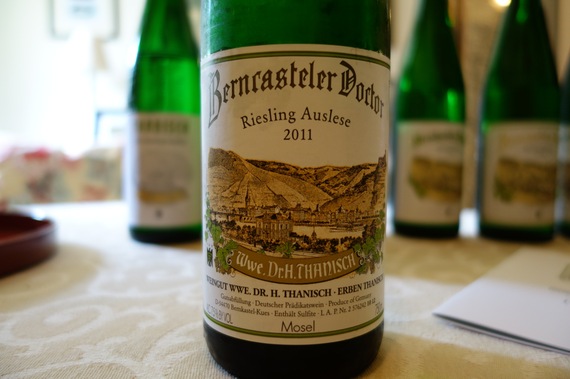 I am expecting an extremely well-balanced high acidity, sweet and delightful Riesling and for what Weingut Wwe. Dr. H. Thanisch is famed, and that's exactly what I get. As I begin to taste the new releases, Sofia, heir to the estate, describes the history of the vineyards, dating back to the 14th Century.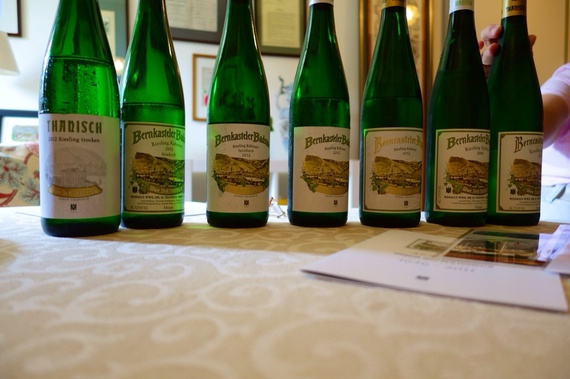 As we conclude the tasting and I emerge from the tasting room having tasted at least a dozen wines and "forgetting" to expectorate, I snap a few shots from the back of the riverside property before I set off to see Clemens Busch in Punderich.