On Saturday, January 31st, in the afternoon, I attended the World Premiere of an independent film called, "The Truth About Lies," by first time director, Phil Allocco. The film, somewhat autobiographical, centers around a twenty something guy named Gilby, who loses his job, apt. and girlfriend and has to go live with his swinging, booze-loving, man-izer mother, May. Gilby tries lying as a way to get his life back to a desirable place. We see how all that works for him! The film is an entertaining "Rom-Com" that moves right along.
In the Q&A afterwards the Director/Writer/Producer Phil Allocco, Cast members Odette Annable, Colleen Camp (also a producer), Adam David Thompson, Zebedee Row and Producer Steve Carr were on hand to talk about the movie.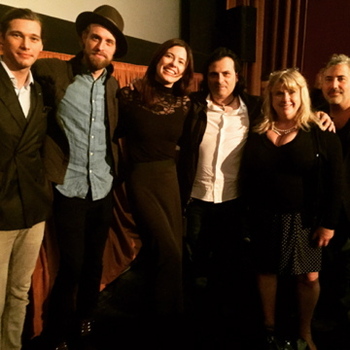 Allocco says, "It was a crazy adventure being a first-time director. There was chemistry on set. We really had fun. Everyone brought ideas." One of the actors added, "Phil wrote a fantastic script. It all works from the top down. Phil fenced off the playground and we brought the toys! We ran with it and adlibbed. Thanks Phil for letting us have fun!" Odette Annable said, "Phil made a stress free zone!"
How did he strike that balance? Phil replied, "We talked a lot and in rehearsals. The actors helped by having insight for the vision of the script. I would say, 'okay, let's have fun and go with it.' I really wanted to make the actors feel comfortable. Fran, who plays Gilby, was always there to play and try things. For example, the Job Interview scene, he went off the rails adlibbing. Fran is in a Broadway show so couldn't be here now." As for the selection process of the cast, "We had a lot of auditions and a great casting director!"
My next stop was the Arlington Theatre for the sold-out Gala honoring Michael Keaton to receive the Modern Master Award, the highest honor presented by SBIFF!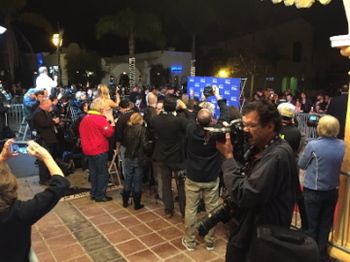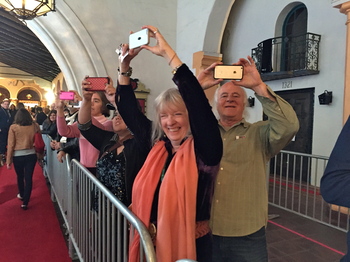 The Modern Master Award was created in 1995 as a way to pay tribute to an individual who has enriched our culture through his or her multifaceted accomplishments in the motion picture industry. Michael's stand-out performance in "Birdman" is a great example of "showing the range of decades-long experience" as Roger Durling put it.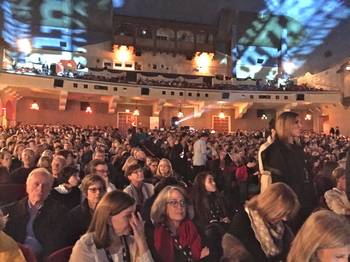 Legendary Leonard Maltin moderated the talk with Michael. "Did you have a game plan?" Michael answered, "employment."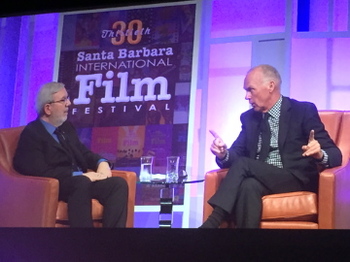 Michael talked about the early days, "I loved to write. I would go to clubs and do stand-up. I was in New York going to The Improv and Catch A Rising Star around the same time as Larry David was, too. It was as exciting a time as I can remember. I love comedy. It is such artful form. I love moviemaking. I just love being a part of it."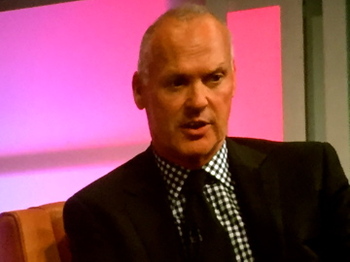 "I got a gig and was told, 'hey, you can't use your real name because there already is a Michael Douglas in Actor's Equity and Screen Actor's Guild.' My real name is Michael John Douglas. I picked my name randomly when I became Michael Keaton."
Andie MacDowell came by to congratulate her "Multiplicity" co-star and fellow Montana friend, Michael. She commented "and at 63, he was brave enough to run through Times Square in his underwear!" She spoke about how he is such a dear friend and what "a generous and great heart" he has.
Michael on working with different directors, "John Schlesinger was into really dark, creepy stuff. Quentin is really high energy, a bit like Alejandro. He sits very close."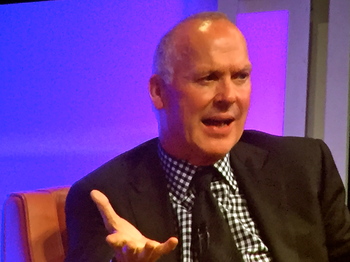 Michael on getting the call about 'Birdman," Michael said, "My agent said I think you should. I flew back to meet Alejandro. I didn't spend that much time. It was so fundamental. It was so human. I would have done anything with this guy. It would have had to be so bad to turn it down. Alejandro is such a powerful personality. You see someone working that hard, you need to be working that hard. Alejandro said to me, 'You are going to go deeper than you ever have!' I was exposed, warts and all. I want to be good at what I do. We are here for a millisecond. Courage, moral courage. You've got to have guts."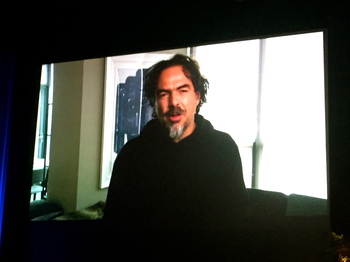 There was a taped statement of Alejandro speaking to Michael that was so moving, artist to artist. Alejandro, "It is all in the small things. I felt so connected to you. I, also, got a friend in you. Your trust in us. You got naked physically and emotionally. You did it truthfully, powerfully and compassionately. You have to know how to touch people's souls. You are a wonderful soul."
Then Roger Durling came up to congratulate Michael and to introduce Danny DeVito who then presented the Modern Master Award to Michael.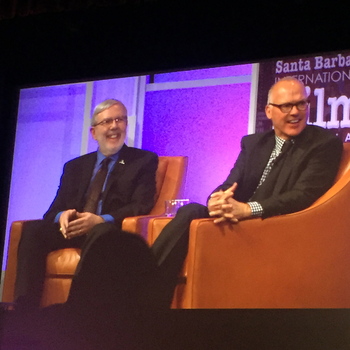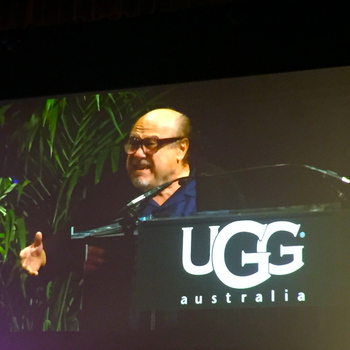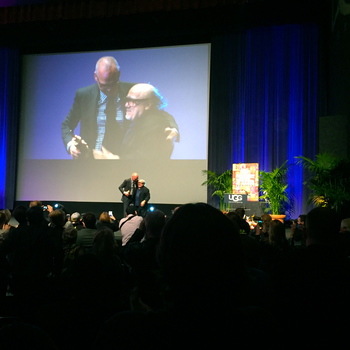 The tribute made me well up because it all was so touching what everyone was saying about Michael that I can't imagine what it must have been like for him! It had been two hours of film clips of his work, taped appearances from friends like Jeff Bridges (who was hilarious), Winona Ryder and Robert Duvall. So much love and affection was pouring out to him. When he came up to the podium to say thank you for his Award, he was brief but clearly so moved and very, very grateful.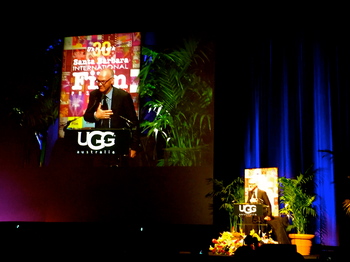 I think everyone in the room left with a deeper appreciation for Michael Keaton and for the profound depths that he puts his heart into his life and work, inspiring his fellow actors, directors, and all of us.
Calling all HuffPost superfans!
Sign up for membership to become a founding member and help shape HuffPost's next chapter