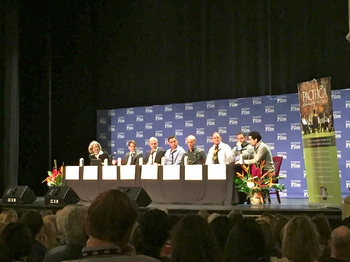 On Saturday, January 31st, at 11:00, I tucked into the Lobero Theatre for the sold-out Writer's Panel featuring Oscar nominees, Graham Moore ("The Imitation Game"), Anthony McCarten ("The Theory of Everything"), Jason Hall ("American Sniper"), Dan Gilroy ("Nightcrawler"), Max Frye ("Foxcatcher"), Alex Dinelaris ("Birdman"), and Damien Chazelle ("Whiplash"). Anne Thompson of IndieWIRE moderated. She started by asking "Why are there so few women?" Thankfully, Graham Moore jumped in with the much needed balm to the awkwardness of the panel of all men (and audience included) with "I don't think anyone here is qualified to answer that question. We are all a bunch of dudes!" Laughter broke out and the conversation was in swing! Phew!
Ms. Thompson ran a perfect panel that moved swiftly with every writer being heard from. It almost felt like the panelists had been coached beforehand as it was seamless. It was an amazing group to assemble, all nominated for an Academy Award! Bravo SBIFF! Moore, Chazelle, Hall and McCarten are nominated in the Writing Adapted Screenplay category, and Dinelaris, Frye and Gilroy in the Writing Original Screenplay category. Five of the films are nominated for Best Picture, "The Imitation Game," "The Theory of Everything," "American Sniper," "Birdman," and "Whiplash."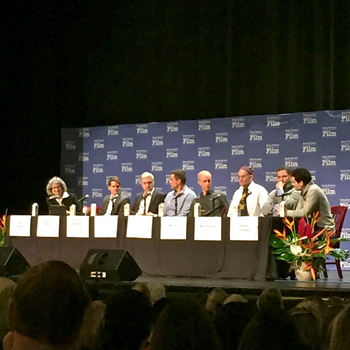 Alex Dinelaris speaking about how "Birdman" came into being, said, "It all began with Alejandro telling me 'I want to do a film in one take, a play shot in a theatre.' The first image Alejandro had was a guy in his underwear floating in the air." Alex went on,"Alejandro wanted to explore where he was as an artist, the war that he was having with his ego." When they weren't in the same town, Alex and Alejandro would Skype one another until the time came when they "were laid out in Los Angeles for weeks. Everything was meticulously rehearsed."
Max Frye on "Foxcatcher," described sitting down with Bennett Miller (director), "I started in '07 and worked for 3 months. Bennett had collected masses of information. The bulk of my time was figuring out what the story was. We had a road map that we were following. It wasn't until we were well into it that we realized the story was about Dave Shultz."
Dan Gilroy, "I do a lot of studio jobs and feel constrained by that. I sat down to write a script wanting to break all these conventions." Gilroy spoke of his obsession with local nightly news. "It is like Kabuki theater." On his wife, Rene Russo, being in the film, "Rene brought a vulnerability to the work that was not in the script."
Jason Hall on "American Sniper" said that when he went down to Texas to meet Chris Kyle for the first time he did not immediately feel a connection. He had spent the day with Chris and had experienced him as emotionally shut-off, not unlike those with PTSD (post traumatic stress disorder). It wasn't until Chris' children entered the room, and "he spread his arms out to his kids" that Jason saw a different side to Kyle than he had over the 24 hours prior. "There was a softer side." Jason recognized that "in creating a soldier, these people have to do something else, to take another man's life." In developing the story so that it would be true to him, "Chris helped me work on the first draft of the screenplay." Jason described the film by saying, "This is a movie about a soldier, what the cost is to a soldier and what the cost is to his family."
Graham Moore on describing how he came to write, "The Imitation Game," said it all began with his childhood and that he "was an incredible computer nerd. Alan Turing had always been a tremendous influence on me." A coincidental meeting put Moore at a party with one of the producers of the film in development. "I totally lost my shit. I would have been a PA on this movie. I was so lucky to write the screenplay."
It was really fun to hear how the writers approached their writing.
Damien commented, "how little a part the actual writing is. 90% is me sitting on couches, feeling really shitty about myself, putting it off. I realize that's where the writing happens. I need enough will power and shame."
Alex said his process is, "incredibly similar. I spend 8-9 months structuring something in my mind. When I am cooking dinner that's where my subconscious builds up. Until I get to the point where I want to kill myself. Then I go to this place in Puerto Rico (with no phones and internet) and commit to writing a draft before I come back."
Dan, "when I find one (an idea), I become passionate. My subconscious is always working on it, it's thinking about it, watching tv, reading newspapers."
Jason, "I have 3 kids. I am that guy that sits in a coffee shop for 13 hours. I have a song that goes with each thing. I listen to Moby piano. I've never been to war so (when writing "American Sniper") I listened to what they listened to, Aerosmith, Ozzy, Metalica, Hate Breed. I found a very dark song and let it pollute my mind. I tried to create as much conflict through my ears."
Anthony, "I use noise, radio, tv, a vacuum cleaner. I wrote a lot on a train and in a coffee shop."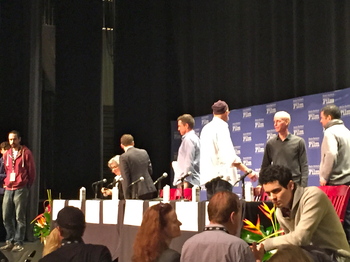 In the afternoon, there was a Producer's Panel moderated by Glenn Whipp of the Los Angeles Times that included Cathleen Sutherland ("Boyhood"), Teddy Schwarzman ("The Imitation Game"), Robert Lorenz ("American Sniper"), John Lesher ("Birdman"), John Kilik ("The Foxcatcher"), Jeremy Dawson ("The Grand Budapest Hotel"), and Lisa Bruce ("The Theory of Everything"). Again, bravo SBIFF! What a lineup!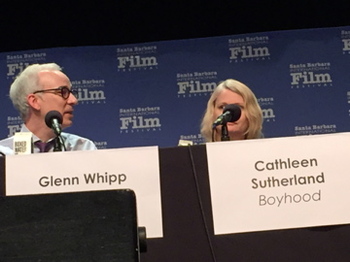 "It took 12 years to make 'Boyhood.'" said Cathleen Sutherland, who started off as the Production Manager. "We couldn't afford to hire a Producer so I ended up doing it. Every year we submitted a synopsis and a budget to IFC to get 200k a year. We were the last film on their books."
Lisa Bruce said that "it took a decade to put 'The Theory of Everything,' together." A big part of that process was "getting Jane, until she could trust" the team to make the film. Anthony McCarten, who adapted the screenplay from Jane Hawking's autobiography, Travelling to Infinity: My Life with Stephen Hawking, "had been on it 3 years before" Lisa came on. "It took us so long to get the rights. It was daunting for Jane to think of putting her personal life on film." With film, the goal is to "try and tell the truth of your emotional world. We were putting 28 years into a 2 hour film. We were going for the truth of their journey on an emotional level, like poetry. After she (Jane) signed, it was one year of shooting."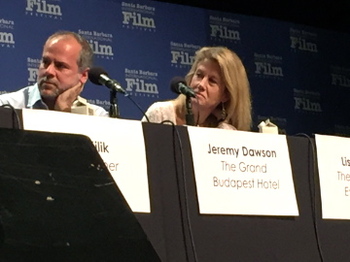 Jon Kilik said that for "Foxcatcher," he and Bennett Miller "sat down in an apartment and talked about making a movie. There was an article that we had read that we had been given" about John Eleuthere du Pont and the brothers, Mark and Dave Shultz, that they became fascinated with." Although the lives are real, the film becomes the Director's version of the story. It is important to remember that. It is a very delicate process. 'Foxcatcher' took many years of development." Finally, "Megan Ellison made it happen. In her, we found a partner."
Robert Lorenz has worked with Clint Eastwood producing his films for 20 years. "He kept asking me to do more and more." When Spielberg dropped out of the deal, Clint came on for Warner Bros. "We made 'American Sniper' in a year. We shot in Morocco."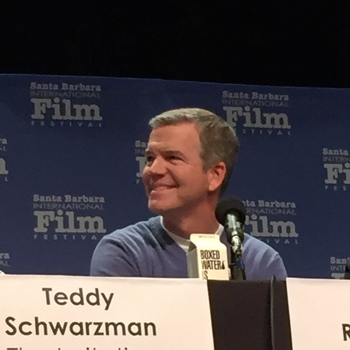 John Lesher was Alejandro's agent for 15 years. "Everyone wanted to work with Alejandro. He is a 'force of nature!' You have to trust his instincts. You ride the wave. Every day is it's own journey. It is great to really know someone because if we fight, we know there is trust and love." Lesher affectionately described Inarritu's enthusiasm to create, "a Mexican guacamole cappuccino sushi." "For the scene with Michael Keaton in his underwear, on that day it was raining and we did not have enough extras. We used a marching band that they found to distract the people in Times Square. The line item was 0 for music. Alejandro said, 'it's going to be drums!' We rehearsed the movie for weeks and we shot in 29 days."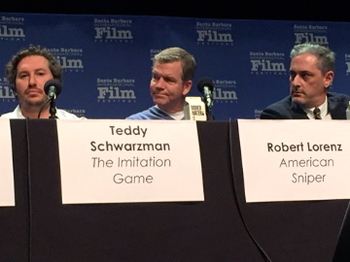 Jeremy Dawson describes working on "The Grand Budapest Hotel," with Wes Anderson directing, "Here is a guy who can get things done. We worked together on 'The Darjeeling Limited,' and have worked together ever since. Part of the reason people use the same people is they have a sense of how they work. We used stop motion animation and storyboarded it. We use a location that is no more than 10 minutes away, so it doesn't make it hard to go back and forth 17 times. The screenplay was so ambitious! It was terrifying."
Teddy Schwarzman, commented that "quality scripts can be at a studio or independently. With a good script, like 'The Imitation Game,' there is a lot of hype. Leo DiCaprio wanted to do it. You have to recognize what is organic about the story. We wanted a British director. With so many different tones, platonic love, love of knowledge, hype of WWII, race against time, we wanted a director who could bring all of that together. Benedict Cumberbatch came to us. With other films you can have the experience where you are 'begging, borrowing and stealing' but for this one, it was the opposite." On the process of creating a film, Schwarzman said, "All of us make these films because we care. Everyone wants to find a way to achieve that."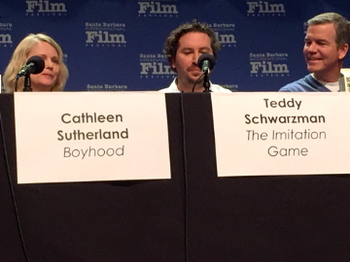 Lisa Bruce, "With every movie, exhaustion gives way. The director was having 6-7 cappuccinos! There is that rhythm and it is really important to have an understanding about timing, knowing when and how to say things. Documentary film is riding your own bike. Feature film is like getting on a bus with a lot of people."
When you "tell a true story," it is clear that the film is always a version of the story as interpreted by the director. There are elements that are created for the sake of the film in telling the story. There are "creative licenses taken." As Teddy Schwartzman said, "It's a balance. If it was an actual event, we want to be accurate. We've taken flack because everyone had called it, 'The Bomb.' We named the machine 'Christopher' because it embodies something that we wanted to express in the film, an emotional truth." Christopher Morton was Alan Turing's lover and a very important person in his life.
Lisa Bruce, "Everyone in a family has a different experience of the same event. As we get older, it keeps morphing." Lisa told us that Stephen Hawking's 30 year old son was on the set watching filming and that it was moving for him to see his father (Benedict Cumberbatch playing him) as a young man before his body had given in to ALS. "I never knew my father as a well-bodied man."
Teddy, "Even if it is inspired by real events, it is an interpretation. Echoing what John has said, films should be viewed as on their own. We all pour ourselves in to these films and you have to accept the criticism."
Jon Kilik, "When you make a film, the Director's story gets into it. It is a very personal process. It is an art form."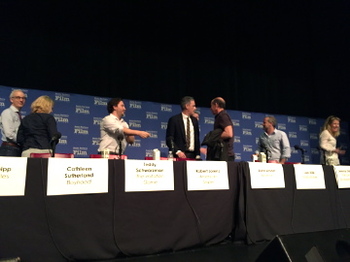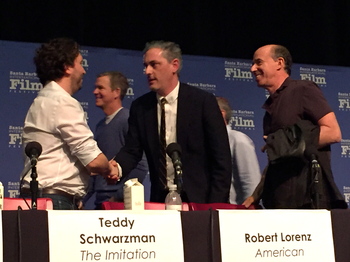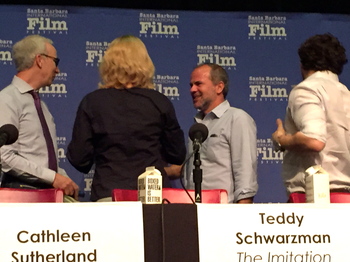 Calling all HuffPost superfans!
Sign up for membership to become a founding member and help shape HuffPost's next chapter