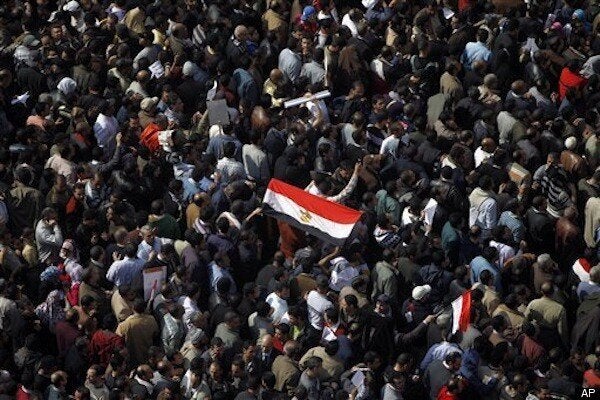 Opposition parties called for Feb. 4 to be a "Day of Departure" earlier this week, AllVoices reports. The plan: to come together in massive numbers and in one voice demand President Hosni Mubarak to step down once and for all.
An Al Jazeera analyst said the goal was clear: "The idea is to send a message, and have the largest amount of people participate."
Protesters demanding Mubarak's ouster packed Cairo's central square in huge numbers Friday, waving Egyptian flags, singing the national anthem and cheering, appearing undaunted and determined after their camp withstood two days of street battles with regime supporters trying to dislodge them.
Thousands more flowed over bridges across the Nile into Tahrir Square, a sign that they were not intimidated after fending off everything thrown at the protesters by pro-Mubarak attackers -- stones, firebombs, fighters on horses and camels and automatic gunfire. The protesters passed through a series of beefed-up checkpoints by the military and the protesters themselves guarding the square.
The crowd, well over 10,000, was the biggest since Tuesday, when a quarter-million turned out. They chanted, prayed and unfurled a long banner in the national colors of red, black and white. A man sitting in a wheelchair was lifted -- wheelchair and all -- over the heads of the crowd and he pumped his arms in the air.
Egyptian Defense Minister Hussein Tantawi and senior army officials visited the square Friday morning and soldiers were checking IDs and performing body searches at its entrances, a sign that Egypt's most powerful institution was sanctioning the demonstration.
Coinciding with "Day of Departure" events in Egypt, a demonstration is planned for Feb. 4 in New York City's Times Square, beginning at 3:30 p.m. local time. Meanwhile, a "Day of Rage" is planned in Syria for Feb. 4, with major protests in the capital city of Damascus.
The Obama administration said it was in talks with top Egyptian officials about the possibility of Mubarak immediately resigning, and an interim government forming before free and fair elections this year.
U.S. officials said the creation of a military-backed caretaker government was one of several ideas being discussed between the Egyptian regime and the Obama administration. The American officials spoke on condition of anonymity to discuss the continuing sensitive talks.
Among the options was a proposal for Mubarak to resign immediately and cede power to a transitional government run by Vice President Omar Suleiman, the officials said.
Have a tip you want to share? You can leave a message for HuffPost at 00-1-315-636-0962. If you know someone there and have email access, send us an email at egypt@huffingtonpost.com. Our Skype account is HuffPostReports.
Scroll down for the latest updates.
Popular in the Community