No nation in the Americas is more famous for celebrating Día de los Muertos -- the Day of the Dead -- than Mexico. And while this tradition of honoring deceased friends and family members takes place around the nation, the Riviera Maya is an especially good place for foreigners interested in experiencing this fascinating bit of Mexican history and culture.
One of the most accessible places to witness some of the traditions related to the Day of the Dead is at Xcaret, the eco-cultural park located in the Riviera Maya, along Mexico's Caribbean coast. Every year, the venue hosts Festival de Tradiciones de Vida y Muerte (the Festival of Traditions of Life and Death), a multi-day celebration that includes traditional Mexican cuisine and clothing from various eras, as well as art exhibits, music and dance performances and interesting recreations of altars and cemetery markers. It's a colorful, music-filled event, with lots of great photo opportunities. Every year showcases the traditions of a different Mexican state; this year, it's Campeche, and the celebration takes place from October 30 through November 3.
The Festival at Xcaret may be more staged than organic Day of the Dead celebrations in small towns elsewhere in Mexico, but the convenience of the location and extent of the events and exhibits at Xcaret make it a worthwhile option for people looking to learn more about Mexican culture while enjoying a Mexico beach vacation in Cancun or the Riviera Maya (the nation's capital also has its own unique take on the tradition, check out these options for celebrating the Day of the Dead in Mexico City.)
During my recent trip to Cancun, I was invited down to Xcaret to view the festivities, taking the approximately one-hour ride down to snap these photographs, which aim to capture a bit of the color and energy of this annual tradition.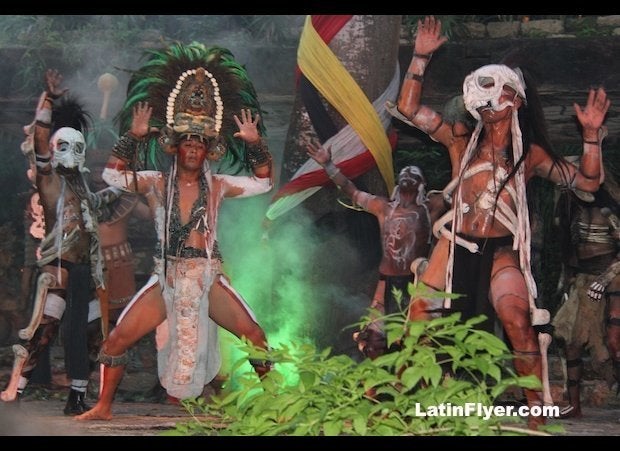 Day of the Dead at Xcaret, on Mexico's Riviera Maya