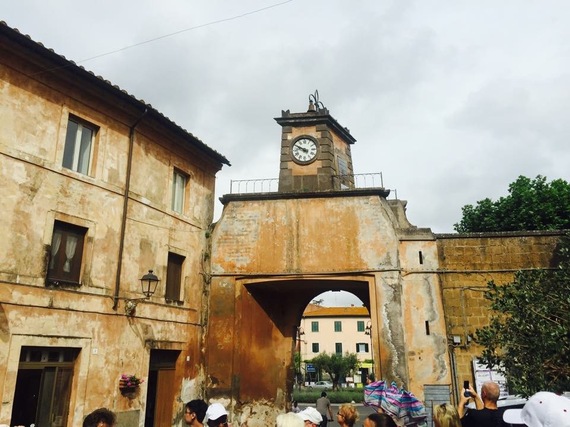 By College Tourist; Author: Sydney Alonso, University of Central Florida
The only thing that might be better than the Eternal City is the array of picturesque towns that are just a few hours away.
While Italy's big cities do offer tourists a taste of Italian culture, they are often over saturated with tourists, taking away from an authentic travelling experience. During my visit to Rome, I found myself with two extra days that were pretty much empty. Rather than spend them in the city, I decided to visit some nearby villages, partially for the beautiful views they offered but mostly to get a true feel of how modern Italians live their everyday lives. After much research, I decided on visiting Lucca, Tuscania, and Civita de Bagnoregio, three idyllic towns that were lauded as much for their views as they were for their ability to give travellers a bona fide Italian experience.
Lucca is a small Renaissance village located in Tuscany and is just a three-hour car ride away from Rome. Luckily, most train stations in Rome service Lucca, meaning it's accessible even without a car. Although it is further away from the city than the other two destinations mentioned here, it is definitely worth the hassle. Lucca has a rich history, most of it stemming from the well-preserved Renaissance walls that encircle the entire city. Although the walls served as a form of protection over 500 years ago, they are now covered with lush greenery and locals often spend their mornings strolling or jogging on top of them.
Stepping into the heart of Lucca is like stepping straight into the Renaissance era. As you trek through the cobblestoned streets, make sure to visit the Piazza dell' Anfiteatro, the site of an old Roman amphitheater that once hosted chariot races and gladiators. Other sites are the Basilica of San Frediano, which features the second largest Byzantine mosaic in all of Italy, and the Tower Giunigi, a supposedly haunted building that offers fantastic views of the city.
While Lucca's architecture and history may be stuck in 15th century, its sense of fashion certainly isn't. This tiny town offers some of the best boutiques I have ever personally encountered. The vast array of shops (from designer clothes to hand-made leather goods) offers something for everyone at any budget.
Tuscania and Civita de Bagnoregio
Begin the morning in Tuscania; a beautiful small town located only an hour and 40 minutes away from Rome. Tuscania is an Etruscan village, with towers, mini-amphitheaters, and, much like Lucca, a crumbling wall that all date back to the mid-3rd century BCE. The village features a Romanesque style cathedral, named after Saint Pietro, as well as an Etruscan museum. Make sure to visit the Etruscan acropolis outside of the town walls to see the burial sites of what is believed to be an old Etruscan queen.
While Tuscania is certainly rich in history, the big draw to the city in my opinion is the fresh focaccia (or, as the Romans call it, pizza bianca) that is handmade each day by small village bakers. With a crunchy outside and a perfectly doughy inside, it is impossible to find a bad loaf in the city. Begin your day by breaking bread (literally) in this picturesque town, and then drive only an hour to your next destination.
Maybe it's the filters, maybe it's the heavy-handed photoshopping, but in all my experiences with traveling, I have often found that a city rarely ever lives up to its photographs. This is not the case with Bagnoregio. A tiny village nestled precariously on top of a slim mountain located in a valley close to the Tuscan border, Bagnoregio is a traveller's paradise. This town is completely breathtaking and, even better, isn't completely taken over by tourists. The trek up into the village, while arduous, is definitely worth it. Once inside, it's easy to see why Bagnoregio is a popular location for professional photographers around the world; every twisting alley is Instagram worthy.
Bagnoregio also happens to be home to one of the best lunches I've ever had in my life. Alma Civita, a restaurant located in the heart of the tiny town, offers its diners the unique experience of enjoying their meals in an authentic Etruscan cave. While the novelty of the caves is certainly worthy enough of a visit, the food at Alma Civita is superb. A small menu that features authentic Italian dishes are served by a wait staff that's passionate about the quality of what they're serving. The best part? Alma Civita also happened to be one of the least expensive restaurants of the whole trip.
Bagnoregio may only be an hour from Tuscania and an hour and 45 minutes away from Rome, but unfortunately requires a car to visit, since trains don't reach the city. There are some tour services that bus tourists from Rome to the city, though, so even if you don't plan on renting a car during your visit to Rome, it's definitely worth looking into.
Many may question my decision to skip out on two days in Rome in lieu of visiting lesser-known Italian villages, but I do not regret my decision at all. Whether these small towns provided me with a good meal, a history lesson, or a cultural experience, I learned something from each of them that I will take with me for the rest of my life.