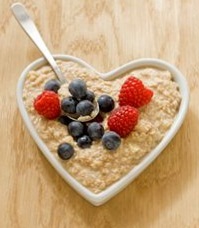 We all have excuses for not eating healthy foods. My oatmeal excuses are endless: it tastes bad; takes too long to make; is mushy; and makes the hardest dish to wash ever if you don't rinse it right away. But then I discovered that most box cereals--oatmeal's competitor and my usual breakfast "go-to"--have the nutritional value of a Twinkie.

The Environmental Working Group reviewed 84 popular cereals and found that:
"most children's cereals fail to meet the federal government's voluntary guidelines for foods nutritious enough to be marketed to children."
So what about all the vitamins and minerals listed on the cereal label?
Christina Munsell, Research Associate and Registered Dietitian at the Rudd Center for Food Policy & Obesity at Yale University, explained that cereal labels are deceptive. Sure, Cap'n Crunch Crunchberries --the worst cereal offender--contains vitamins and minerals, but it is also loaded with sugar (11.6g) and sodium (182mg).
"One serving of cereal (with 10 grams of sugar) has two-thirds of the total sugar intake the average 4 to 8-year-old needs in a day," Munsell told me.*
Most children have eaten their daily recommended sugar intake before they get on the school bus!

"Between 1994 and 2002, Americans' added sugar intake remained high and unchanged among 6 to 19-year-olds and increased among those 30 years-old and older."
Where do all these added sugars come from? The increased intake of soft drinks, fruit drinks, desserts, sugars, jellies, candy and, you guessed it, ready-to-eat cereals (5.8% of total added sugar consumption).
In a world where 33.8% of American's are obese and heart disease is the number one cause of death, an article in the February's Nature expressed concerns about the adverse effects of excessive consumption of sugars.
Robert H. Lustig, Laura A Schmidt, and Claire D. Brindis discovered that eating low-cost, highly processed foods have similar effects on the body as alcohol (also made from grain). Both are linked to a rise in rates of obesity, diabetes, hypertension, lipid problems, and cardiovascular disease. Since the Alcohol and Tobacco Tax and Trade Bureau (ATTB) enforces regulation of alcohol, Lustig, Scmidt, and Brindis suggest it do the same for sugary foods.
My solution to the world-wide sugar problem? Oatmeal. This recipe may taste like dessert, but it's much healthier.
Home-Made Fruit & Nut Steel Cut Oats Recipe:
Ingredients
3 cups water
1 cup steel cut oats-- unprocessed, no added sugar, artificial coloring or flavors.
1 banana--high in potassium (4673 mg), about 100 calories; low in sodium (1mg); reduces stroke risk & helps lower blood pressure.
½ cup blueberries--greatest antioxidant among all fruits, neutralizes free radicals linked to cancer and cardiovascular disease.
¼ cup chopped almonds-- rich in vitamin E and monosaturated fats; has cholesterol lowering effects.
Directions:
Bring the water to a boil, add oats and sliced banana, stir regularly and simmer uncovered for 20-30 minutes. [Drink a cup of coffee while you're waiting, it's good for your heart.] Sprinkle with blueberries and almonds before eating (Serves 4).
Steel cut oats are unprocessed and contain 150 calories, 27.0g of carbs, 1 g of sugar, 0 mg sodium, 5g protein, and 4 grams of fiber (Quaker Steel Cut Oats Nutrition Facts). In terms of heart (and overall) health, two things to be aware of are carbohydrates and fiber. Archives of Internal Medicine reports that high carbohydrate diets increase blood lipids (fat in the blood stream), reduce high-density lipoprotein (HDL) "good" cholesterol levels, and increase blood glucose and insulin levels.
Not All Carbohydrates Are Created Equal
Some carbs have a lower-glycemic index (GI), meaning they stabilize blood sugar better. Steel Cut Oats have a low GI--42. Puffed wheat (74 +/- 7), Special K (69 +/- 5), Grape Nuts (71 +/- 4), Froot Loops (69 +/- 9), and Cornflakes (81 +/- 3) are all high-GI foods. Particularly among women, high-GI foods are associated with greater risk of CVD.
Fiber, especially soluble fiber, decreases LDL ("bad") cholesterol without effecting HDL ("good") cholesterol. Research published in JAMA studied 43,757 adult males free from coronary artery disease (CVD) or diabetes. After a six year follow-up, men in the highest fifth of fiber intake (28.9 median g/d) experienced decreased risk for heart attack compared to men in the lowest fifth (12.4 median g/d).
The Institute of Medicine recommends that children and adults eat 14 grams of fiber for every 1,000 calories of food they eat each day, but that's not happening.
Remember my excuses for not eating oatmeal? Turns out, a bowl of oatmeal provides over 30 percent of recommended daily fiber intake. Fruits and nuts add delicious flavor. You can prepare it the night before (just add a splash of milk before microwaving for 2 minutes). Steel cut oats aren't mushy like flat rolled oats.
Celeb Kourtney Kardashian eats oatmeal "practically every morning for breakfast." As for the dirty dishes, rinse immediately--like Kourtney's housekeeper does. [Apologies to Kourtney if she rinses her own bowl.]
*Update: This post quotes Christina Munsell as saying: "One serving of cereal (with 10 grams of sugar) has two-thirds of the total sugar intake the average 4 to 8-year-old needs in a day." To clarify, it would be more accurate to say "two-thirds of the total ADDED sugar intake the average 4 to 8-year-old needs in a day."
__________________________________________
Disclosure: Megan Parmenter is a Research Associate for the non-profit NIH-funded Yale Heart Study. To catch up on Days One through Eleven of 29 American Heart Health Month Posts by Suzanne O'Malley, click here.
For more on personal health, click here.