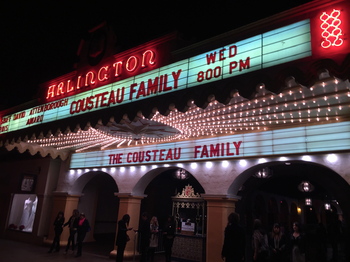 As always with Film Festivals, you race to go see one film and the room is full so you hop into another theatre, seeing a film you hadn't expected and end up being so glad you did! Such was the case for me yesterday when I saw, "Fair Play", a film from the Czech Republic, directed by Andrea Sediackova. Set in the 80's, the story revolves around, Anna, a young athlete, living with her mother, with hopes to run in the 1984 Summer Olympics in Los Angeles. Anna's coach encourages her to use steroids to enhance her performance with a drug called Stromba. The film centers on Anna, and on her mother, living under the constant watch of some controlling presence, whether it be a coach or the communist government eager to catch subversive activity. Everyone in Anna's life has secrets that they are keeping, the coaches, the doctors, her mother, and her boyfriend. We get to witness Anna's struggle for truth and freedom to be herself, trying to do the right thing, as she is caught in a maze of needs of the people around her.
Directly after seeing that film, I raced back up to the Arlington Theater looking forward to seeing my friend, Mimi deGruy, present the Attenborough Award For Excellence in Nature Filmmaking to the Cousteau family, Jean-Michel, his son, Fabien, and his daughter, Celine. The Arlington was once again packed. I sat with Mimi and her daughter, Frances, for the 3D screening of "The Secret Ocean," before they were called up to present the Award.
Jean-Michel Cousteau introduced the film speaking passionately about his love for the sea and his desire for everyone to marvel at the magical world that he has dedicated his life to. "We are all connected to the sea." He spoke of the programs and capabilities we now have to get closer to the smallest creatures in the ocean through the equipment now available. "I can go deeper and stay longer. I can go down 1000 feet in 5 minutes, spend 10 hours, and come back in 5 minutes!"
We all put on our 3D glasses and watched, "The Secret Ocean," which is the most mesmerizing and amazing film. The camerawork shows stunning close-ups inside a grouper's mouth, a tight shot on a reef, "even if it looks like a plant, it is an animal," and a view of clams that live to be 100 years old that are extraordinary, to name three images in "a sea" of images that the film shows! Fashion designers need only see this film once and be inspired for endless collections! To see a lionfish up this close hearing african drumbeats in the soundtrack, I truly felt that I was on the most extraordinary of safaris! The film is incredible, total utter magic! The narration reminding us, "People protect what they love and we are all connected. We protect the ocean and we enter the future together."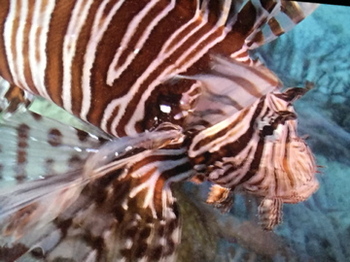 Roger Durling came to the podium again and spoke about his friendship with the late Mike deGruy, one of the greatest underwater cinematographers that ever lived, whose life was dedicated to nature filmmaking and ocean exploration. Mike "was passionate about showing films like this. It was Mike who made this Award possible. He said 'I am friends with David Attenborough and I can convince him to come and receive this Award'. David did come from England! The next year Mike got James Cameron, then Al Gore after that. We very sadly lost Mike in 2012. We need to continue Mike's passion." Roger spoke of all the contributions and work that Mike had made and how much working with him had meant to him. "Tim Matheson, Mike deGruy and I were the best of friends, we were the 3 musketeers," all of them having worked together on many programs as well as sharing friendship. Roger then called Tim Matheson to come and moderate the panel of discussion with the Cousteau family.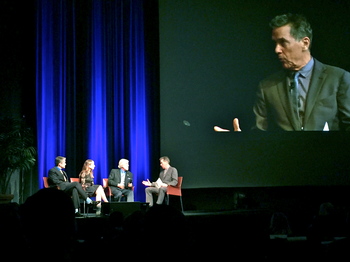 Tim ran a lively and all encompassing discussion complete with many film clips. We learned about the work of Jean-Michel, stemming back from his own father, Jacques Cousteau. (Jean-Michel wrote a book about his father, My Father, My Captain. "My father asked me 'can you help me? We have no experience diving in the Indian Ocean.' I had been studying architecture to learn how to build cities under the sea, and I had worked on ships, and I had done a lot of diving in that part of the world." Since Jean-Michel had spent time there, his father wanted him to help him aboard the Calypso. Jean-Michel went to help his father and mother and so continued this great family partnership.
All the Cousteaus work independently on their own projects as well as together. Hearing Jean-Michel speak about Celine and her work and Fabien with his, it is clear to see how much mutual respect is between them. For Celine, it was a trip to the Amazon that her grandfather had taken all the family on in the 80's that had a big impact on her and where her work is focused now. "We all went back to the Amazon 25 years later after our grandfather had taken us. I am obsessed with the Amazon, where the indigenous tribes live." She said the tribes spoke to her saying, "We want the world to know we exist so that we can survive." Celine travels back and forth frequently to the Amazon for work on a documentary that she is making about these tribes.
Her brother, Fabien's work is in a different area. Fabien lived 31 days under the sea as documented in his work with MISSION 31. "It was to mark a step to make people get interested in the ocean through a sense of adventure and we made it interactive. I was an Aquanout! I did 3 years worth of science in 31 days!"
The work of the Cousteau family is multi-generational. Their on-going mission is to "get people immersed in this last frontier on the planet." The three major obstacles Fabien said are pollutants (physical and liquid), climate change and overconsumption. It is important "to teach people and educate them. This is our life support system and why we exist. If we protect the ocean, we protect ourselves."
Jean-Michel added, "Everybody has a heart. Don't point fingers. Reach the heart."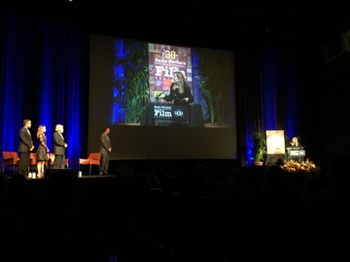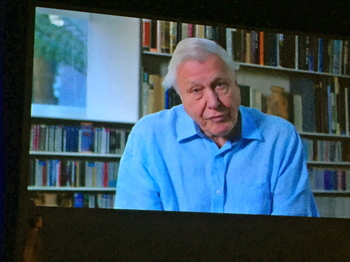 Mimi deGruy came to the podium to present the Attenborough Award. She introduced a clip from David Attenborough congratulating the Cousteau family. Mimi spoke about her late husband, Mike, and how much this work meant to him and how she was happy to present this Award to their good friends, Jean-Michel, Celine and Fabien. Mimi and her daughter, Frances, handed the family their awards. Jean-Michel warmly said, "I want to thank Mimi for being responsible for us receiving this honor tonight."
Celine concluded, looking out to all of us in the audience, "You are part of our family now, too, and hopefully after tonight you were inspired by some piece and hopefully you might go out and cause your 'ripple effect.'"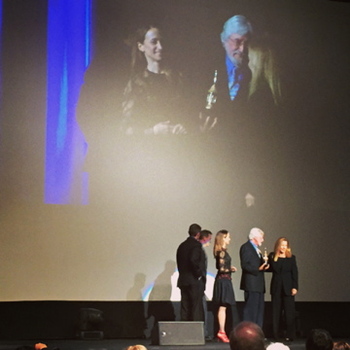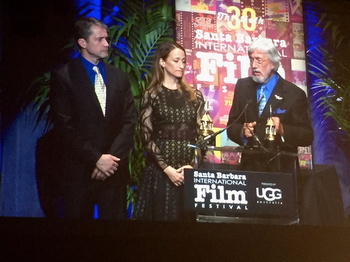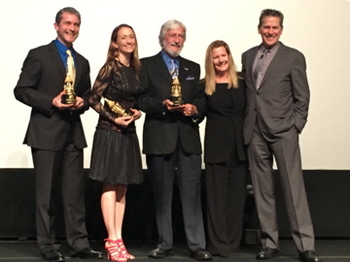 It was another inspiring day and evening at SBIFF!
REAL LIFE. REAL NEWS. REAL VOICES.
Help us tell more of the stories that matter from voices that too often remain unheard.