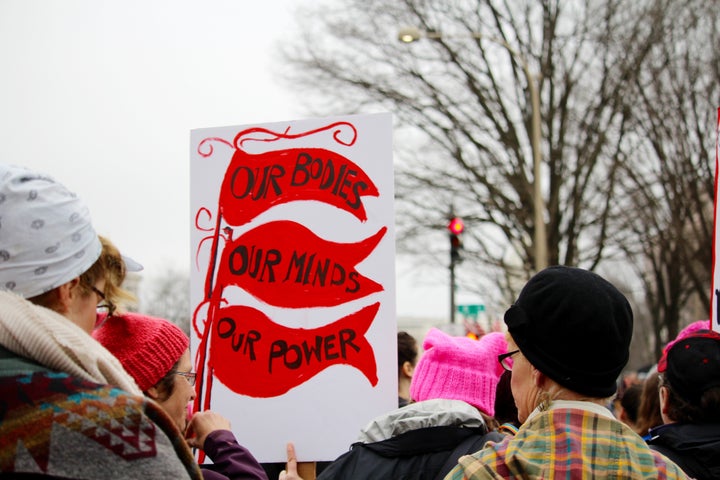 The high temperature tomorrow in Fairbanks, Alaska, a city of about 30,000, is forecast to be -2 degrees, but that won't stop the 60 or so women who have said on Facebook that they will take part in the local Women's Strike. In addition to abstaining from paid and unpaid labor, they will join rally events including a noon walk-slash-ski (for self-care), protest "pop-ups" that will be live-streamed for women in remote parts of the state and an 8 p.m. letter writing party.
"Alaska is far removed from the 'Lower 48' ― our fond term for the continental U.S ― and things that are big in the Lower 48 usually take years to make it to Alaska," Mamie Davis, a volunteer who has helped organize the Fairbanks Women's Strike events, told The Huffington Post. "But since the election, Alaska has been more in-step than ever with our Lower 48 counterparts politically. I think the Women's March is a huge example of that. We had over 2,000 people participate at -20 temps."
Roughly 50 towns and cities across the United States have planned events around the Women's Strike on Wednesday, March 8, a global, one-day strike called by feminist activists in more than 35 countries and supported by the organizers of the Women's March. It is being called the "Day Without A Woman."
And activists nationwide are hoping to tap into the popularity of the recent women's marches across the country to challenge the narrative that grassroots opposition to President Donald Trump ― and to gender inequality ― exists only in large, coastal cities.
"It's very clear that this is not just happening on the east coast and west coast," Megha Anwer, a lecturer at Purdue University, told The Huffington Post.
"We're calling this "feminism for the 99 percent.""
Anwer is on the planning committee for a rally in Lafayette, Indiana, that ― among other things ― will include an 11 a.m. walk-out at three locations, including one in downtown Lafayette that any woman can join for an hour or so. Organizers will pass around a megaphone that women can use to talk about their reasons for striking.
"We're calling this 'feminism for the 99 percent' and we want to make sure we represent as much diversity and inclusivity as we can, and sort of not have it hijacked by liberal, white feminism," said Anwer. The committee organizers do not have an estimate on how many women will join the rally, though Anwer insisted that she was not "terribly anxious" about attracting big crowds.
That list includes a picket line in Carbondale, Illinois and a sign-holding rally in Gainesville, Florida.
Activists in Duluth, Minnesota have organized a 78-minute-long strike, a nod to the pay gap between men and white women. (Organizers will ring a bell at various points, to call out the larger pay gap between white men and women of color.)
In Wakefield, Rhode Island, more than 100 women have said on Facebook that they're interested in joining a planned "dinner march" in solidarity with the strike. Marchers will walk from a local gallery to a church, where they will eat burgers and sandwiches and discuss ways to stay active locally.
Sarah Leonard, a senior editor at The Nation and a member of the national planning committee, told HuffPost that organizers had seen a "speeding up" of events being planned as strike day neared. National strike organizers do not have a prediction for how many women might participate.
"These strikes are happening all over the country, from Indiana, Ohio and Florida, as well as New York, Los Angeles and Chicago," Leonard said, briefly addressing the criticism that the strikes are for only for privileged women by pointing to the support of labor groups like Restaurant Opportunities Centers United.
"The question is not 'is this strike for women who are privileged?' but rather, 'will women who are privileged, on this day, join forces with women who have been leading labor struggles all year long?'"
Before You Go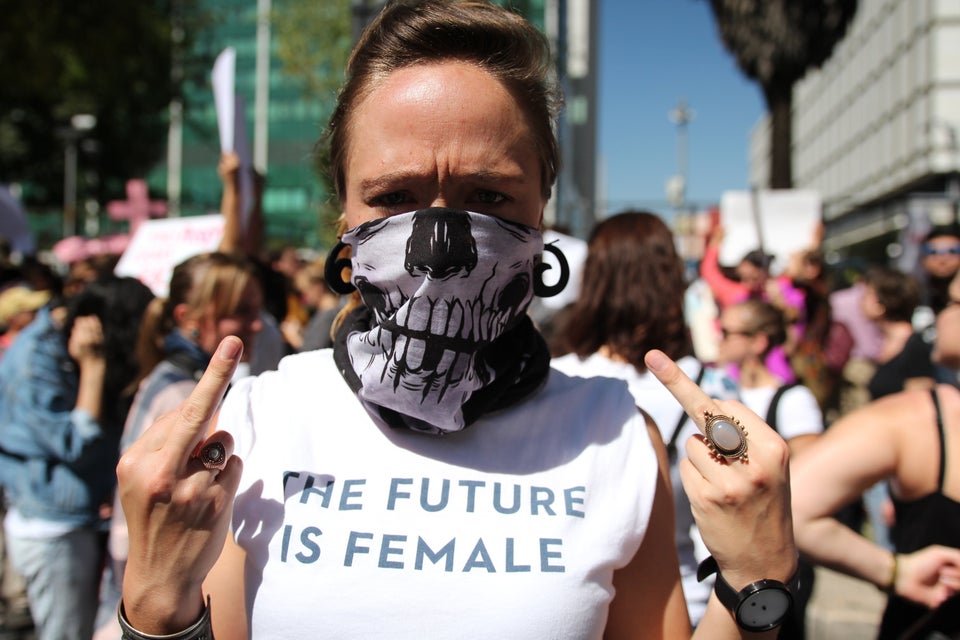 38 Stunning Photos From Women's Marches Around The World
Popular in the Community