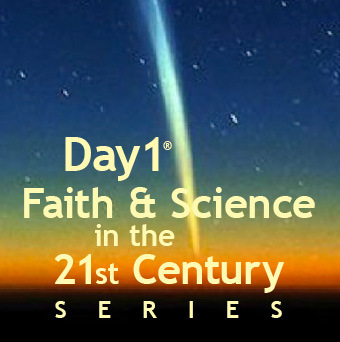 In his 1979 book Disturbing the Universe, Freeman Dyson wrote, "As we look out into the universe and identify the many accidents of physics and astronomy that have worked together to our benefit, it almost seems as if the universe must in some sense have known we were coming."
The series features eight accomplished clergy and scientists who explore major issues of science with a goal of facilitating meaningful conversation around these issues particularly among people of faith. The programs will air through November 15 on more than 200 radio stations and via podcasts at Day1.org.
Ted Peters, the second speaker in this series, is an ordained minister in the Evangelical Lutheran Church in America. He is the Research Professor Emeritus in Systematic Theology and Ethics at Pacific Lutheran Theological Seminary and the Graduate Theological Union in Berkeley, CA. A graduate of Michigan State University, he earned master's and doctoral degrees from the University of Chicago and an M.Div. from Trinity Lutheran Seminary.
Ted is the author of numerous books of theology, ethics, and science and their intersections, including God--The World's Future: Systematic Theology for a Postmodern Era, and his latest, Sin Boldly! Justifying Faith for Fragile and Broken Souls. He blogs at www.TedsTimelyTake.com.
Ted's message focuses on how our knowledge of the cosmos reflects our theological understanding of God and creation. It's based on Psalm 8 and entitled "God and Cosmos."
What is so fascinating for Bible-believing Christians is that [the] scientific account of cosmic history looks a lot like what a Jew or a Christian would expect. What the Bible tells us is that God's relationship to the world of nature is historical in character. The world begins. What follows the beginning is a history, a drama, a story. God makes promises; and then God fulfills these promises. Among those promises is this one: a new creation is coming! This new creation will consummate and fulfill the entire history of the present creation. This new creation will include a resurrection of the dead and abundant life in God's everlasting kingdom. You and I are still awaiting fulfillment of this divine promise.

In the interview after the sermon, I asked Ted, "You explained the early universe was, according to the Anthropic Principle, fine-tuned so as to prepare physics for evolving biology and to prepare biology for evolving intelligence. Even minute variations of conditions and attributes of the Big Bang would have precluded the possibility of life, and you said these facts stun scientists. Do they have any response?"
The answer is yes, indeed. What is so amazing for us that these questions about the possibility of God having designed the universe arose from within physics. It wasn't religious people that raised these questions. It was the physicists. Well, those of us who like God and we kind of like to think about God's work in the universe, we think the Anthropic Principle is just great. But it drives the atheists crazy, because they don't want a scientific theory that looks like it requires God. So what has risen among some atheist scientists--and I'm thinking of Stephen Hawking in England, in particular--is to come up with an alternative account for the fine-tuning. Everyone agrees on the facts our universe is fine-tuned. But how do you explain it? Well, God is a possibility. Accident is a possibility. Well, nobody is going to buy that, so Stephen Hawking and some others have come up with the theory of the multiverse. That is to say there are a large number--actually, a gargantuan number of universes--everyone tuned slightly differently. So, believe it or not, Peter, there's another Peter in another universe right now who is almost but not completely identical with you. And this then removes the wow factor from our universe and makes it not unique, and it makes it very prosaic.

Now if you'll allow me a couple more seconds, here is something that is really ironic about the multiverse theory. It's based upon the principle of plentitude, which says every potential gets actualized. Now believe it or not, that's a theological principle that our medieval theological ancestors held, and they threw it away. But it's been picked up now by the physicists, and so the point is there is no empirical evidence of any seriousness that there is such a thing as a multiverse. But it looks good if you're an atheist and you want an alternative explanation to the Anthropic Principle.
Regardless, as Ted says at the end of his sermon:
"Our cosmos is big. But God loves each and every creature, including you and me, directly and eternally. Our God does a lot of loving."
Subsequent speakers in the series are:
Oct. 11: The Most Rev. Dr. Katherine Jefferts Schori will preach on "Creation and Evolution." She is presiding bishop and primate of The Episcopal Church. She serves as chief pastor to The Episcopal Church's members in 17 countries, 109 dioceses, and three regional areas. Her career as an oceanographer preceded her studies for the priesthood.
Oct. 18: The Rt. Rev. Nicholas Knisely will explore "Quantum Physics and Eternity." Knisely is the bishop of the Episcopal Diocese of Rhode Island. He studied physics and astronomy at Franklin and Marshall College and did graduate studies at the University of Delaware in cosmology and solid state physics before earning theological degrees at Yale and Berkeley Divinity schools.
Oct. 25: The Rev. David Wood will preach on "Imago Dei and Science." Wood, ordained in the American Baptist Churches USA, is the senior minister of Glencoe Union Church in Glencoe, IL. He also serves as a consultant to the John Templeton Foundation assisting in the development of programs that stimulate a more intelligent and interesting engagement between science and faith in the life of congregations in North American and around the world.
Nov. 1: The Rev. Dr. Nancy Duff will focus on "Genetics and Morality." She is the Stephen Colwell Associate Professor of Christian Ethics at Princeton Theological Seminary. An ordained Presbyterian minister, Duff focuses her research on the theological foundations of Christian ethics.
Nov. 8: The Rev. Dr. Tom Long will preach on "Health and Healing/Death and Dying." Named in 1996 as one of the 12 most effective preachers in the English-speaking world, Long retired in the spring of 2015 as Bandy Professor of Preaching from Candler School of Theology at Emory University. He is the author of 21 books.
Nov. 15: The Rev. Dr. Luke Powery will preach on "Keeping the Conversation Going in Churches." He is dean of Duke University Chapel and associate professor of homiletics at Duke Divinity School in Durham, NC. Ordained by the Progressive National Baptist Convention, "The African-American Pulpit" named him one of two outstanding black ministers under the age of 40 who are helping to shape the future direction of the church.

In addition to the radio program sermons, brief videos featuring the speakers on topics related to their messages will soon be available on YouTube and at Day1.org.

"Day 1" has been broadcast every week for 70 years, formerly as "The Protestant Hour." Featuring outstanding preachers from the mainline denominations, "Day 1" is currently distributed to more than 200 radio stations across America and overseas. For more information about the program or the "Faith & Values" series, visit Day1.org.
The Day1 Faith & Science Series project is made possible through the support of a grant from the John Templeton Foundation. The opinions expressed in these programs and resources are those of the authors and do not necessarily reflect the views of the John Templeton Foundation.
Calling all HuffPost superfans!
Sign up for membership to become a founding member and help shape HuffPost's next chapter