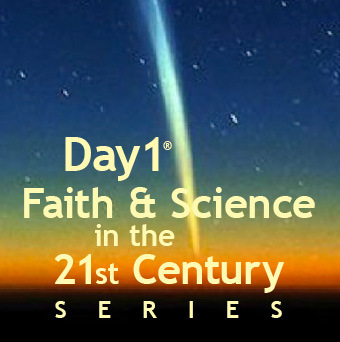 Does the universe make any sense? Does the cosmos have purpose? And what about us human beings? Do we matter? Is there any way to know? Listen to some people these days, including some vocal scientists, and you will hear the answer loud and clear: "No, not really. We don't matter. We're too small. The universe is pretty much pointless."

But there's another point of view, and it's expressed not only by Hoezee but by other speakers throughout the eight-part series, which features accomplished clergy and scientists who will explore major issues of science with a goal of facilitating meaningful conversation around these issues particularly among people of faith. The programs begin airing Sept. 27 on more than 200 radio stations and via podcasts at Day1.org. I'm honored to produce and host the weekly program, which celebrates 70 years of weekly broadcasts this year (formerly known as The Protestant Hour).
The Rev. Scott Hoezee, the first speaker in the series, is an ordained minister in the Christian Reformed Church of North America. After serving two churches as a pastor, in 2005 he joined the faculty of Calvin Theological Seminary in Grand Rapids, MI, where he now serves as director of the Center for Excellence in Preaching. He has written several books, including Proclaim the Wonder: Engaging Science on Sunday.
In the program interview, Scott answered my question about how people of faith might approach major questions of life particularly with a scientific point of view. He said:
We've long had this theology of revelation of two books. There's the book of nature, the creation of God and of course scripture; and of course we believe that due to our sinfulness we can't read the book of nature correctly without--as John Calvin said--putting on the spectacles or the eyeglasses of scripture. But we're always interpreting both books and we can make mistakes on both sides. If we could interpret scripture absolutely accurately and if we could interpret the data of creation absolutely accurately, I suppose there would be no conflict between the two. But there are sometimes conflicts, apparent conflicts, and the question becomes where does the mistake lie: Is it in the interpretation of what we're seeing through science, or is the mistake what we thought the Bible was saying all along? So we're always kind of in dialogue on those two fronts.... We're never going to achieve perfect harmony and shouldn't expect to, I suppose, but come as close as we can to getting both right and then seeing where are the convergences and where are the questions we still have to work out.
In Scott's message, based on Colossians 1:15-23 and entitled "Every Creature," he explains further:
Do science and faith inform each other, have anything meaningful to do with each other? Paul thought so. Paul found it impossible to praise Jesus for his glory without connecting it to the glory of creation. So the more we learn about creation through science, the more reasons we have to praise God, not just for making the whole kit-n-kaboodle but for redeeming it too. Yes, this is all about faith and not everyone shares our faith. But the point is faith makes us more interested--not less interested--in the world God made. And the reason is clearly on display in Colossians 1: it all comes together and hangs together in a final glorious purpose in Christ Jesus the Lord of ta panta, of all things.
Subsequent speakers in the Day1 Faith & Science series are:
Oct. 4: The Rev. Dr. Ted Peters will preach on "God and Cosmos." He is an ordained minister in the Evangelical Lutheran Church in America and the Research Professor Emeritus in Systematic Theology and Ethics at Pacific Lutheran Theological Seminary and the Graduate Theological Union in Berkeley, CA.
Oct. 11: The Most Rev. Dr. Katherine Jefferts Schori will preach on "Creation and Evolution." She is presiding bishop and primate of The Episcopal Church. She serves as chief pastor to The Episcopal Church's members in 17 countries, 109 dioceses, and three regional areas. Her career as an oceanographer preceded her studies for the priesthood.
Oct. 18: The Rt. Rev. Nicholas Knisely will explore "Quantum Physics and Eternity." Knisely is the bishop of the Episcopal Diocese of Rhode Island. He studied physics and astronomy at Franklin and Marshall College and did graduate studies at the University of Delaware in cosmology and solid state physics before earning theological degrees at Yale and Berkeley Divinity schools.
Oct. 25: The Rev. David Wood will preach on "Imago Dei and Science." Wood, ordained in the American Baptist Churches USA, is the senior minister of Glencoe Union Church in Glencoe, IL. He also serves as a consultant to the John Templeton Foundation assisting in the development of programs that stimulate a more intelligent and interesting engagement between science and faith in the life of congregations in North American and around the world.
Nov. 1: The Rev. Dr. Nancy Duff will focus on "Genetics and Morality." She is the Stephen Colwell Associate Professor of Christian Ethics at Princeton Theological Seminary. An ordained Presbyterian minister, Duff focuses her research on the theological foundations of Christian ethics.
Nov. 8: The Rev. Dr. Tom Long will preach on "Health and Healing/Death and Dying." Named in 1996 as one of the 12 most effective preachers in the English-speaking world, Long retired in the spring of 2015 as Bandy Professor of Preaching from Candler School of Theology at Emory University. He is the author of 21 books.
Nov. 15: The Rev. Dr. Luke Powery will preach on "Keeping the Conversation Going in Churches." He is dean of Duke University Chapel and associate professor of homiletics at Duke Divinity School in Durham, NC. Ordained by the Progressive National Baptist Convention, "The African-American Pulpit" named him one of two outstanding black ministers under the age of 40 who are helping to shape the future direction of the church.

In addition to the radio program sermons, brief videos featuring the speakers on topics related to their messages will soon be available on YouTube and at Day1.org.

"Day 1" has been broadcast every week for 70 years, formerly as "The Protestant Hour." Featuring outstanding preachers from the mainline denominations, "Day 1" is currently distributed to more than 200 radio stations across America and overseas. For more information about the program or the "Faith & Values" series, visit Day1.org.
The Day1 Faith & Science Series project is made possible through the support of a grant from the John Templeton Foundation. The opinions expressed in these programs and resources are those of the authors and do not necessarily reflect the views of the John Templeton Foundation.
REAL LIFE. REAL NEWS. REAL VOICES.
Help us tell more of the stories that matter from voices that too often remain unheard.