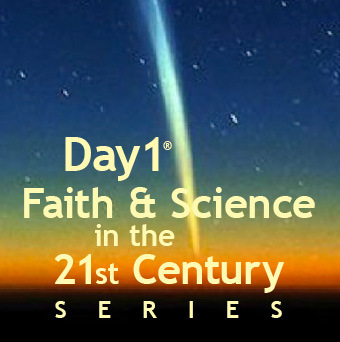 In his message on this week's Day1 radio program--the 4th in our "Faith & Science in the 21st Century" series--Bishop Nicholas Knisely offers us a glimpse of time and eternity, and what quantum physics, and the Bible, have to say about them.
Nicholas's sermon focuses on Job 38 and Mark 10:35-45, and reveals some fascinating, mind-stretching insights regarding the way the Scriptures use time and how it's different from the way we experience it. God exists in eternity and, interestingly, quantum physics is shining some light on what that may mean.
The "Faith & Science" series is presenting eight accomplished clergy and scientists who explore major issues of science with a goal of facilitating meaningful conversation around these issues particularly among people of faith. The programs are airing weekly through November 15 on more than 200 radio stations and via podcasts at Day1.org. I'm honored to produce and host the weekly program, which celebrates 70 years of weekly broadcasts this year (formerly known as The Protestant Hour).
Nicholas earned undergraduate degrees in physics and astronomy at Franklin and Marshall College in Lancaster, PA, did graduate studies at the University of Delaware in cosmology and solid state physics, then earned theological degrees from Berkeley Divinity School at Yale University. He is the author of several books, including Lent Is Not Rocket Science: An Exploration of God, Creation, and the Cosmos.
In his sermon, he concludes:
Jesus' words about time and eternity [and] God's beautiful poetic response to Job are exactly what we ultimately hope for in our longing to make sense of the senseless. There are no easy answers to the paradox of time and eternity. But God inhabits Eternity and Jesus inhabits Time, and we believe by faith that God is good.

So somehow our faith tells us, in the fullness of the reality of the universe, things are sensible; there is order and not chaos and God is working out a deep purpose that we can only dimly perceive--a purpose that is healing the pain and bringing renewal and re-creation out of eternity and into the portion of the universe where there is time and in which we are born and live and die.
In my interview with him after his sermon, he put it this way:
We have to always remember that God doesn't see us as a process that is unfolding, but God sees us as what we will become and what we once were. In the same way, when I look at my daughter right now, I don't just see this incredibly poised 21-year old college student. I see the little girl, and I remember her trying to learn to walk. I see the teenager who was navigating the social moirés of high school, and I see them all in a glimpse, in an instant. It's that whole perception of my daughter that is so powerful and so meaningful to me. And I expect it's exactly the same way for God, who sees us in the entirety of our life.
After the sermon, I also asked him, "In the light of our understanding of time and space, quantum physics, and reality, God's answer to Job is essentially that what God created out of the chaos of the beginning of our reality is ultimately beyond a finite creature's comprehension. You said that God is saying in essence, 'There is a reason and a purpose to everything I do. But it is ultimately impossible to explain to a being who cannot perceive the full reality and lives within a shadow portion of the whole.' This can be frustrating to us--even so, should we stop trying to understand, either from a theological or a scientific approach?"
A rabbi once told me that God hides the truth from us and expects us to use our minds, the reason that God gifted us at our birth to uncover the truth. I find it fascinating that we have this itch in us to make sense of what is probably, ultimately, un-sensible. It's the pilgrimage, it's the struggle to understand, that transforms us. It's not the answer.
Last week, the Most Rev. Katharine Jefferts Schori, presiding bishop of The Episcopal Church, spoke on "What Matters Eternally?" You can read about that here.
Subsequent speakers in the series are:
Oct. 25: The Rev. David Wood will preach on "Imago Dei and Science." Wood, ordained in the American Baptist Churches USA, is the senior minister of Glencoe Union Church in Glencoe, IL. He also serves as a consultant to the John Templeton Foundation assisting in the development of programs that stimulate a more intelligent and interesting engagement between science and faith in the life of congregations in North American and around the world.
Nov. 1: The Rev. Dr. Nancy Duff will focus on "Genetics and Morality." She is the Stephen Colwell Associate Professor of Christian Ethics at Princeton Theological Seminary. An ordained Presbyterian minister, Duff focuses her research on the theological foundations of Christian ethics.
Nov. 8: The Rev. Dr. Tom Long will preach on "Health and Healing/Death and Dying." Named in 1996 as one of the 12 most effective preachers in the English-speaking world, Long retired in the spring of 2015 as Bandy Professor of Preaching from Candler School of Theology at Emory University. He is the author of 21 books.
Nov. 15: The Rev. Dr. Luke Powery will preach on "Keeping the Conversation Going in Churches." He is dean of Duke University Chapel and associate professor of homiletics at Duke Divinity School in Durham, NC. Ordained by the Progressive National Baptist Convention, "The African-American Pulpit" named him one of two outstanding black ministers under the age of 40 who are helping to shape the future direction of the church.

In addition to the radio program sermons, brief videos featuring the speakers on topics related to their messages will soon be available on YouTube and at Day1.org.

Day1 has been broadcast every week for 70 years, formerly as "The Protestant Hour." Featuring outstanding preachers from the mainline denominations, Day1 is currently distributed to more than 200 radio stations across America and overseas. For more information about the program or the "Faith & Values" series, visit Day1.org.
The Day1 Faith & Science Series project is made possible through the support of a grant from the John Templeton Foundation. The opinions expressed in these programs and resources are those of the authors and do not necessarily reflect the views of the John Templeton Foundation.
REAL LIFE. REAL NEWS. REAL VOICES.
Help us tell more of the stories that matter from voices that too often remain unheard.