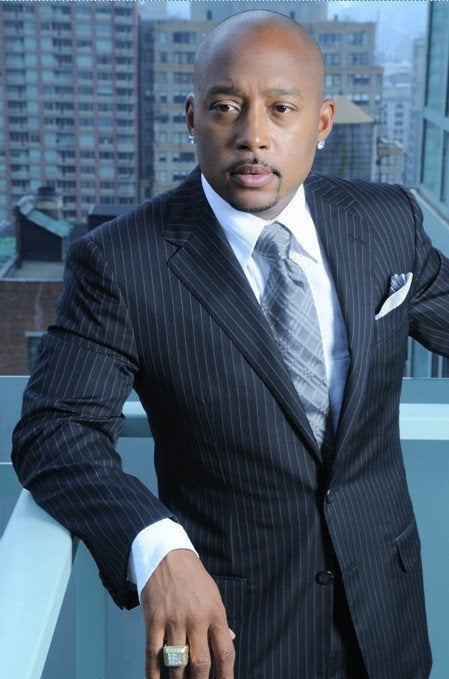 As the founder, president and chief executive officer of FUBU apparel, Daymond John is no small fish when it comes to offering his expertise on ABC's hit reality show "Shark Tank." The multimillionaire mogul appears as one of five executives on the Mark Burnett-produced show who help aspiring entrepreneurs launch their companies.
In a recent interview with The Huffington Post, John discussed the Season 3 debut, his current status with FUBU, his plans for integrating his brands into television, and his thoughts on today's urban apparel.
What was your reaction to the recent debut of "Shark Tank: Season 3"?
It was definitely exciting. The numbers came in great, and that means that people are actually starting to like to see smart TV instead of other things that they tend to watch.
Would you consider your approach to viewing business pitches this season to be different?
No, not really. I guess I learned over the seasons, after you see the deals going on TV, how to close on a deal the quickest, or move on and not close the deal because it may not be everything that it's cracked up to be.
With you attaining a wealth of business knowledge throughout your career, what are some experiences that you bring to the show?
I've learned, like with anything else, business is only as good as your connections and your resources. And some of the resources that I have are the fact that I work with huge artists. So that's a large equity play. A lot of times I can put a product together with a distributor when I go into my Rolodex for distributors. I can then put it together with a face, such as an artist. And then I can go into my databank of retailers and people that I've been working with through the years of retail, and then also manufacturing. So once I get that done, there's usually a good chance that we're going to have some success.
What inspired you to join the show in 2009? Did Mark Burnett reach out to you?
[Executive producer] Clay Newbill reached out to me, along with Mark Burnett. They saw me on shows such as Donny Deutsch. They understood when they saw me getting elevator pitched on these shows, they understood that I could pretty quickly break down a business and see all its holes or assets -- and exploit either one.
It's fairly easy. FUBU -- the beauty of it is that it was always based off of an entertainment type of structure, whether it was LL [Cool J] being the face of it, or all of our product integration into reality shows. That's what we do often. The first couple years of the Kardashians being on the air, I managed to put Coogi and some of my other brands in there. So we always dealt in that space, which made for a pretty easy transition.
Do you still have a stake in FUBU, or have you branched off into your other brands such as Drunken Monkey and Coogi?
We all [I and my FUBU partners] have a stake in all of our brands, because we licensed the brands in other territories. FUBU is pretty well licensed out in China and Asia. In America it's a little more of a challenge, obviously, because it's a branded sport. Now we're doing a great job in Walmart with footwear. But I'm still in charge of licensing, and it's the same format as "Shark Tank." Basically, I'm cutting deals with Asia and other countries to distribute the product at a certain cost. And that's basically the hustle.
How do you set yourself apart from other fashion moguls in your space who are also trying to broker deals in domestic and foreign markets?
Being in this space going on 25 years, as something I really know well, any line that I decide to put out, it has a great chance of being successful. I've made a million mistakes; I know what not to do. But even if you look at the vice president of Sean John [Jeffrey Tweedy], who's a very good friend of mine, I suggested him for the job. I used to distribute Russell Simmons' Phat Farm in Europe, so we're close knit. And actually what I've been doing now is, I've been setting up a lot of artists and stars with their own brands. They come to me to develop it. So I'm working right now with Vanessa Simmons, Selita Ebanks. I have about four artists a month that I'm usually advising and putting together their brands and products so they can take it out to the world.
What do you consider to be the most challenging aspect of prospering in business?
It's always going to be staying relevant. How do you make your product new and sexy enough to where you can have somebody buy it? But secondly, at a price where it can make you some money? That was always the challenge, 'How do you stay cool?' And that's what I kind of do now with all the products, brands and companies that I work with. I try to make them cool and stay cool enough to be hip. And that's a big challenge.
I don't think anything has changed. You look at FUBU, you look at Rocawear and let's put them together. When FUBU started to slow down in the United States, the same amount of years you'll see that Rocawear came out after FUBU, Rocawear would slow down. Fashion has a life cycle. And it's not an urban thing, because you and I, when we were young, what were our urban brands? Levis, Adidas, Lacoste, Guess, Carhartt, and so on. So it's not a slowdown on urban brands, because black, hip, whatever the case is, they're all wearing a certain brand. It's just that now technology has taken over our world. So when you and I were kids and we would get $300, we're going to buy some kicks, we're going to the mall to check out some chicks, and we're going to buy the hottest brand. But with the kids now, when they get $300, they're downloading a bunch of mobile apps, they're getting their Netflix, they're saving up for the $700 iPad, and they're not going to the mall because they're finding girls on YouTube and Facebook. They don't need clothes anymore. And people are just not spending as much on clothes because they have to pay their mortgage and keep their phone on. It's just that the whole [clothing] business is deteriorating at this time.
What would be your solution to that challenge?
These days, the way that you can combat that challenge is to already know who your partner is when you go out. So let's say if I brand manage Idris Elba, and I create a line with him and then I do a direct deal with Men's Wearhouse as the place to get his product. Now you circumvented the challenges of everything. Men's Wearhouse feels good about it because you're not going to put it someplace else, you can only purchase it there. Idris knows how his look is going to be -- suits and fly -- and I know that I have a customer in Men's Wearhouse. That's how you save yourself from having to worry about the stores saying, "Nah, I don't want it, I do want it. It's cut too low, too high." So that's how you have to secure it to keep the partners that you need.
Calling all HuffPost superfans!
Sign up for membership to become a founding member and help shape HuffPost's next chapter