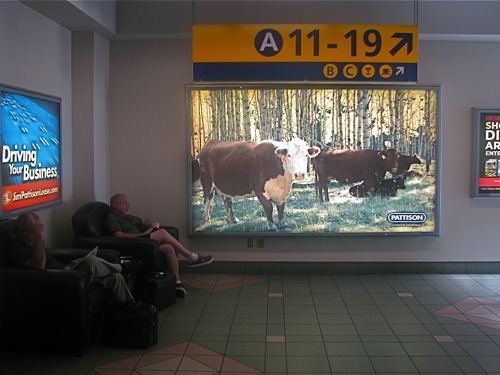 A bovine welcome at Calgary International Airport. Sue Frause photo.
Although I'm not one of the 1,300 journalists jotting down every word and capturing every image of the royal newlyweds, I was in Calgary, Alberta in July 2010. That's where William and Kate are headed on July 7. But the couple has added a stop enroute from Yellowknife in the Northwest Territories, visiting Great Slave Lake, Alberta. The town was ravaged by fire in May, destroying much of the community. Alberta Premier Ed Stelmach will join the couple as they visit with emergency workers and families affected by the fire.
It's interesting that on the 2011 Royal Tour Itinerary there is no entry for July 6, which the media is calling their "free night." Read more from Canada AM's Loren Christie about where they might end up.
Once they arrive in Calgary on July 7, the couple's itinerary includes kicking off the 2011 Calgary Stampede Parade on the following morning. After traveling along the route prior to the actual parade, Will and Kate will launch a fireworks display signaling the start of the parade.
It's interesting to note that they're not the first Royals to take in Stampede activities -- Queen Elizabeth II and Prince Philip attended in 2005. This year's ten-day Calgary Stampede runs July 8-17, 2011.
When I was at Stampede last year, I got caught up in Cowtown fever, and attended the Grandstand Show that's staged every evening after the GMC Rangeland Derby (chuckwagon races). A new show is produced each year, and the 2011 edition is Volte. The multi-million dollar production includes two black stallions, 180 performers known as The Young Canadians and hundreds of fireworks and fireworks effects. Don't forget your cowboy hat!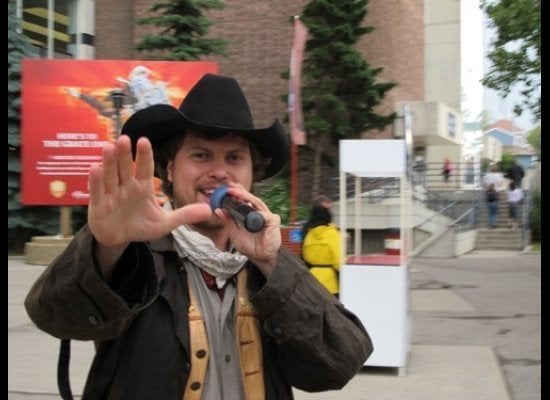 Calgary, Alberta: Home of the Calgary Stampede
Related