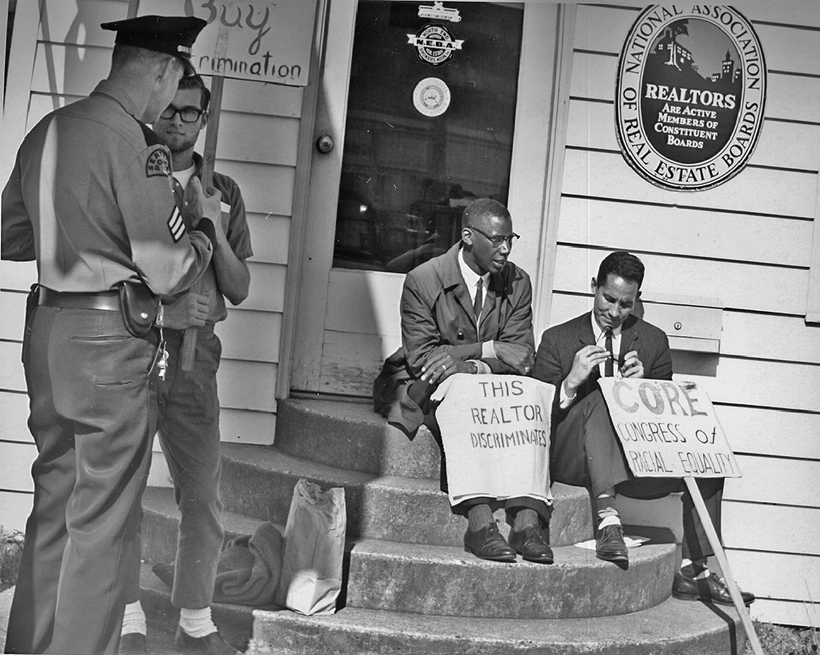 The U.S. Department of Housing and Urban Development (HUD) is one of our nation's most important federal agencies. For that reason, the nomination of Dr. Ben Carson to lead this agency must be taken seriously.
In fact, Martin Luther King Day stands as a sobering reminder of the critical role and legacy underlying the work of HUD. In 1966, Dr. Martin Luther King, Jr. took the Civil Rights Movement up north, launching the Chicago Freedom Movement to address the problem of racially segregated housing. While marching through an all-white neighborhood on Chicago's West Side, demonstrators were met with violent hostility: an angry white mob hurled bottles and bricks at the peacefully assembled protesters, and a rock struck Dr. King in the head. Then-mayor Richard Daley quickly arranged a summit to negotiate reforms, hammering out an agreement that promised changes to the city's public housing infrastructure, including fair lending by banks. But the city failed to enforce the agreement. King would later express disappointment on the city's empty promises. The Chicago Freedom Movement laid bare the need for a strong federal response to confront the housing discrimination crisis.
Two years later, Dr. King was tragically assassinated. Just 4 days after King's death, Congress took long-awaited action to build on King's work and passed the Fair Housing Act. The Act stands as one of our most important federal civil rights laws. This landmark legislation protects people from discrimination when they rent, buy or seek to secure financing for housing.
HUD is the agency tasked with breathing life into the law by promoting fair housing and creating affordable and inclusive communities. When Americans are denied equal access to housing, it limits access to good jobs, quality education, safe streets, and a clean and healthy environment.
A strong and vigorous HUD, led by a Secretary committed to its mission, is essential to ensuring the goals of Dr. King are realized. Whoever oversees HUD must have relevant experience and a strong commitment to ensuring that all Americans possess meaningful access to decent, safe, and affordable housing.
While Dr. Ben Carson, the President-elect's nominee for HUD, is an accomplished surgeon, he lacks knowledge of and experience in housing policy or community development. Moreover, he has never run an executive agency or served in government at any level. Last year, he even remarked that, "[h]aving me as a federal bureaucrat would be like a fish out of water, quite frankly." Our country cannot afford to have a HUD Secretary who must learn on the job.
Dr. Carson's record also raises grave concerns about his commitment to fair housing. He has criticized the Supreme Court's landmark decision affirming that disparate impact claims may be brought under the Fair Housing Act. Disparate impact liability is crucial in the fight against housing discrimination. He has expressed opposition to HUD's Affirmatively Furthering Fair Housing rule, which requires communities to take proactive measures to overcome the legacy of residential segregation, referring to it as "mandated social-engineering". Last year, he condemned a HUD agreement resolving a fair housing complaint as indicative of "what you see in communist countries." In the past, Dr. Carson has also suggested poverty is a choice. Such remarks demonstrate why it was so important for Dr. Carson to fully explain his vision for HUD and how he would approach the critical task of enforcing the nation's fair housing laws.
Unfortunately, during his confirmation hearing, Dr. Carson did little to address doubts about his nomination. He offered few details about how he would run HUD and expressed contradictory views on issues facing the agency. He claimed he would advocate for HUD's budget yet indicated that he would cut funding for HUD programs. When it came to affordable housing, Dr. Carson acknowledged that rental assistance is "essential" yet characterized public housing as "warehousing" an "unacceptable" number of people.
Dr. Carson's answers also revealed a lack of commitment to fair housing. He criticized the Affirmatively Furthering Fair Housing Rule, asserting that the rule is evidence of a top-down approach from HUD. In fact, it is designed to empower local communities to come up with their own solutions to reduce residential segregation. Later in the hearing, he seemed to confuse the rule with the Supreme Court's decision on disparate impact liability under the Fair Housing Act. Perhaps most troubling was Dr. Carson's suggestion that proactive action to root out housing discrimination is unnecessary.
Our country has made enormous progress in breaking down barriers to fair housing, but there is still much more work that needs to be done. HUD plays a vital role in fighting housing discrimination and strengthening communities. We must have a HUD secretary who will sustain progress that has been made, fully enforce the Fair Housing Act and foster equitable housing development. It is unclear whether Dr. Carson is prepared to carry forth the legacy underlying Dr. King's work to promote racially integrated communities across our country. If Carson is confirmed, we risk turning back the clock on the gains we've made so far.
REAL LIFE. REAL NEWS. REAL VOICES.
Help us tell more of the stories that matter from voices that too often remain unheard.
This post was published on the now-closed HuffPost Contributor platform. Contributors control their own work and posted freely to our site. If you need to flag this entry as abusive,
send us an email
.