When posters abusing and calling for the social boycott of Ahmadi Muslims were plastered in a Pakistani village, four Ahmadis decided to remove them from their Mosque. In retrospect, it was a bad decision. Just five days ago, a Pakistani court handed three of them the death sentence for "blasphemy" (for tearing down "religious posters"). The fourth one? just a few days after his arrest, he was gunned down while in police custody.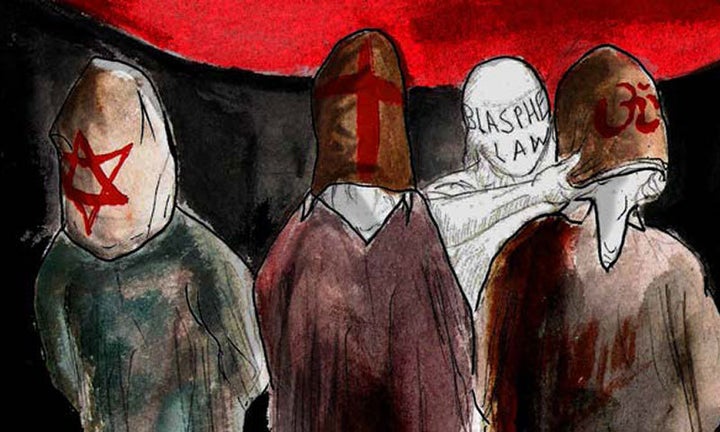 This kind of blasphemy sentence is not an anomaly. It is a small glimpse into the systematic and state-sponsored persecution of Ahmadi Muslims across the country.
And just four days after this death sentence, Pakistan secured a seat in the United Nations Human Rights Council. To many in Pakistan, it was a cause of jubilation. The Foreign Minister praised God, calling it a "Great Victory."
Ms. Maleeha Lodhi, Pakistan's Permanent Representative to the United Nations, claimed Pakistan's record of "promoting and protecting human rights" had been vindicated with the victory.
With the image of Pakistan in the world today, I felt a certain elated too. After all, Pakistan is my motherland. However, I know this election wasn't remotely based on our human rights record. It pains me to admit that Pakistan has a depressing human rights record and is behind one of the worst religious apartheids of this age - the #AhmadiApartheid. Here is a snapshot:
Denied Right to Self Identity: Pakistan continues to deny Ahmadi Muslims the basic right to self-identity. In 1974, then Prime Minister Mr. Zulfiqar Ali Bhutto, in an attempt to appease right-wing religious extremists, amended the country's constitution to declare the Ahmadi Muslims a non-Muslim minority. The Second Amendment was an unprecedented move in recent world history. With its passage, Pakistan became the first State — and remains the only one — to judge the faith (or lack thereof) of its citizens. Pakistan's passport application requires all Pakistanis to condemn the Ahmadi Muslims to be eligible for a 'Muslim' passport.
Denied all Religious Freedom: The discriminatory Second Amendment resulted in further restrictions on religious freedom with President Zia's promulgation of the anti-Ahmadi laws shortly thereafter in 1984. Known as the Ordinance XX, these laws criminalize the daily lives of Ahmadi Muslims and impose a three year jail term for Ahmadis guilty of 'posing as Muslims'. Thousands of Ahmadis have been jailed under these opprobrious laws for 'crimes' such as praying, saying the salam (Muslim greeting), saying the Kalima (Islamic creed), reading the Quran etc. These laws are a violation of the UN Human Rights Charter and the International Covenant on Civil and Political Rights (ICCPR), of which Pakistan is a signatory.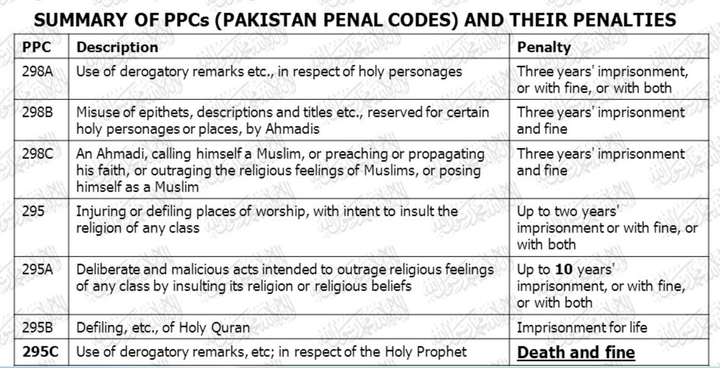 Since the inception of these laws, over a hundred Ahmadiyya Mosques have either been sealed by the State, or burned down or forcibly taken over by extremist mobs.
Denied Freedom of Speech: Despite numerous attacks on Ahmadi Muslims (hundreds have been murdered since the passing of the anti-Ahmadi laws), not once has a representative of the Ahmadiyya Muslim Community been invited to express the community's views or state their grievances on air. And while the media regularly publishes and airs conspiracy stories that amount to hate speech and incite violence against the Ahmadis, the books published by the Ahmadiyya community are banned across the country. Numerous book-sellers and publishers have been jailed under the country's blasphemy laws for hurting the "sentiment of the Muslims."
Denied Right to Peaceful Assembly: While 'Jihadist' outfits are allowed to convene across Pakistan, the annual peace convention of the country's Ahmadi Muslims has been banned since 1984. No government has lifted this ban since, despite repeated requests.
Denied Right to Vote: Ahmadi Muslims have been systematically disenfranchised for the last many decades and have been prevented from participating in the country's electoral process. There was quite the anxiety recently in Pakistan when the clause that prevents Ahmadi Muslims from taking part in the electoral process was mistakenly omitted in the new electoral bill. The government was quick to issue an apology and reinstate the clause, assuring the right-wing majority that Ahmadi Muslims would remain disenfranchised.
Ahmadi Muslims in Pakistan are forced to live in extremely difficult conditions, with continued threats from religious extremists and militant outfits on the one hand, and the State and its apartheid laws looming over their heads on the other. Hate speech against the Ahmadis is commonplace (including calls for their killings) and associating with them in anyway invites the wrath of the extremist right-wing majority.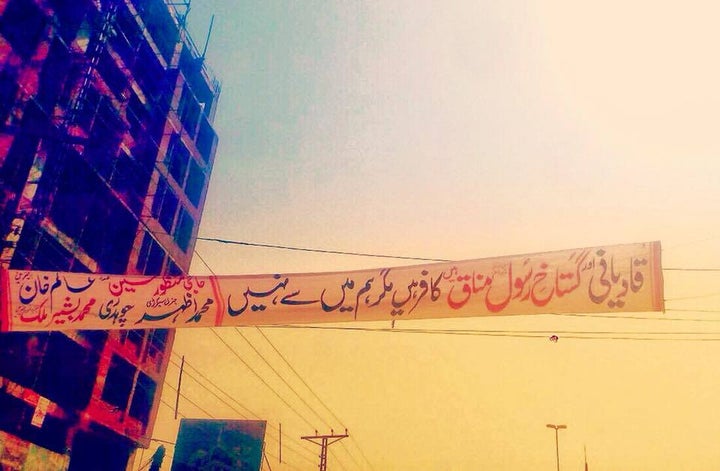 Take this for an example: When Pakistan's Foreign Minister was recently asked why he took a picture with an Ahmadi Muslim during his recent United States visit, Mr. Khawaja Asif had to apologize and promised never to repeat the offense again. "Now I always ask people about their faith first before I take pictures with them," he said in apology.
Ms. Maleeha Lodhi is no stranger to this bias herself. Earlier this year, Ms. Lodhi deleted her tweet congratulating Mahershala Ali on his Oscar victory after finding out about his Ahmadi faith.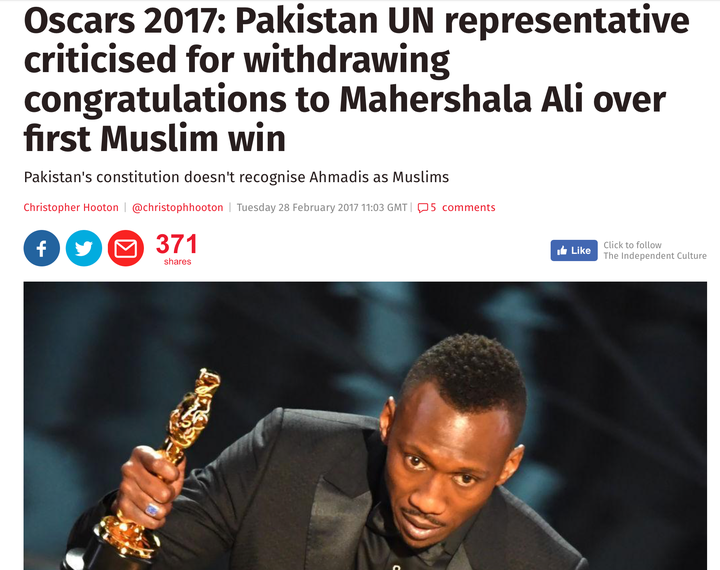 Pakistan's attitude and its support of the discriminatory anti-Ahmadi laws is not fading by any measure. Pakistan's Law Minister, Mr. Rana Sanaullah, recently reassured the country's right-wing majority that Ahmadi Muslims will remain second class citizens until they voluntarily denounced their self-identity. In other words, the rights of Ahmadi Muslims were conditional to them denouncing their faith and identity.
"It is our duty to protect minorities of the country but for the Ahmadis, they will first have to stop claiming to be Muslims. There is no other way around it." (Rana Sanaullah, Pakistan's Law Minister, October 13, 2017)
This is not what Pakistan started as. Pakistan was founded on the very premise of minority rights protection. The founder of the country promised religious freedom, equal rights to all, and complete separation of State and Mosque.
"You are free; you are free to go to your temples, you are free to go to your mosques or to any other place or worship in this State of Pakistan. You may belong to any religion or caste or creed -- that has nothing to do with the business of the State." (Muhammad Ali Jinnah's first Presidential Address to the Constituent Assembly of Pakistan, August 11, 1947)
Pakistan's persecution of Ahmadi Muslims is therefore a betrayal of the very founding values of the country.
Now that Pakistan has won a seat in the UN Human Rights Council, I hope the world will hold it to a higher standard and call for the repeal of the discriminatory Second amendment and the apartheid anti-Ahmadi laws. That would be the real victory for human rights, and for Pakistan.
Related
Popular in the Community