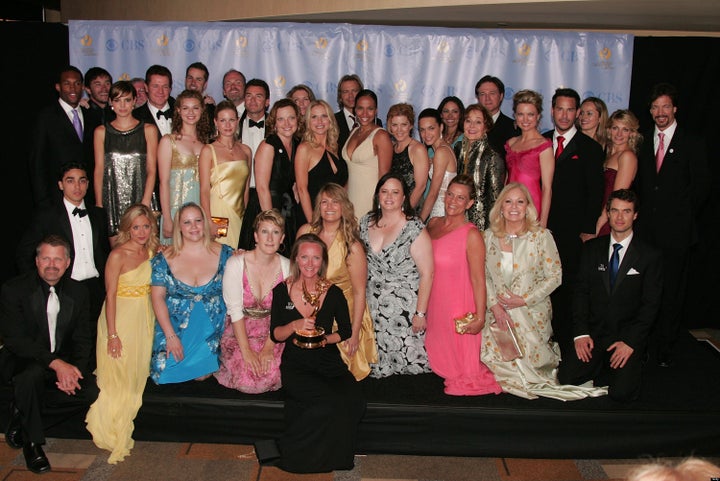 Watching the 36th annual Daytime Emmy Awards on The CW during the dog days of August confirmed what I already knew: These are dark days indeed for the daypart overall and for soap operas in particular.
It's not that the telecast was all bad: I actually prefer smaller venues for the Daytime Emmy celebration (the Orpheum Theater in Los Angeles for last night's show, ballrooms at the Marriott Marquis in Manhattan during the ceremony's glory years) and I always enjoy an entertaining opening number at any awards event. (Vanessa Williams' reworked-for-daytime rendition of Can't Take My Eyes Off of You was almost as much fun as Neil Patrick Harris' surprise closing song at this year's Tony Awards.) Best of all, in the soap categories the awards were spread over a number of different shows. Only As the World Turns went totally unrewarded during the telecast. (On Saturday it picked up a couple of Creative Arts Emmys, so no soap went home empty handed.)
In fact, I was pleased with most of the winners in the daytime drama categories, from the tie for Outstanding Supporting Actor between the long overdue Vincent Irizarry of All My Children and the very deserving Jeff Branson of Guiding Light to the surprise Outstanding Lead Actress win for Susan Haskell of One Life to Live. (Her portrayal of repeat rape victim Marty Saybrooke in the year's most controversial soap story was consistently riveting.) Even though it would have been nice to see Days of Our Lives named Outstanding Drama Series for the first time in its more than 30 years it was equally exciting to watch The Bold and the Beautiful take the top honor. (Like Days, B&B had never won in this category.) Days at least took home two high-profile acting awards: Tamara Braun for Outstanding Supporting Actress and Darin Brooks for Outstanding Younger Actor. (Brooks stupidly saw fit to curse during his acceptance speech.)
But, damn, what a depressing experience overall for fans of daytime drama, those devout enthusiasts at whom the Daytime Emmy telecast is supposedly targeted. (Let's face it: Talk shows, news shows and children's programming basically come along for the ride. Viewers tune in to see soap stars.) The soaps are already contending with questionable audience measurement, ever-increasing media competition, industry executives who seem to be not particularly invested in ensuring their survival, threats of impending cancellation and, most egregiously, a pool of writing talent that can best be described as stagnant. (As my friend Michael Logan over at TV Guide likes to say, the main reason soaps are losing viewers these days is that they aren't fun to watch. That may sound deceptively simple, but it's true, as anyone fortunate enough to have watched virtually any soap opera during the Eighties will tell you. Where is the humor? Where are the eccentric characters? Where are the zany stories that brought millions of new young viewers to the shows? Why are they all so effing dark and depressing?)
And now this! The genre's biggest night of the year, once a sparkling showcase for the hardest working people in entertainment television, compromised by a hurried, poorly directed show, telecast on a network that carries no daytime dramas during one of the lowest rated weekends of the year. Even the talent in the audience seemed to have been made uneasy by it all. In several decades of award-show watching I have never seen so many sloppy presenters and nervous winners. So many of them were so shaky it was uncomfortable to watch.
The biggest disgrace, though, was the rushed tribute to the soon-to-be-terminated Guiding Light, which has already completed production and will have its last telecast in two weeks. It's bad enough that this historic show, which has been broadcast almost every weekday since 1937 on radio and television, was unceremoniously put to death by its handlers at Procter & Gamble Productions and CBS. Couldn't the folks at the National Academy of Television Arts & Sciences find it in their hearts to put together a longer, grander farewell to a show that can only be described as a national treasure, albeit one that has been inexcusably beaten down in recent years? The selection of another long-running television treasure, Betty White, to introduce the tribute was genius. ("I have been watching Guiding Light ever since it first went on the air in 1776," White quipped at the start. "As the saying goes, all good things must come to an end.") After a quick clip reel, the cast took the stage for a few bows, but nobody was allowed to speak, and The CW abruptly cut to a commercial while the actors were still receiving their last applause.
It all seemed so wrong. From the days of radio thru the digital era, and without ever ceasing production, GL brought compelling entertainment to its fans. It was there during the Great Depression, the Second World War, the Korean War, the Cold War, the Cuban Missile Crisis, the Vietnam War, the assassination of a president, years of riots in our cities and calamitous protests on our campuses, Watergate, the resignation of a president, multiple recessions and energy crises and natural disasters, the Gulf War, 9/11 and the ongoing wars in Afghanistan and Iraq, among other national and international hardships and challenges. After that titanic trajectory, the circumstances under which GL was made to take its final bow were insulting to all of the people who ever worked on the show and all who ever listened to and/or watched it.
The other big bad of the night was the brush-off to The Bold and the Beautiful at the end. For the first time in its 22-year history B&B was named Outstanding Daytime Drama, but as its cast and producers moved toward the stage the end credits began to roll and there was a jarring cut to a camera in the back of the balcony, where people were dashing from their seats to the exits hoping to bolt the theater before the crowd. As the credits continued there was finally a shift to a camera down by the stage, but instead of an acceptance speech all viewers got were shots of B&B actors congratulating each other. It was an undignified mess.
This may have been the first award show ever that did not run too long because of endless acceptance speeches. Rather, the excess was in the content: A second song from host Vanessa Williams at the 90-minute mark, which also included a brief turn with Dancing with the Stars stud Gilles Marini and had absolutely nothing to do with daytime; a frivolous fashion show that allowed many pretty young soap stars who were neither nominees or presenters to take the stage and shake their stuff; an over-long tribute to Sesame Street on the occasion of its 40th anniversary that was much more lovingly executed than the Guiding Light brush off. A segment honoring Feed the Children also took up a lot of time but I'm not going to complain about it. I think every entertainment industry awards show should take a few minutes to call attention to a deserving charity. There is always time for that.
Seriously, Williams' second song or the fashion show could have been cut and there wouldn't have been a squawk in the land. And that would have allowed plenty of time for a more fitting farewell for GL and a few words from B&B executive producer Bradley Bell, who deserves a moment in the spotlight for producing a first-class program. It is not for nothing that B&B remains the most popular soap opera in the world.
I like to think that the producers of the Daytime Emmys might learn from their mistakes and put on a better show next year. But at this dark time I wonder if there will even be a Daytime Emmy telecast in 2010. If they do endure, I think it's time to move them back to New York and back into the daypart they celebrate and promote. Still, that would involve the support of the Big Three. Is this really so insurmountable a challenge that CBS Corp., Disney and NBC Universal combined can't find a way to make it work?
To communicate with or to be contacted by the executives and/or companies mentioned in this column, link to the JackMyers Connection Hotline.
REAL LIFE. REAL NEWS. REAL VOICES.
Help us tell more of the stories that matter from voices that too often remain unheard.