A mother of two fresh from maternity leave and a graduate student pursuing a career helping cancer victims are among the nine killed in a mass shooting in Dayton, Ohio, early Sunday morning that left 27 others injured.
Connor Betts carried out the attack in the city's downtown Oregon District around 1 a.m. while armed with a large gun, high-capacity magazines and body armor, officials said. He was killed by police within a minute of the onslaught, they said.
The dead, which included the gunman's younger brother, ranged in age from 22 to 57. Six of the nine were African American and the remaining three were white, police said.
"It's hard to imagine that there was much discrimination in the shooting," Dayton Police Lt. Col. Matt Carper said when asked if they had been targeted.
The victims have been identified as:
Jordan Cofer, 22

Nicholas Cumer, 25

Thomas McNichols, 25

Lois Oglesby, 27

Logan Turner, 30

Beatrice Warren-Curtis, 36

Saeed Saleh, 38

Monica Brickhouse, 39

Derrick Fudge, 57
This what we know about them so far:
Before the attack, the gunman's 22-year-old brother, Jordan Cofer, had traveled downtown with Betts and an unidentified "male companion," who was wounded in the shooting. It's not yet clear whether Cofer and the companion had been targeted in the shooting by Betts, authorities said Sunday.
Cofer was a student at Wright State University who had been studying earth and environmental science, Seth Bauguess, the university's director of communications told HuffPost. He also worked as an intern this past spring with the U.S. Forest Service, serving as a tour guide for the Smokejumper Visitor Center in Missoula, Montana, a spokesman with the Forest Service told HuffPost.
He is believed to have been the only Wright State student or employee wounded in the attack.
A neighbor and former classmate described Cofer as "a sweetheart, very funny" and "strange in a very good way," according to a WLWT reporter.
Nicholas Cumer
Cumer, 25, was a graduate student at St. Francis University in Pennsylvania as part of the school's Master of Cancer Care program. He was participating in an internship program with a cancer center in Dayton when he was killed, the university confirmed.
"Nicholas was dedicated to caring for others. He was recognized at the 2019 Community Engagement Awards among students who had completed 100+ hours of service. In addition he was a graduate assistant with the university marching band," the school said in a statement.
The Maple Tree Cancer Alliance, where Cumer had been carrying out his internship, said three of its trainers were shot in the attack, though two of them survived.
"Nick was one week away from completing his internship at Maple Tree, before graduating with his Master's degree in Exercise Physiology from St Francis University in Pennsylvania. Just last week, we offered him a full time position with us to run one of our new offices," the center said in a Facebook post that included photos of him helping patients.
"Nick is remembered for his hard work and dedication to Maple Tree. He loved his patients and served them well, with a loving and caring spirit. He continuously went above and beyond our expectations and worked with a high level of excellence. He was well liked and respected by everyone on our team, and we all will miss him very much."
Thomas McNichols
McNichols, 25, was "a great father, a great brother ― he was a protector," his cousin, Jevin Lamar, told The New York Times.
Lois Oglesby
Oglesby was a 27-year-old mother of two children, one of which is a newborn, friends have said.
"She was a wonderful mother, a wonderful person," Derasha Merrett, who described Oglesby as like family to her, told the Dayton Daily News. "I have cried so much, I can't cry anymore."
Merrett said Oglesby was a nursing student who had just returned from maternity leave and was working at her child's day care.
"I was like, I'm so happy you're back at work. Now I don't have to worry about who has my newborn," Merrett said. "She loves her kids unconditionally."
Logan Turner
Turner had just celebrated his 30th birthday on Tuesday and was out in the Oregon District with some friends this weekend, the Dayton Daily News reported.
He was a 2008 graduate of Springboro High School and earned an engineering degree from the University of Toledo. He recently started work as a machinist at Thaler Machine Co. in Springboro, his mother, Danita Turner, told the Dayton paper.
Turner was both "sweet and smart," his mother said. She described him as a "happy go lucky guy" that everyone loved.
"He was very generous and loving and the world's best son," she said.
Beatrice Warren-Curtis
Warren-Curtis, 36, who also went by Nicole Curtis, was in Dayton with her friend Monica Brickhouse, who also died in the shooting, according to a Facebook post by a friend.
"This just can't be real. I just saw you both a month ago after my moms passing. Like you two have always done y'all checked in on my family and made your love for my family known. I am in shock!!!" Brittany Hart wrote on Facebook.
"Monica Storey Brickhouse you were like another aunt to me! You and O'Nika were like the big sisters I always wanted to tag along with! Beatrice (Nicole Curtis) you always showed my mother so much love and respect!" Hart said. "She and my family loved you both dearly! Both of you will be missed so much. I will cherish the many memories I have of y'all. I'm sending positive energy to both of your families. To lose a loved one to senseless violence is just unfair, especially since it could be preventable !! I am so sorry this has happened to you all!"
Monica Brickhouse
Brickhouse, 39, was a Springfield, Ohio, native, according to her Facebook page. She lived in Virginia Beach and appeared to run an event planning business called Two Good Girls. She and Warren-Curtis were close friends, according to Facebook posts from people who knew them.
"They have announced the victims of the Ohio shooting ... I was devastated this morning when I got the news and still don't feel like I have a heartbeat inside of me," Tonya Amos wrote in a post.
"Nicole Curtis and Monica Storey Brickhouse were like two of my work daughters," Amos wrote. "I had the opportunity to manage and mentor them for some years. We sat beside each other everyday. We have laughed and cried together. Shared life stories and supported each other. These two ladies were very special to me. I'm sad and mad at this senseless loss. I cannot imagine how their families feel if I'm feeling this way. Lord have Mercy."
Derrick Fudge
Fudge's sister, Twyla Southall, told the Dayton Daily News that her 57-year-old brother had been downtown with family when he was killed.
"They were all just down there enjoying themselves and had stepped out of, I think, one of the clubs and were in a line to get some food," she said.
She described him as a father and owner of a dog named Lucy that he "absolutely loved."
"He was a good man and loved his family," she said.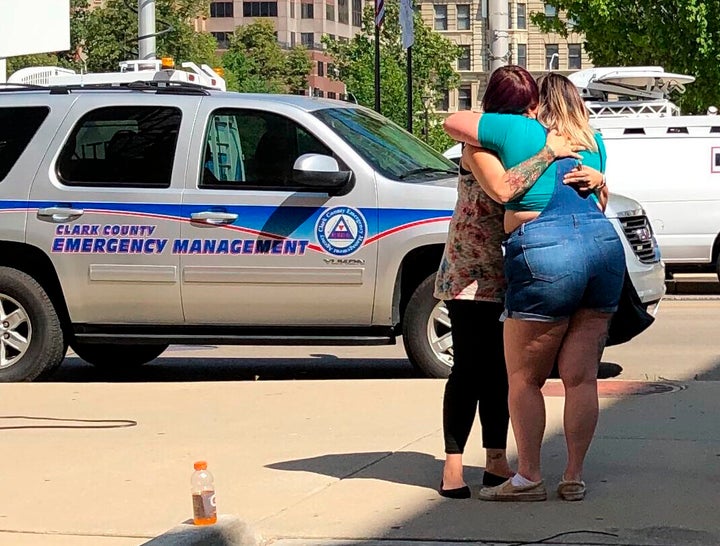 The early morning shooting came just hours after another gunman opened fire in an El Paso, Texas, Walmart on Saturday. That shooting left at least 22 people dead and more than two dozen others wounded.
The suspected gunman in that incident near the U.S.-Mexico border was taken into custody at the scene. He has been identified as a 21-year-old white male from Allen, Texas, a town near Dallas, who may have harbored racist and xenophobic beliefs.
Last Sunday, another gunman opened fire at a garlic festival in Gilroy, California, leaving killing three people and wounding 12 others. He killed himself at the scene, officials said late last week.
Popular in the Community