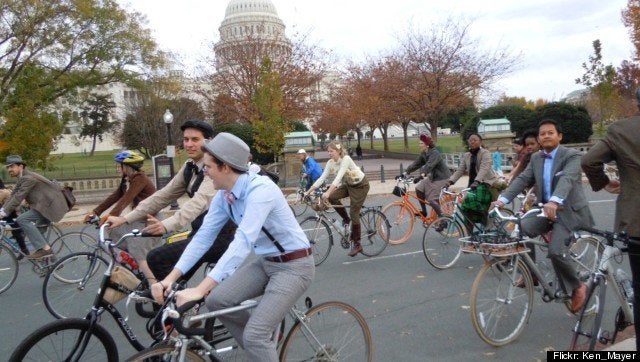 TOP 5 FOR WEDNESDAY, JULY 11
1. DC Bike Party At Smithsonian Metro To DC9
This inaugural bike ride through D.C. will be a once monthly party ride around the nation's capital. Simple goal, simple fun. A nice way to meet like minded, biking individuals. 7:30 p.m., all ages, 21+ to enter DC9, no cover
2. "Amarcord" at Embassy of Italy
A Felini film at the Embassy of Italy? This is why living in D.C. has its benefits. 6 p.m., must make reservation by 2 p.m., all ages, no cover
3. "Say You Heard My Echo" At Bloombars
The DC Hip-Hop Theater Festival continues with Kelly Zen-Yie Tsai's spoken-word theater play about three Asian-American living in New York City 10 years after 9/11. 7 p.m., all ages, $10 suggested donation
4. Chris Sparks, Team Cul-De-Sac At Politics And Prose
Cul-De-Sac cartoonist Richard Thompson was diagnosed with Parkinson's disease in 2009 and began working with the Michael J. Fox Foundation to raise awareness of this illness. Chris Sparks organized Team Cul de Sac, which has solicited work from various graphic artists including Bill Watterson and Gary Trudeau, the proceeds of which have benefitted Team Fox, the Foundation's fundraising arm. 7 p.m., all ages, $29.95 for the book
TOP 5 FOR THE NEXT 5 DAYS
Thursday, July 12
"Comedy, Sort of: America, You Sexy Bitch" with Meghan McCain at Washington DCJCC
An unlikely pairing of a former member of "The State" and "Stella" with the daughter of a former Republican presidential candidate wrote a book about how great America is. It's so great, the funny person, Michael Ian Black, was offered a role in a movie and won't be able to make this event. Hooray America!
Friday, July 13
THE IMMORTAL World Tour: Cirque du Soleil at Verizon Center
This is nuts for a lot of reasons but they're mostly good reasons. Cirque de Solel doesn't do anything poorly and everyone alive knows at least a few Michael Jackson tunes. Why it's called 'The IMMORTAL World Tour' is one of the nutty things.
Saturday, July 14
Best Coast at 9:30 Club
This group's recent Letterman appearance proved the West Coast band has grown into a competent act. No longer hiding behind waves of distortion -- not that that's a bad thing -- they're letting the hooks shine in front.
Sunday, July 15
Birthday Bash At Dupont Circle FRESHFARM Market
FRESHFARM Markets celebrates 15 years of local produce and more from local farmers and vendors. Bluegrass, balloon twisting, face paintings, raffles and of course, the market, make this Sunday afternoon activity fun and family friendly.
Related
Popular in the Community