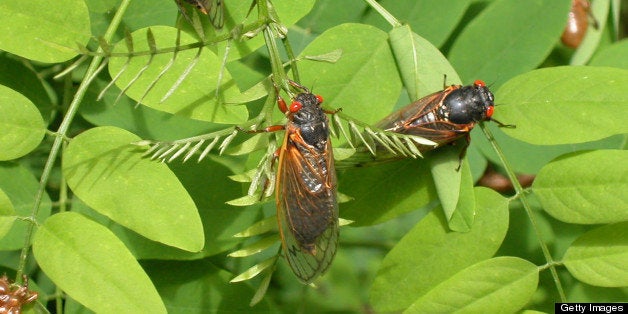 On Monday we made first contact. Now we've made second contact.
While we are still waiting until we cannot drive our cars or walk our dogs without causing mass-bug-murder, some are licking their lips and preparing to chow down on those low-calorie, gluten-free cicadas invading our yards and parks.
We've pulled a few more of the best Twitter reactions and pictures of cicadas around the area:
People deep fry EVERYTHING:
Don't worry, cicadas do not feed on tires:
It's always good to hear from both sides of the story:
Giving literal meaning to "I'm kinda buzzed and it's all because..."
Every time I've seen this cicada GIF, I've imagined all the cicadas singing Montell Jordan's "This Is How We Do It." twitpic.com/coziw8

— Chris _ _ Richards (@Chris__Richards) May 8, 2013
BEFORE YOU GO
PHOTO GALLERY
What The Cicadas Missed In 17 Years