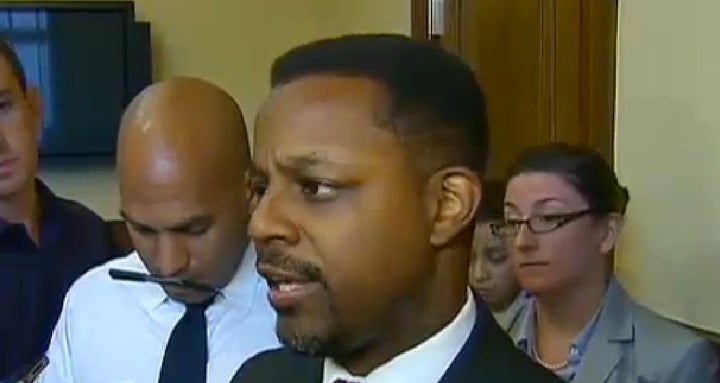 Editor's Note: The Washington Post reported midday Wednesday that D.C. Council Chairman Kwame Brown is expected to be charged with fraud. This is a developing story.
Much of Tuesday's drama focused on Brown shoving Mark Segraves when the WTOP-FM reporter asked the chairman about rumors about the status of the federal investigation. Brown later apologized, saying it was not his intention to shove Segraves.
Still, with Brown adamant that he's done nothing wrong and refuting any notions that he would be resigning, all the buzz in the Wilson Building this week points to Brown's eventual exit, fueled by unconfirmed reports that chairman has been meeting with prosecutors and Brown's decision to give up the chairmanship of the D.C. Council's Economic Development Committee.
Various media reports have indicated that multiple councilmembers privately believe that Brown's tenure as chairman won't survive the summer.
As Karen Gray Houston of WTTG-TV/Fox5 reported Tuesday night, sources have said that Brown could resign on Wednesday as part of a deal with prosecutors but other sources have said there's no deal.
When questioned by reporters in the Wilson Building, Brown refused to comment on the U.S. attorney's investigation.
That Brown (D) had to address the hearsay about his political demise underscores the drama in the John A. Wilson Building nearly two weeks after two campaign aides to Mayor Vincent C. Gray (D) pleaded guilty to federal charges in a separate investigation of the mayor's 2010 campaign.

For more than a year, the U.S. Attorney's Office has been looking into whether Brown violated any laws when his 2008 reelection campaign diverted $239,000 to a now-defunct consulting firm owned by his brother, Che Brown. Around that time, Brown was badly in debt, resulting in four lawsuits from credit card companies seeking payment of more than $50,000 in unpaid bills. He has settled the suits.
Other chatter swirling about regarding Brown's personal finances from WUSA-TV/9News' Bruce Johnson:
Tuesday's dustup is the second sign in the past week that Brown's patience is wearing thin. Last week, his office blasted the Washington City Paper for reporting his wife had been sued for $15,000 in outstanding credit card debt, marking the fourth time in less than three years that the family had been sued for nonpayment.
UPDATE, 12:40 p.m.: Brown is expected to be charged with fraud, according to The Washington Post.